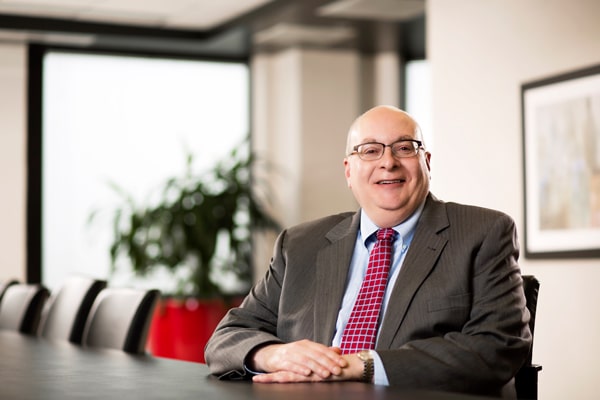 Steven Weisel's time with Otsuka Pharmaceutical Development & Commercialization, Inc., a member of a global group of companies committed to developing and delivering solutions to patients, particularly in the area of serious mental illness, didn't begin in the business's legal department. Instead, he initially joined as a human resources professional, after working in HR for nearly two decades.
Steve earned his JD from George Washington University in 1982 and had chosen a career in HR because it felt like a better personality fit. However, as he worked more and more with Otsuka's legal team on employment issues, the head of that department decided he could add more value to Otsuka as a member of the legal team. The head of HR agreed that Steve needed new challenges to continue his professional growth and development, and in 2005 Steve transferred to the legal department.
A few years later, in 2008, the head of legal moved to a new role in the company and recommended to the CEO that Weisel be the next leader of the legal department. The CEO agreed that his experience made him a perfect fit for the role—a position requiring a legal background, management skills, and a business perspective. "My HR background provided an understanding of organizational dynamics and how pieces of the business and its processes fit together," Weisel says. "That experience also helped me develop insights into how people work and what motivates different individuals."
Since assuming leadership of the legal department in 2008, Weisel has used his combined skill set to help align the department with Otsuka's broader business strategies—first by expanding the size and scope of the department and instituting a client- and business-focused approach and more recently by introducing new technology, including automation and cloud-based technology, to improve the speed and efficiency of the company's services. "One of the best things that's happened with our department here over the past ten years is that we're seen as a partner that helps the business navigate new legal questions as it fulfills its mission of developing novel and innovative products and solutions," Weisel says.
In 2008, Otsuka had just three attorneys, including Weisel, so growing the legal department was an early priority. He's since built up its staff to include twelve attorneys and multiple paralegals and contractors, and he's organized the team to provide its members with opportunities to work on a variety of issues to support their learning and development. He's also made the department's operations more transparent to its Otsuka clients. "I wanted to include people in a way that wasn't broken into silos," Weisel says, "so that everyone in the department could be a resource to any part of the business."
Weisel worked to get management and other departments of the company to include the legal department early in all major business discussions—to help the legal team better understand where the company wanted to go. And, as Weisel worked to get his growing team into meetings—while encouraging its members to be partners in business initiatives, to mitigate legal risks from the outset—he was able to identify and address other areas for improvement.
Specifically, in 2009, he began moving the legal department from its previously paper-driven processes to an automated contract system, one that allowed the company and other parties to see and make changes to documents online. "This created more speed and transparency and gave the members of the legal team metrics to report on, making them better partners and collaborators," Weisel says. He also embraced his team's idea of creating a database to track inquiries and responses, which allowed the company to gather more information about calls coming in for various products and improved its ability to spot issues.
His efforts led to his appointment as vice president and general counsel in March 2010. Since then, Weisel has continued to focus on establishing the legal department as a true business partner and ensuring the growth and development of his team. Recently, he asked the team to look for ways to improve the management of corporate records at the board level. It's currently in the process of implementing a cloud-based portal that will allow Otsuka to share documents with its board members—and allow board members to access records and conduct business online. At press time, Weisel hoped to have the portal up and running by spring of 2018.
As Otsuka has grown, moving from a small portfolio to a much larger one, Weisel has also focused on how its products and solutions present new legal challenges. "Recently, our parent company received FDA approval of the first digital medicine," Weisel says. "Because of some of the new legal questions that come alongside such new products, I continue to ensure that our team works closely with key stakeholders as the company embarks on this new journey."
In addition to the many things achieved by the legal team during his tenure, one of the things Weisel is most proud of is the low turnover in his department. Many of his initial recruits for the company are still with the team, and his department has also become a magnet for new talent, largely thanks to its ability to work cohesively toward common goals. "People at Otsuka, including the legal department, feel empowered to innovate and pursue their ideas," Weisel says. "It's a great place to build and sustain successful teams. I would not be where I am without the support of a company that sees beyond today and actively encourages its employees to develop to their full potential."
And, as the company continues to explore new and innovative products and technologies, he adds, "our legal team will also learn and develop to make sure we support Otsuka's mission of creating new products for better health worldwide."
***
McDermott Will & Emery:
"Steve has a team-centered approach to leadership. He empowers and challenges his legal team and outside counsel to provide practical advice and creative solutions to support the company's groundbreaking innovations and commitment to patients."
—Vernessa T. Pollard, Coleader, FDA Practice