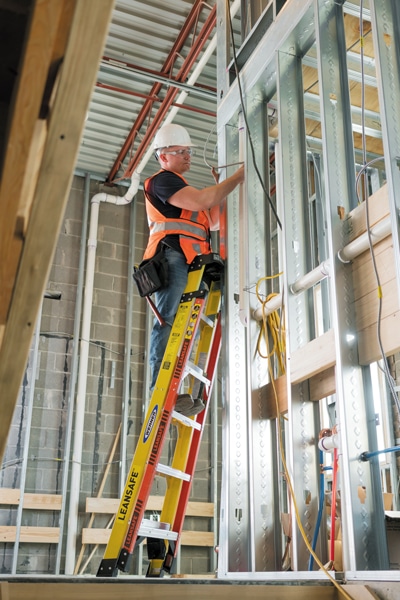 Ten years ago, Werner Co., a Pennsylvania-based, privately held manufacturer of ladders, was a $300 million company, with nearly all its sales in the US. Today, it's one of the world's leading producers of all types of climbing and access equipment, with a diversified product line that includes secure-storage and safety products and light-duty construction and logistics equipment, and its annual sales total about $1.2 billion.
Geoffrey R. Hartenstein, general counsel, has played an important role in making that impressive expansion possible. He and his team have worked to ensure Werner's compliance in the more than a hundred countries in which it now sells its products, and to make the work easier, they've also worked to better integrate their outside counsel and integrate themselves into other aspects of the business.
Hartenstein's path to Werner stemmed from a love of his hometown. A born-and-bred Pittsburgher, Hartenstein graduated from the University of Pittsburgh and Duquesne Law School. After working for a big law firm in the city, he went in-house with Westinghouse Electric, and when Westinghouse considered moving him to another location, he sent his resume around, preferring to keep his family where it'd always been. He got a call at home late one evening, from someone at Werner—a company he barely recalled applying to. "I told the guy, 'Sorry, I don't remember who you are,'" he says with a laugh. "He said, 'Go to your garage and look at your ladder. That's us.'"
The Werner family still ran the business then, but in 1997, it sold it to an investment firm in New York. In 2006, the company went through bankruptcy, and five hedge funds bought its assets and formed a new company in 2007, naming Hartenstein as general counsel. "That's when all the international growth and diversification really took off," he says.
The company, which was sold again in 2017, to a German equity firm, now generates about a third of its sales overseas. A similar percentage of its sales comes from nonaccess equipment. "We transitioned the company away from only selling ladders and being reliant on the major home centers—like Home Depot and Lowe's—to something worldwide," Hartenstein says. Some of that expansion came from acquisitions in the UK, France, Germany, and other markets. The company also launched its products in China, Canada, and Australia, among other locales.
Hartenstein and his team are responsible for meeting the different compliance and safety regulations in each country. "Products complying with American standards aren't necessarily transportable to other markets," he says. "We have to closely work with other departments to make sure we put out safe and compliant products for those other markets."
The legal team works directly with engineers, performs regulatory assessments to make sure products are up to various regional codes, looks for intellectual property opportunities, monitors claims management, and more. "We are not a large group: three lawyers, three paralegals, three claims administrators, two in product engineering, and a director of risk management," Hartenstein says. "So, we needed to integrate ourselves in the business and understand the markets we are going into. The analogy is like a journalist being embedded in the military. We try to get embedded into the business."
He also relies on outside counsel. "We don't have lawyers all around the world, so we try to make long-standing relationships with our outside firms," he says. "You want to get your outside counsel to be part of your team and business." He mentions a particular group of outside counsel in product liability that have worked for Werner for more than thirty years. "We brought them to our Mexico plant a few years ago so that they could see our manufacturing processes and inspection techniques," he says. "It's all part of integrating them into our process."
Working overseas also means keeping up with other regional business concerns. Data protection, for example, is more important in Europe than in the US, according to Hartenstein. "We have had to adjust our policies to meet their regulations," he says. Laws regarding corruption and the sourcing and procurement of workers also are different overseas, and Hartenstein counts on outside counsel for these issues. "Our Chinese counsel has been with us for ten years or so," he says.
The bottom line for Hartenstein is trying to create a culture where the legal department is seen as part of the business. "We are not just a place to go to find out: 'Can we do this or not?'" he says. "We want it so that other departments are not afraid to come into our offices. In-house lawyers always tell you that you have to know the business, and that is true. However, the fun part of this job is to truly be a part of the strategic team and be involved in the business, rather than just providing legal services. That has been particularly fun for me."
***
McDermott Will Emery:
"Werner has transformed itself, under Geoff's leadership, from a family-owned ladder producer into an international safety-products company. Geoff has successfully handled a wide range of complicated legal issues. We are proud to have had the opportunity to work with Geoff and his team throughout this period."
—Ray Jacobsen, Head of Regulatory and Governmental Affairs
***
Toulet & Gottfried:
"Geoff Hartenstein has masterfully managed the legal and human resources departments of Werner world-wide. As outside counsel, it has been a pleasure representing him. We have truly enjoyed his leadership, confidence and keen legal instincts."
—Alejandro Toulet, Partner