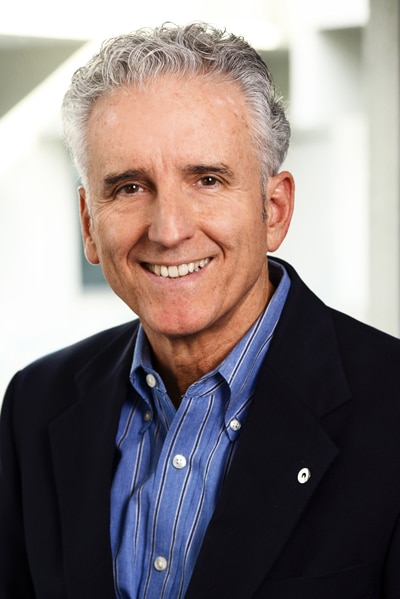 In pop culture, elevators often serve as the settings of breathless action set pieces. Wires snap, cars tip precariously, and heroes pry open the doors for daring escapes that would, it's safe to say, never happen in real life. Ask Tom Quinn, and he'll tell you that in the rare instance something does go wrong with an elevator, your best bet is to stay put.
"It's Elevator 101," he says. "The safest place in an elevator is inside the elevator."
It might be common sense, but elevator-related incidents—of a more minor variety—still occur. And, as senior counsel, litigation for Schindler Elevator Corporation, Quinn sees most of them. In addition to handling litigation for his company, he's helping it find new ways to manage the risks inherent in its industry.
Quinn arrived at Schindler fifteen years ago. Before that, he had worked in product litigation, first with AT&T and then Lucent Technologies. But, it was his involvement with an organization called the Product Liability Advisory Council, on which he served as an officer, that helped him land the opportunity to work for Schindler.
"It turned out Schindler Elevator had just created a position that had my DNA all over it," he says. "It was focused primarily and exclusively on what they called their tort litigation portfolio, how to manage it and how to do better at it."
The job offered Quinn autonomy, access to the C-suite, and the chance to practice his legal expertise at a higher level. "I was going to get litigation in spades at this place," he says. That said, one of Quinn's main goals at Schindler, right from the start, was to do everything in his power to keep the company out of court, or at least mitigate the process as much as possible.
This is a big reason why he serves as a direct supervisor of serious accident investigations. "Managing the investigation right from the get-go has been very helpful in trying to get a handle on cases before they get into litigation," he says.
He's also working to mitigate risk in new, novel ways. Doing so, however, has pushed him to gain an understanding of equipment that, taken together, is an industry unto itself. "Elevators and escalators, it turns out, are very complicated pieces of machinery," he says.
As Schindler has continued to enhance its strategic plan for how best to address risk and reduce risk exposure within the company, Quinn has noticed how the machines' intricacies impact the work of Schindler's technicians. "We give our field mechanics a lot to do," he says. "Maintaining these machines involves a whole bunch of tasks. We have checklist procedures both when we first install the equipment and then
annually thereafter."
Considering these factors, Quinn played an important role in supporting the company's efforts to identify key tasks from the checklists as being especially high priority for the company's mechanics and engineers. Brushing out the elevator pits and maintaining an aesthetically pleasing unit is important, but there are plenty of tasks that require more attention. Highlighting them has helped ensure that pivotal tasks are prioritized when the elevators are revisited on an annual basis. "Do those first," Quinn says. "That's the thinking."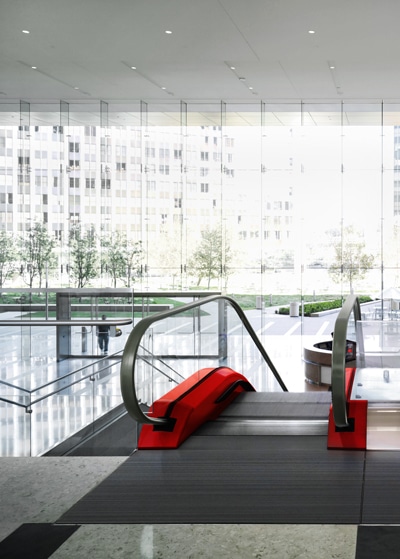 What Quinn is trying to prevent through such awareness efforts are the unique issues that affect elevator and escalator equipment. Among the most common is a mislevel, which is when an elevator stops in a position that's not aligned with the floor at which it's stopping. Abrupt starts and stops can also be a problem—as well as the occasional door strike. Though many modern elevators have beams that detect human motion, thus dramatically reducing the possibility of a door striking a passenger, Quinn says it still happens, noting that modern users are sometimes too absorbed in their smartphones to know they're in harm's way. "If you wait long enough," he says, "you can get hit."
There's also the more serious issue of a passenger entering or falling into the hoistway, a "quaint nineteenth-century term," Quinn says, for the shaft in which the elevator travels. Quinn explains that this principally happens when a passenger is forcing the doors open in a state of emergency, but to ensure that it remains rare, various safety mechanisms exist, and maintenance protocols need to be periodically reviewed and revised to address them.
Quinn has also been working to prevent risk by pushing both Schindler's vendors and its customers to embrace the modernization of equipment. For example, Quinn supports and often underscores the company's practice of sending out proposals with modernization plans to its customer base.
Outside counsel, including Chris Aubert, managing director of the Aubert Law Firm, have been impressed with Quinn's efforts as well. "Defending and managing elevator and escalator cases is unique and far different from general casualty cases," he says. "Intricate knowledge of the equipment, applicable codes, and law is vital for success. Tom and Schindler shine daily."
Quinn also works to both prepare for and hopefully avoid litigation by creating closed feedback loops that ensure a clean, traceable paper trail that demonstrates Schindler's commitment to addressing the core issues at the heart of each complaint it receives. Should he have to enter litigation, however, Quinn remains confident. He has the full confidence of Schindler's general counsel and appreciates working in a legal department and corporate culture that provides the necessary leadership, resources, and internal alignment to most effectively manage risk and vigorously defend itself against any litigation. 
---
Expertise Spotlight
A key partner of Thomas Quinn and Schindler is the Aubert Law Firm, started in 1992 by Chris Aubert. The practice's many lawyers pride themselves on being honest, respectful, trustworthy, fair, ethical, efficient, and practical. They have practiced together for many years, they care about their clients and each other, and they strive daily to get the best results for their clients. Their main practice areas are insurance, business, casualty, and corporation as well as general business consulting in the Southern United States. From their relaxed and friendly office settings in Covington, Louisiana and Irving, Texas, they work diligently, aggressively, efficiently, practically, and successfully. They have proven themselves for more than 20 years in matters involving anywhere from two parties to tens of thousands.
The Aubert Law Firm also has the highest ethics and skill ratings from the Martindale-Hubbell Law Directory ("AV"), is listed in the Bar Register of Preeminent Lawyers, and has earned a place in AM Best's directory of Best's Recommended Insurance Attorneys. The firm has attorneys licensed in five states, a number of whom have argued before the United States Supreme Court, and it has handled thousands of matters throughout Louisiana, Texas, and Mississippi. It is the firm to look to when you need experience and want practical advice, and its lawyers have been thankful for the opportunity to work alongside Quinn and Schindler.
***
Sabatini & Associates, LLC:
"Tom Quinn's recognition is well-deserved. He always asks the tough questions to get the best results for Schindler."
—Richard Sabatini