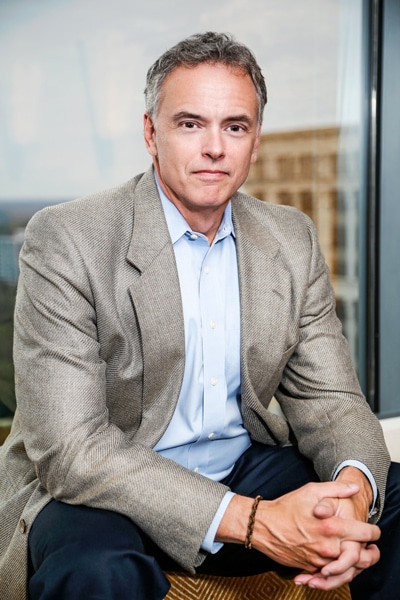 "Can I run something by you?" Marlon Starr says this is probably the most common question he hears at work. As the senior vice president, general counsel, and corporate secretary for RentPath, LLC—which provides a leading listings marketplace and digital marketing solutions to the multifamily-housing industry—Starr estimates that he talks to twenty-five to thirty people every day, from the CEO to the mail clerk. He's a modern-day, all-around consigliere, and it's a role he embraces. "It could be general business advice, it could be legal advice, it could be, 'Hey, what do you think about the Middle East?'" he says. "I'll chat with anybody about anything."
Approachability was a trait RentPath was specifically looking for when it hired Starr out of private practice in 2012. "It was clear to me from the line of questioning that they wanted someone who was very much an open-door kind of person, someone who was comfortable counseling rank and file as well as the board and C-suite," he explains.
And it's precisely because Starr has since interacted daily with a wide range of employees that he felt an immediate shift at the company when Marc Lefar assumed the role of CEO in April 2016. One of Lefar's early initiatives was to make giving back to the community "a fundamental part of the RentPath employee experience." The company is now helping fight homelessness, with key help from Starr and his team, and Starr continues to make himself readily available.
RentPath's business is to help people find a place to live, so homelessness seemed like an obvious issue for it to tackle, especially given that it's a serious problem in the company's home city of Atlanta. "There are about 5,000 homeless people in Atlanta on any given night, and of those, nearly half are children," Starr says.
Lefar urged RentPath employees to do more than just donate money to fight the problem. "The phrase that Marc uses is 'money, minds, and muscle,'" Starr says, explaining that it means employees should not only contribute financially to organizations that help the homeless but also use their professional skills to approach homelessness in a hands-on way.
So, Starr and the rest of the legal team—two other attorneys and two paralegals—now volunteer their legal skills with the Eviction Defense Program of the Atlanta Volunteer Lawyers Foundation, which helps underserved and less fortunate Atlantans. Eviction, Starr says, is often the first step toward homelessness, and he was surprised to learn how quickly the process moves.
"From the time that a tenant gets served with an eviction notice, he's got seven days to file an answer with the court," Starr explains. "A hearing is held within another week or so, and if the judge orders an eviction, they've got a week to get out of the house. So, start to finish, we're talking about a three-week process. And for people who don't know or understand the process, it is scary."
Starr and his colleagues start the eviction-defense process by meeting with the tenant, reviewing the lease, and often visiting the tenant's living space. Prior to trial, they will meet in person with the landlord, the tenant, and a mediator to try to find a mutually satisfactory resolution. If mediation doesn't resolve the dispute, they go straight to court, where pressure mounts.
"The scary thing about that is, if the tenant loses and the dispossessory writ is issued by the judge, then they've got seven days to clear out or the marshals will come and put all their stuff out on the street," Starr says. "It's challenging. It's interesting. Sometimes it's difficult on your heart, but we feel like it's worthy work."
For their eviction-defense work and other work for RentPath, the members of the legal team can count on Starr as a resource, but he's also not the type to hand-hold. "I have found that being a little more hands-off and giving my team room to operate  independently tends to produce better results," Starr says. "And I think, frankly, it makes them happier as well."
In evaluating the impact of his work, Starr shies away from numbers and measurements. For the eviction-defense initiative, he says, the most important signs of success can't be tabulated. "The expressions on [tenants'] faces and the gratitude they show—you can't measure that," he says.
It's a sentiment that speaks to the overall success of Lefar's charitable initiative at RentPath. "This is something that has generated such enthusiasm and pride," Starr says. "It's pretty inspiring."
Photo by RentPath