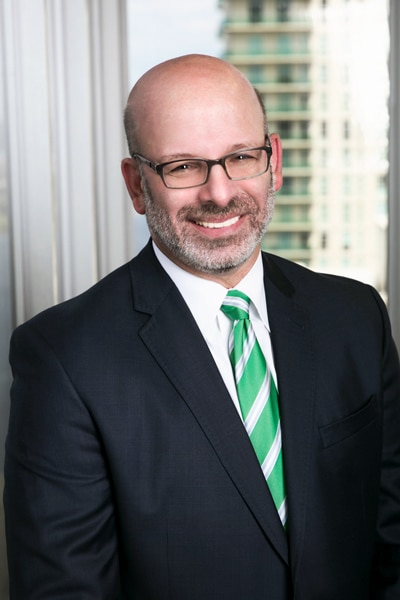 At first, it was just a few lucky ducks. But now, most mornings, Michael Herman opens his door to feed an entire fleet of eager waterfowl. "I live on a lake," he says. "At this point, there are about forty ducks sitting on my lawn."
As a part of his morning routine, Herman leads one visually impaired duck—affectionately referred to as Ray Charles—to a quiet area in order to ensure the teal gets his fair share. "Ray knows my footsteps and every day follows me to a little secluded spot where I feed him alone so that the other, healthy ducks don't take his food," Herman says. "When it comes to feeding the birds, the blind duck eats first. The healthy ducks can take care of themselves. It's the blind one who needs the help. It's up to me—and all of us—to reach out a hand."
Herman channels this same shrewd sense of advocacy in his professional life as senior vice president, general counsel, and secretary for Jacksonville, Florida-based Rayonier Advanced Materials, a leading global manufacturer and supplier of high-purity cellulose specialty products. He views his role in simplistic terms. "The legal department in any company is there to serve the business, and, within the bounds of the law, to help the business achieve its objectives," says Herman, who, outside of the office, also volunteers as chairman of the board of directors for the United Way of Northeast Florida. "That's what it's all about."
As a veteran of the legal field with more than thirty years of experience, Herman credits his success to thorough preparation and an open style of leadership that allows the chance for answers to flow from all members of his team. "My approach is to guide and not order," he explains. "I want my team thinking for themselves, and it's important for them to develop the skills to do that. I try to be a guide, not a general."
Herman, a New York City native, often refers to a note taped to his desk that reminds him to "Shut up. Listen. Wait." Some of the most challenging aspects of being an experienced leader, he says, are resisting acting on impulse and avoiding telling people what to do purely for convenience.
"Everyone's busy and in a hurry, and the natural impulse is to get right to the answer," he explains. "But it's usually better to let your team members come up with alternatives and tell you what they think should be done, as opposed to just telling them what to do. You want people to develop their own processes for addressing challenges and come to you with solutions, not just problems."
For a general counsel, every day is different, and Herman welcomes the breadth of experiences, even when they might lead him well outside the legal sphere. "One of the most enjoyable things about my position is the variety," Herman says. "We're not a small company, but we're smaller than a Fortune 50 company, and, as such, you generally end up involved in a broad range of things. Yes, my primary responsibilities are legal, but I am often involved in strategy and leadership, business issues, and government affairs, for example."
Nowadays, Herman and his team are working to implement a successful acquisition of Canadian-based Tembec, a leading forest-products manufacturer, which will more than double Rayonier Advanced Materials' revenues and expand its manufacturing footprint globally and exponentially. Boasting major operations in Canada and France, Tembec will provide Rayonier Advanced Materials an even greater geographical reach, diversify its existing operations, and help mitigate current currency risks by allowing the business to manufacture in multiple markets.
"Currently, we manufacture in dollars because our products are made in the US, and we sell in dollars all over the world," Herman says. "But we compete against companies who manufacture in their home currency but sell in dollars. The dollar has been extremely strong for some time against most currencies. If you're manufacturing products in Brazilian real, for example, when it's way devalued—as it has been—it creates some big cost advantages for those companies when they sell their products in dollars. The Tembec deal will provide us with currency diversity and improve our manufacturing flexibility."
From a legal perspective, Herman says, operating in multiple global markets can also present challenges. Every country has its own legal system, culture, and customs, so he and his team need to be well versed in the intricacies of not only the law of each country but also how business is done there.
"It's really important to understand the ground you're on," Herman says. "There are countries that are not as rules-based as the US or the EU, but you have to understand what's culturally appropriate, and often that's intertwined with the legal system. You can't operate the same way in China as you do in the US."
A defining point in Herman's career came shortly after he joined General Chemical in late 1992, when he found himself tasked with what he calls a bet-the-company crisis. "It was probably the most formative moment of my entire career," he says. "The company had a major environmental release in July 1993, which caused a cloud of sulfuric acid mist over the city of Richmond, California, that was eight miles long. My CEO came into my office, closed the door, and said, 'I need you to take charge of this thing.' I had only been with the company for around six months at that time, but I'm grateful he gave me this opportunity and put his trust in me."
In the wake of a 60,000-person class-action lawsuit; local, state, and federal investigations; an insurance-coverage crisis; and a not-so-favorable story on 60 Minutes, Herman oversaw the resolution of the entire incident within three years and, in doing so, saved the company from what could have been years of uncertainty and hundreds of millions of dollars lost. This eventually lead to his first general counsel role, at age thirty-four.
Herman's work in heavy industry has been especially instructive in the environmental and sustainability aspects of chemical operations. "The plants that Rayonier Advanced Materials operates today are like biorefineries," he says. "They're largely energy self-sufficient because we use the byproducts we produce to generate steam and electricity to fuel the operations. And our primary products are natural polymers that are environmentally friendly substitutes for others made from fossil fuels. Our main raw material is wood fiber from trees, which is a totally renewable resource. Trees grow, are harvested, then replanted, and then grow again—unlike fossil fuels."
It's this excitement that continues to inspire Herman, who has a front-row seat to the future efforts of Rayonier Advanced Materials. "While we date back to the 1920s, our products go into so many applications, including the LCD screens in your mobile device, the capsules that deliver your medication, the diapers your baby wears, and the foods you eat," he says. "And we are constantly developing new cellulose-based products and new applications for our existing products—all from renewable resources. My main focus as general counsel is to help us lawfully succeed and grow."
Photo by Renée Parenteau Photography
***
Hall Booth Smith, PC:
"We salute our friend and client, Michael R. Herman, Senior Vice President and General Counsel and Secretary of Rayonier Advanced Materials Inc. for his outstanding leadership of a talented legal team."
—James Durham, Partner