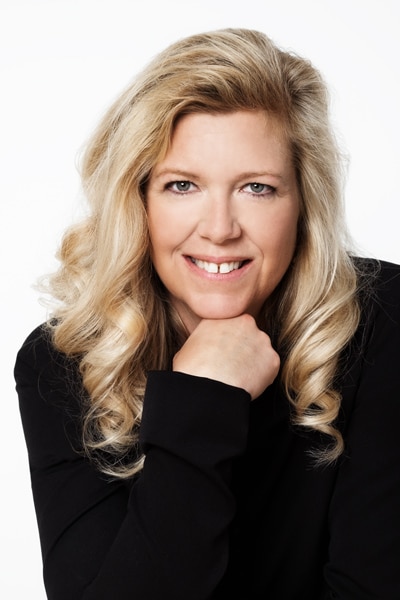 Beauty isn't the reason most lawyers would give for why they're with a company, but most lawyers don't work for the largest manufacturer of glass containers in the world. And glass, as MaryBeth Wilkinson will tell you, can be as beautiful as any work of art.
"You begin with this mundane combination of sand, limestone, and soda ash," she says, "and with hard work and creativity, you end up with this thing of beauty."
MaryBeth came to Owens-Illinois (O-I), the world's leading maker of glass containers, roughly seven years ago, having cut her teeth as an associate and partner with the Chicago branch of the Hogan Lovells law firm. An in-house position appealed to her, though, because what she liked best about her work at the firm was serving her clients. Now, she serves as senior vice president, general counsel, and corporate secretary of a Fortune 500 company that's more than 100 years old and manages 79 plants spread across 23 countries.
O-I hasn't persevered for so long without a few changes to its formula, though. Over the years, the company's operated in a number of different sectors. However, when Wilkinson settled into her first role with O-I, it had recently begun to focus solely on the business of glass containers.
Several years later, under the leadership of a new CEO, Wilkinson says, all 27,000 of O-I's global employees were challenged to work differently by placing greater emphasis on customer experience, talent development, and providing innovative and competitive packaging solutions for the world's leading food and beverage companies. When asked how these shifts have affected the legal department, she says, with a laugh, "Everything needs to be done faster."
The good part, she notes, is that she and her legal department are now "sitting right next to the driver's seat as we're going down the road and building." "Building" is a great word to characterize Wilkinson's work within the legal department. When she arrived, the team was shockingly small for the size of its business. "It was a handful of lawyers serving what was at the time a $7 billion company," she says.
And, because of the department's lack of internal legal resources, a great deal of work was being outsourced, which was eating into the company's overall budget. "Leadership had been so focused on being a top glass producer that it hadn't yet maximized its effectiveness in legal services," Wilkinson says.
To her, the solution was easy. "When I got here, I looked at the outside spend and I looked at our in-house lawyers, who are so wonderful, and it was just a matter of taking a closer look at what we were outsourcing," she says. "There's a delicate balance in today's legal environment. Everything has become so nuanced and specialized within the law that you have to maintain such a careful balance between what you can handle as an expert internally versus what's so highly discrete and specialized that it has to be outsourced."
With care, Wilkinson easily identified these distinctions. And, by reducing Owens-Illinois's outsourcing, she's been able to ramp up its internal team by bringing in new lawyers. "We're still lean if you look at the benchmark for a company our size," she says. "But the benefit of having people in-house is that you're so close to your business people and you can partner with them, read them, and provide them with day-to-day legal guidance."
She has also found advantages to having so many close collaborators by her side in a company that's undergoing such a marked shift. "You're naturally a little reactive in-house," she says, noting that in times like these, the best thing you can do is "follow the business."
That said, Wilkinson believes it's a great time for her to continue building up her team. "Transformation is a good time to train," she says, "People are receptive because we're all trying to learn."
Sherilyn Pastor, a partner at McCarter & English, a frequent Owens-Illinois collaborator, believes Wilkinson will have no problem building her team further. "MaryBeth is creative, smart, and tough, with a wicked sense of humor," she says "She has an amazing ability to cut to the chase and achieve a solution that is in the best interest of the company."
The important thing for Wilkinson is having the right people by her side, and it certainly sounds like she does. Wilkinson is enamored with and surprised by her team day after day. And the best part? That family's about to get even bigger. "As a matter of fact," Wilkinson says, "I'm looking for two good lawyers right now."
That's just as beautiful as O-I's glass.
---
Expertise Spotlight
A trusted partner of Owens-Illinois and MaryBeth Wilkinson, McCarter & English, LLP is an Am Law 200-ranked firm of approximately 400 lawyers, with offices in Boston, Hartford, Stamford, New York, Newark, East Brunswick, Philadelphia, Wilmington, and Washington, DC. In continuous business for more than 170 years, it is among the oldest and largest law firms in America. McCarter was formally founded in 1844 when Thomas Nesbitt McCarter opened his law practice in Newark, New Jersey.
The firm's insurance coverage team—comprising more than forty policyholder attorneys—actively engages in national and international coverage matters involving virtually every US, European, and London market and Bermuda insurer. McCarter has secured billions of dollars in insurance assets both by judgment and settlement for a broad range of policyholder clients, including the nation's largest corporations and industrial concerns. Its resources, including sophisticated document management and imaging systems, allow the firm to successfully litigate complex coverage disputes involving dozens of parties.
 The coverage team has broad experience litigating and settling claims involving business-interruption coverage, construction-defect coverage, directors and officers and fiduciary-liability coverage, employment-liability coverage, surety and financial products coverage, environmental coverage, liability and mass-tort coverage, broker malpractice, advertising-injury and intellectual property coverage, reinsurance and captive coverage, and international insurance arbitrations.