For more than one hundred years, Pennsylvania-based Armstrong World Industries (AWI) has cultivated its position as a global leader in the field of building products, including commercial and residential ceiling and wall solutions. To continue that success in the next century, legal leader Mark Hershey and the company's legal department are building a culture around the motto "Navigating Risk with Confidence." As the senior vice president, general counsel, and chief compliance officer, Hershey is working with his team to take steps to proactively ensure Armstrong's operations remain adaptive and flexible.
When Hershey arrived at Armstrong in 2011, he already had nearly twenty years of experience in corporate law. After earning his JD at Villanova University, he launched his legal career as a corporate associate at Philadelphia law firm Stradley Ronon Stevens & Young, LLP. He then spent six years as general counsel at IKON Office Solutions and later worked for Ricoh Americas, prior to joining Armstrong. The company allowed Hershey to expand his expertise into manufacturing and international operations, particularly emerging markets, while also focusing on corporate governance for a publicly traded company.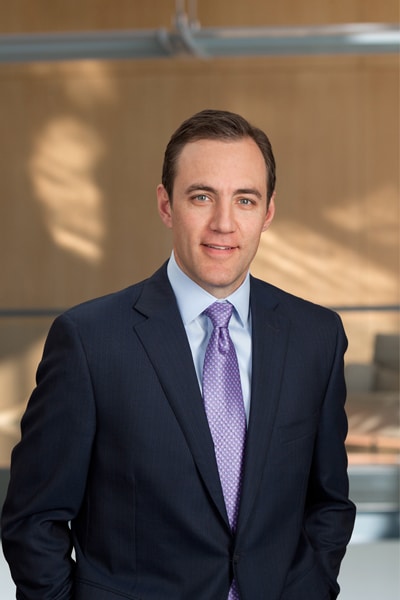 The motto "Navigating Risk with Confidence" emerged in response to a new reality at Armstrong, according to Hershey. After Armstrong Flooring was spun off in 2016 in a project Hershey helped lead, Armstrong World Industries refocused its mission and culture as a ceiling- and wall-solutions company. The new focus needed to be communicated and implemented across the multibillion-dollar company. "In all of our customer interactions, both internal and external, we want to be easy to do business with," Hershey says. "We want to add value for our customers and business partners in everything we do." For Hershey and his team, their motto was born out of a desire to promote these ideas and create a simple rallying cry that would be easily understood and embraced.
"The motto means that we're helping the organization identify, quantify, and mitigate risk in a thoughtful and informed manner so that our company may quickly realize or reject business opportunities," Hershey explains.
While risk-taking is an essential key to business growth, Hershey adds that many companies—and their legal departments—may take too many steps to completely avoid or mitigate it. Noting the difference between in-house and private-firm counseling, he notes that it might be dangerous to play things too safe. "Taking smart risks can lead to great success," Hershey says. As Armstrong's legal leader, Hershey believes that effective risk management involves identifying when to "stay in port" and when to "set sail" in a balanced and timely way, resulting in the agility and flexibility Armstrong is striving for in its company culture.
Hershey credits one of his "terrific" paralegals, Amie Barndt, for coining the slogan and helping the legal team implement it. She designed and deployed several props and images displayed in the legal department's common area and offices, including nautical-wheel fidget spinners for each team member. Of these accessories, Hershey's favorite is a trio of shark images in different nautical settings, which he likes to refer to as a visual aid when helping the organization understand and respond to legal issues.
Yet the "Navigating Risk with Confidence" approach is more than ornamental; Hershey's team has instituted several practical measures to improve Armstrong's adaptability today. Among these efforts have been the design of an M&A playbook for better integration of new acquisitions; the incorporation of the Serengeti e-billing platform to eliminate manual procedures for all law firms; the use of the Cobblestone contract-management platform to automate recordkeeping for the entire company; and the use of SharePoint tools and functionality for compliance training, policy management, and record-retention programs.
Among the team's many current initiatives is a focus on enhancing intellectual property clearance processes to work faster and easier. This effort includes updating procedures for screening IP opportunities early in the project life cycle (before significant time and investment is deployed) and evaluating new technologies such as search-database tools. Being involved in each project early as a trusted partner helps Hershey's team better understand each project's risk, leading to better and faster decision-making in critical innovation and product-development matters.
Hershey believes navigating risk with confidence is strengthening Armstrong's business moving forward, but he also attributes the company's longevity to another principle: "Let the buyer have faith," coined by founder Thomas Armstrong, in 1860. "It reflects a steadfast dedication to customers, through quality and service, which has permeated the culture of the company for over a century," Hershey says. "And, even today, it keeps us focused on what is most important."
As Armstrong continues to evolve and transform itself through public spinoffs, acquisitions, divestitures, and product innovation, Hershey has both confidence and faith that the company will thrive for another hundred years.
***
Stradley Ronon Stevens & Young, LLP:
"Mark is a very astute lawyer with great business instincts and is a highly effective leader. We, at Stradley Ronon, are proud to serve as trusted advisor to Mark and his Armstrong team."
—Jeffrey Lutsky, Managing Partner