Jackie Bryk Welch has achieved many of her career goals since graduating from law school in 2004. She has been an associate at regional and national law firms, has played influential roles in nationally recognized litigation, and now heads litigation at The J.M. Smucker Company. She credits her rise to "a simple recipe of hard work, perseverance, and old-fashioned luck."
The hard work came early. As an associate at Flaherty Sensabaugh Bonasso in Charleston, West Virginia, Welch played a major role in a high-profile lawsuit: West Virginia University Board of Governors v. Rodriguez. WVU sued its former football coach Richard Rodriguez, seeking payment of his contract's liquidated damages provision after he left to coach at the University of Michigan. Welch went to depositions, led discovery, authored motions, and participated in media interviews.
"The firm's lead partners pushed and mentored me to be a full member of the team," she says. "It was a great opportunity, especially that early in my career." Coach Rodriguez was ordered to pay the full amount owed under his contract, and the case convinced Welch she had found her passion. "I love the advocacy role of litigation," she says.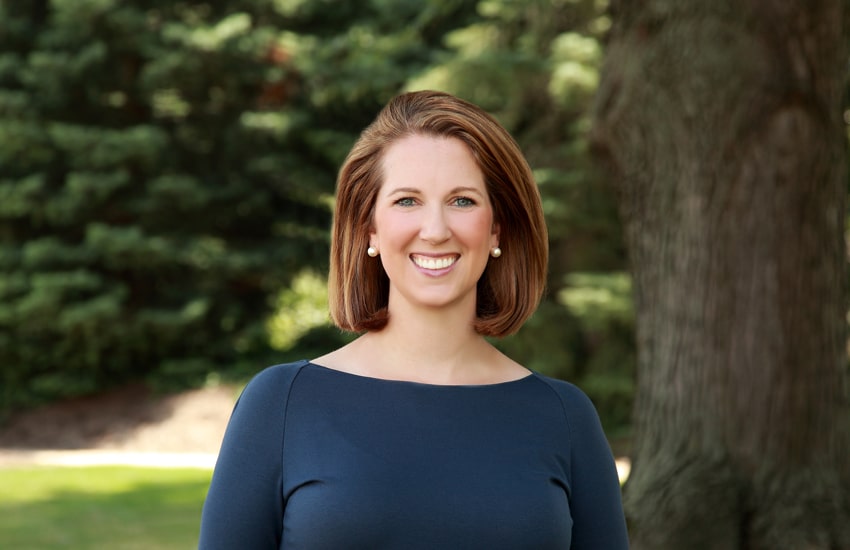 Flash forward seven years and Welch remains the sole in-house litigator at the $7.4 billion food, beverage, and pet food manufacturer. Here, in her own words, she shares some valuable lessons she has learned along the way.
On Working with Outside Counsel
I look for outside counsel that understand Smucker's business culture, needs, and goals. I want the lawyers we work with to think outside the box and come up with creative approaches. I am a proponent of novel ideas for handling disputes, especially in this litigious environment.
In-house counsel have the ability to influence law firms not only to meet business needs but also to shape the profession. We can ask them to partner with our companies when it comes to fees. And, we can encourage them to engage and mentor newer attorneys. For example, I fully encourage the active involvement of associates as members of the team and not mere background workers. I realized these efforts made an impact when I learned that an associate who took an active role in several of our cases became partner largely due to her tremendous work for us.
On Building Connections
No employee enjoys a call from the company litigator. I try to avoid being the bogeyman by getting to know people on a personal level before a matter arises that might require their assistance. I want people to see me first as someone who puts them at ease—and then remember that I am a lawyer. I'm known for bringing humor into stressful situations. Laughter can defuse even the tensest situations.
In one instance, an employee was extremely nervous about her upcoming deposition. After discovering that we shared a love of ice cream, we moved our meeting from a conference room to a local ice cream shop. It helped her see me not just as a lawyer but rather as someone there to help her through a stressful process. She did a phenomenal job in the deposition the following day.
On Constantly Learning
The J.M. Smucker Company was founded in 1897 and has completed a number of major acquisitions in the past several years, which ensures I never stop learning. For instance, some recent lawsuits involved facilities that had previously been operated by one of the acquired businesses. A member of my team, Kimberly Weese, recalled working on the deal a decade earlier. She went through all the agreements prior to the J.M. Smucker acquisition and discovered that the business had waived its liability for the facilities, so we bore no responsibility. You have to know what you don't know and trust your team.
On Finding Balance
I've learned throughout my career that balance makes me a better lawyer. I believe in the value of hard work but also that stepping back helps me put my work in perspective and gain efficiency. It also ensures that I am present for my family. As such, I encourage outside counsel to unplug as much as possible when they go on vacation or have family events.
On Mentoring
Mentoring is the best way to achieve success in this profession. I've been mentored by attorneys of different genders, races, ages, practices, and styles. This has helped me learn to adapt to any situation. Even now, I never turn down an opportunity to be mentored.
I also never refuse the request to mentor. In fact, I have mentored one young man since he decided to take the LSAT and continue to mentor him as he enters his third year of private practice. This can be a tough profession. I wish I'd taken advantage of a mentor while I was in law school to better prepare me for my career. Lawyers are generally taught to not ask for help, which is not a healthy approach. I think it's important for those of us who have been there to help those who are just coming up.