It's not unusual for a lawyer at a growing company to be asked to juggle various duties. It's less common, though, for a lawyer to find a way to merge two apparently distinct roles so that they come to look like one.
At global specialty chemical producer Solenis, Mark Dugan, assistant general counsel, is both a busy mergers-and-acquisitions lawyer—the company has completed six major acquisitions in the past three years alone—and the owner of its Resource Center. The Resource Center is not a library or a physical location; it's instead a group comprising Dugan and a suite of outside counsel that he manages. Together, they field requests for information from many of the company's functional groups (environmental health and safety, global trade, import-export, product regulatory, etc.), find answers, and deliver strategic legal advice based on their research.
But, rather than look at his Resource Center work as siloed from his M&A duties, Dugan has come to see the two jobs as complementary. He brings what he learns carrying out his Resource Center responsibilities into M&A transactions, and his wealth of M&A expertise helps him be a more effective leader of the Resource Center. "I look at them as one cohesive role," he says. "If I didn't do that, I'd be constantly pivoting from one to the other, and neither client base would get the attention and focus it deserves."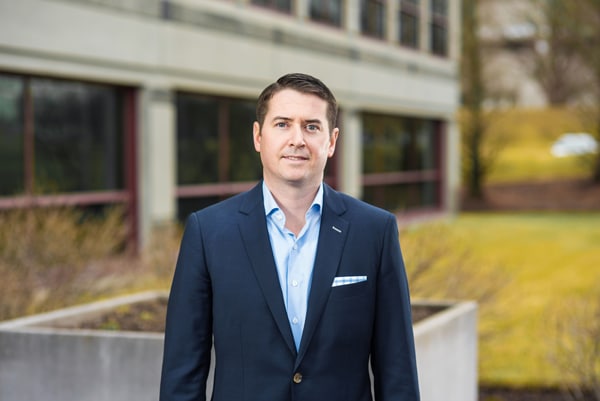 Dugan calls M&A his professional passion, and he's been immersed in it his entire career. Out of law school, he joined a Philadelphia-based private firm, in its business law department. In the seven years he spent there, he worked on M&A for companies from a wide swath of industries, from IT to professional sports.
Then, he joined the specialty-coatings company Axalta, and the frenetic activity of the business as it headed toward an IPO allowed him to broaden out beyond M&A. This was an important step in his path toward his ultimate goal of becoming a general counsel, a role in which he thinks it's ideal to have a specialty while also keeping the mentality of a legal generalist. "I wanted to make sure the work I did and the roles I pursued didn't prematurely put me in a narrow skill set," he says. "My career focus was to try and remain broad while also keeping my M&A experience sharp."
Eventually Axalta went public, and Dugan stayed for three years, until Solenis called. He liked the idea of bringing everything he had learned at Axalta to another private-equity-owned spinoff business—but this time he would be in a more senior role. "I've been working with our general counsel and the excellent legal department she built ever since," he says. "Solenis is an innovative and solutions-focused business, so the legal department has to be equally innovative and solutions-focused in serving our clients. We're creating a culture of acquisitions, with highly involved global transactions that the relatively small M&A team can't do without the buy-in from the rest of the business."
Understanding overall business impact is crucial for an in-house lawyer, who must own the work in a way that a lawyer for a private firm, who works with a revolving door of clients, can't. At Solenis, Dugan is attached to every deal, from start to finish. He says this has dramatically changed the way he looks at deals and all the things that can help or harm their performance over the long term. And, while he may have initially winced at the idea of wearing two hats, he quickly realized his Resource Center work could help him be a better in-house M&A lawyer.
For one, the relationships Dugan makes with various departments while carrying out his Resource Center responsibilities end up paying dividends when working on M&A. "I try to be very responsive to Resource Center clients so that when an M&A deal is in full swing and we're doing due diligence on a regulatory matter, for example, I know who the right person in the company is to answer a question," he says. "The relationship has already been established."
In turn, Dugan's Resource Center work has also given him a leg up in striking deals that make sense for all parties. It has allowed him to understand M&A transactions from all angles. "The role has helped me appreciate how the different functions of the business are interrelated," he says. "If M&A is all you've ever done, then when you're negotiating a deal on behalf of the company, you may not see how the things you're negotiating for connect and will affect the business in the long term."
As Dugan continues in his dual role, he looks forward to the new things that other Solenis departments have to teach him, and he looks forward to applying more of what he's learned in the Resource Center to his M&A work. "Because I touch so many business units in the Resource Center role, I get to see the effect of decisions we've done in previous deals," he says. "It gives me a more granular view of the impact of our M&A deals."