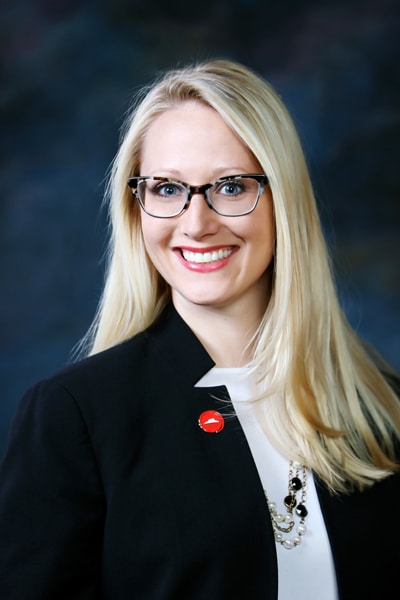 Raised by parents in the import-export business, Lauren Leahy was first introduced to a wide variety of cultures at a young age, including their customs, philosophies, and even their cuisines. Her first solid food was an Indian staple, tandoori chicken, and she learned to use chopsticks before picking up a fork. "Those experiences—and the many that surrounded them—gave rise to curiosity, gratitude, and passion for cultures different from my own," she says. "My appreciation for diversity is a fundamental part of who I am."
She's since carried that appreciation into her work as chief legal officer for Pizza Hut, a subsidiary of Yum! Brands. Here, she discusses where her passion for diversity and inclusion stems from and details a few of the particular D&I initiatives she's been involved with at her company, including its employee resource groups.
When did you first realize how important D&I efforts are and develop a passion for them?
I've had the profound opportunity to engage with people from different cultures and backgrounds for as long as I can remember. My husband comes from a large Mexican family on one side and a large Arab family on the other; we celebrated our wedding with salsa music, belly dancing, and an Irish bagpipe player. My sister-in-law is of Korean heritage. My son's first language is Spanish. We joke that family get-togethers are like a UN conference.
In college, I worked closely with the International Rescue Committee, helping to resettle refugees in Dallas. In law school, I dedicated my time to the Legal Aid Bureau, a student-run law firm that provides services in the Boston area, and the Human Rights Initiative, a Dallas-based organization that works closely with survivors of violence from around the world. Through both experiences, I developed close relationships with the communities I served.
I'm better at my job because of these experiences. They've made me a better listener, risk-taker, and colleague.
Plus, a healthy D&I outlook is important to the Pizza Hut mission, yes?
There's no question that diversity and inclusion are critical assets for Pizza Hut. When people bring varied personal experiences, professional backgrounds, and styles of communication and leadership to the table, we more closely mirror our consumer and employee base and reach more effective, creative solutions to our most-pressing business problems. As a member of our executive team, a critical element of my role is to maintain an environment where every individual feels seen, heard, and respected.
In 2015, Pizza Hut formed its own in-house D&I council, Leading Inclusion for Today and Tomorrow (LIFTT). Have you been involved with that council at all since joining Pizza Hut in 2013?
I'm tremendously proud of the work of the LIFTT Council. While I'm not intimately involved, I know that the collaboration of partners within the group has driven greater insights, open communication, and stronger bonds across our organization.
Pizza Hut and Yum! also began building "learning experiences," including "unconscious bias training," in 2015. Have you had any involvement in these learning experiences?
I've participated in unconscious bias training at Yum! and found it to be an extraordinary mechanism to assess the biases we bring to the table, identify the circumstances that can activate those biases, and develop practices to recognize and mitigate them.
Several Pizza Hut and Yum! press materials mention internal employee resource groups (ERGs) that have been formed. Have you had a hand in forming or shepherding any of Pizza Hut's ERGs?
Our Plano, Texas, headquarters, which we refer to as a Center of Restaurant Excellence, features an ERG called WILL: Women in Learning and Leadership. I've been involved with WILL from its inception and am tremendously proud of the progress the group has made over the years. My role has evolved over time, from planning events to speaking on panels to serving in an advisory capacity, but all along the way, I've been impressed and inspired by the women around me.
What sorts of events does WILL organize?
The group hosts large events—most recently an International Women's Day celebration—broad discussions, and small group lunch-and-learns focused on the issues that matter most to our community of women. Events feature inspirational women from within Yum!, along with guest speakers and many of our male allies across the organization. WILL has elevated the conversation, created new safe spaces, and generated ongoing energy around professional development for women in all functions.
More recently, Yum! announced that it has made it a priority in 2018 to make itself "a bigger magnet for female talent." Have you seen this play out at Pizza Hut?
Absolutely. There is substantial work ahead as we continue to recruit, retain, and promote women across the organization, but I'm proud of our continuing efforts on this front. I'm reminded of one of my favorite quotes: "empowered women empower women." That philosophy has borne itself out beautifully throughout my time at Yum! Some of my greatest mentors and sponsors have been the women to come before me at Yum!, empowering me through honest feedback, an endlessly open door, and the confidence that comes with knowing that you are supported without caveat. The proof is in the pudding, too. Pizza Hut's executive leadership team is 50 percent women, and we have an incredible pipeline of female talent across the organization.
Anyone in particular who inspires you?
I am consistently inspired by the brilliant women in my midst, from our chief technology officer, who leads her team with precision, grace, and strength, to our chief marketing officer, whose creativity and collaborative spirit knows no bounds. Our differentiated styles and skill sets offer women in the pipeline an opportunity to see themselves in us, to visualize—and ultimately materialize—a leadership role that allows them to find their own unique voice at the table. We unapologetically root for one another, committed to the principle that there is room for each of us to succeed.
Are there any other specific D&I initiatives or efforts you're a part of or spearheading personally at Pizza Hut?
Without question, ERGs and continuous programming regarding D&I initiatives are critical to our success as we continue to evolve; so, too, is the work of empowerment in the everyday moments—the ways in which we believe in, champion, and truly see each other along the way. My commitment is to make a difference on both sides of that critical coin.