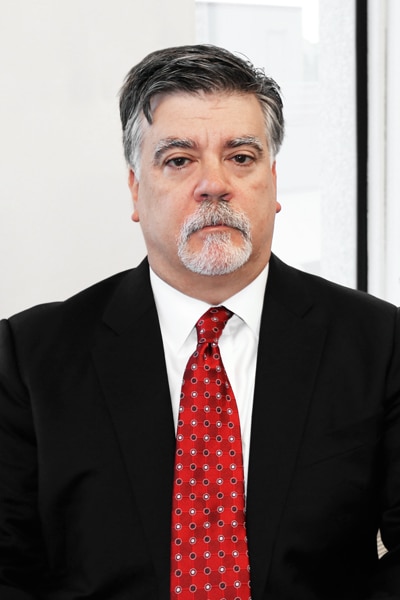 "I've been drinking out of a fire hose," Larry La Sala jokes, reflecting on the chaos that's been pouring across his desk since he became vice president and deputy general counsel of litigation at Textron, in July 2017. But, having been with the company for sixteen years, La Sala knows what he signed up for; Textron, which has become an industrial conglomerate in the fields of aviation, defense, security, and more since its founding in the early 1900s, encompasses multitudes.
His external partners have been impressed with his approach to the variety of work. "I am so proud to work with Larry, and I know his in-house team at Textron feels the same," says Neil A. Goldberg, a partner at Goldberg Segalla. "He is inspiring to be around. His sophisticated, forward-thinking approach to complex problems, coupled with his broad experience, helps assure a highly motivated, efficient, and effective legal department."
La Sala estimates that Textron has acquired roughly three hundred different companies since 1950. In his current position, La Sala oversees a staff of five full-time lawyers, each of whom specializes in a particular area of Textron's portfolio. He and his team work with the legal departments of Textron's numerous businesses, and here he breaks down how they multitask between them.
What do you mean when you say you're "drinking from a fire hose"?
There was an interesting combination of circumstances when I took over this job. My predecessor was promoted to an executive vice president position outside the legal department, so she was busy transitioning into her new role. I also inherited the cases she was working on, on top of my own—and had a senior lawyer on my staff in the process of retiring. And a few months before I started, we purchased Arctic Cat, and that was a whole new area of litigation we had to integrate into the portfolio. I've had a lot to get up to speed on.
How are you managing all that on top of such a diverse portfolio?
One of the things that has helped me tremendously in the last eight to ten months in this job is having worked over the years with almost all of Textron's businesses on nearly every type of litigation. So, while I certainly needed to understand a greater depth of detail about some businesses, I was not a complete stranger to anything that we did in the litigation function. That was helpful.
It must also help to have a staff that has specific specialties.
Given the breadth of the company, the amount of different industries we're in, and the different types of litigation, I don't think anybody would be able to do the job without having some good people that you trust. Having spent ten years at Gibson, Dunn & Crutcher, it was very comforting for me to come to a place where they had such bright, dedicated lawyers. I mean, it's not uncommon for our lawyers to be here ten, fifteen, twenty years or more, and that sort of continuity is really helpful, particularly when you have a company that's in the business of buying and selling companies.
So, our litigation staff in the corporate office and at our businesses is all folks who have had a significant career in outside law firms. They come to us as trial lawyers, knowing how to manage and try cases. We have in-house people who are specialists in these areas, whether it be in aviation regulations or consumer products.
Do you ever allow your lawyers to operate outside of their specialties?
Candidly, my primary goal is to get people, to the extent I can, out of their containers. I want to get them as wide a breadth of experience as I can and, in some instances, even take them out of their comfort zone. You don't stay and work here unless you have some desire for diversity.
But, I also offer a lot of autonomy. I'm working with professionals with substantial track records, and I want to give them all the assistance they need while also letting them do their jobs the way they know how. In many cases, they have more experience than I do in their particular specialty.
Is it difficult keeping everyone on the same page sometimes?
Well, to do that, you need processes in place where you have lots of communication and integration between the corporate-office litigators and the business-unit litigators. Certainly in my position now, overseeing all of those lawyers, it's on me to make sure that the communication process is in place and everyone from the lawyers to the finance people to the business people are on the same page.
How would you say you've had an impact on the actual business in your role?
Well, more than ten years ago, I helped to build our own in-house e-discovery program in the litigation group so that most of the work that would get farmed out to vendors in terms of collecting and processing information we could do in-house. And, depending on the year, we were tracking probably $2–3 million or more in savings, and that's real savings.
We also have very high success rates in terms of managing cases, particularly repetitive types of litigation like toxic tort. We have programs in place that really help us handle those cases in a very efficient way. Most of the time we're on the defense side, and so, for us, resolving litigation without it having a material impact on the company is really critical.
What would you say is the most satisfying aspect of your position?
Honestly, I think the most satisfying part for me, which I didn't anticipate coming here, is having grown into being as good a businessperson as a lawyer, bringing those two worlds together. Sometimes, the business solution to a case is not identical to the litigation solution to a case. So, for me, when I can bring those worlds together and the CFO or finance director is happy with the resolution of a case, that's deeply satisfying.
Photo by Julie Campanini
---
Expertise Spotlight
Textron partner Goldberg Segalla is one of the largest and fastest-growing law firms headquartered in the US. With more than 350 attorneys and more than twenty offices in New York, Chicago, Los Angeles, Philadelphia, Miami, St. Louis, and other major business and economic centers across ten states, the firm advises and represents clients from a wide range of industries in complex matters across the US and around the globe.
The firm defends high-exposure product-liability and mass-tort claims, represents companies in toxic tort and environmental matters, handles complex commercial and insurance-coverage litigation, guides clients through multijurisdictional transactions, and advocates for clients in all forums of alternative dispute resolution. Its lawyers draw on this extensive collective experience to provide proactive legal and regulatory counsel that helps clients minimize and manage risk.
Goldberg Segalla's collaborative culture and team-first philosophy have earned it respect and admiration from peers and clients, a spot on Fortune's national Best Workplaces list, and continual placement in statewide and regional rankings of the best places to work. The firm values and rewards efficiency and collaboration in all its people, which ultimately drives a superior law firm experience for its clients.