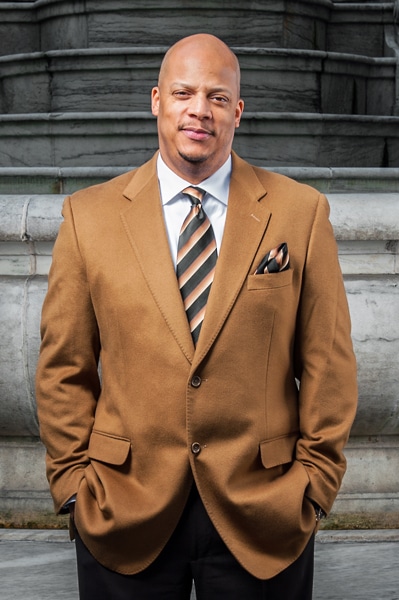 Frank M. Clark II was well into his legal career when he first began working in technology law as senior counsel at Sun Microsystems, in 2006, but he's still been in the niche long enough to have seen it undergo significant change. "I knew that the technology sector was growing rapidly," Clark says. "This was an area of law that I knew would be evolving for years to come."
When Oracle acquired Sun, in 2010, Clark joined Oracle's North American commercial legal group as senior corporate counsel. "At Oracle, I continued gaining valuable transactional experience and software licensing, but I was also introduced to the growing area of cloud computing," Clark says.
Then, he joined Infosys Limited, an India-based technology-services firm, as practice counsel, in 2012. As the tech industry has continued to evolve and Infosys has expanded its product portfolio, Clark's role has evolved as well, and now he's assistant general counsel and head of legal for the Americas. "The business and legal challenges that are presented to me on a daily basis constantly keep me thinking of new, innovative solutions," Clark says. "There is rarely a dull moment."
Clark spoke with Modern Counsel about the constantly changing technology landscape and how Infosys is positioning itself for future growth.
How have you seen the landscape of technology law change throughout your career?
First and foremost, technology has become extremely advanced and mobile, and that has really changed how people interact with it. The second thing I've seen the biggest growth in is cloud computing. No one goes to the store and purchases physical copies of software anymore. It's all downloaded from or accessed via the cloud. That's changed how people engage with retail. The reliance on cloud computing has led to significant changes in data privacy and security laws.
How do the changing regulations affect the way you approach your work?
It impacts the services because customers are concerned about how you are going to keep their data secure and private. It also increases the liability that we're potentially subject to in our commercial agreements. Because data privacy and security is such a hot issue, customers are seeking higher limits of indemnification for breaches and higher limits on the limitation-liability cap. All that has forced us to become very creative in solving for the increased risk.
How is Infosys adapting to customers' changing expectations?
Infosys's growth strategy has changed significantly over the last few years. The shift can be attributed to both changes in executive leadership and customers' evolving needs and focus. Our CEO, Salil Parekh, recently announced that his priorities are to build an agile digital future for our clients and ourselves, to take our existing core services and energize them, to continue to reskill our employees, and to localize in the markets where we have a large presence.
How do the company's recent acquisitions address those priorities?
Recently, we've been focused on increasing our portfolio in digital marketing and related services. That's an area that's blossomed over the last five years or so. In August of 2017, we acquired Brilliant Basics, a London-based product-design and customer-experience innovator known for its world-class design-led approach and experience in executing global products. This acquisition represents Infosys's commitment to the expansion of a worldwide connected network of digital studios.
Most recently, we announced the acquisition of Wongdoody, a Seattle- and Los Angeles-based full-service creative and customer-insights agency, known for its award-winning integrated campaigns, omni-channel programs, digital in-store experiences, and multiplatform and shareable content. This move has strengthened Infosys's creative-branding and customer-experience capabilities and demonstrates our continued commitment to bringing innovative thinking, talent, and creativity to clients around the world.
You mentioned a commitment to reskilling and localizing employees. How exactly have Infosys's US hiring practices changed in recent years?
The majority of our employees are based in India, and our largest revenue-generating market is the US. That means there is going to be some visa reliance, with employees coming over on H1B visas. Unfortunately, the current administration has taken a very aggressive stand against immigrants and visa workers, so that has prompted us to rethink our strategy in order to best serve our customers here in the US and to start localizing and hiring employees in countries and markets where we have a larger presence.
We've recently announced partnerships with several states in setting up delivery centers. We have a goal of hiring ten thousand employees in the US over the next two years. That's one thing Infosys does really well: training employees. The training and delivery centers we have in India are second to none, and the company's goal is to replicate them here in the US.
How will the new hiring approach change how Infosys is able to deliver its services?
I think it will only enhance the services because it gives us a pool of employees that are already here and being trained. Of course, it will take some time to get up to speed, but our delivery model has been 24-7 for the most part. If somebody is working on an assignment in the US, once we hit the end of the workday here, you have India coming back online so that that project can still be worked on overseas. That's one of the benefits of our business model.
It sounds like you and your team are already figuring out many of the challenges of the shift.
My team was recently awarded the Infosys Legion Award for our outstanding contributions in helping the organization achieve excellence, which made me very proud. It's good to know that your hard work is paying off and being recognized.
Photo Ezra Eckman
***
Kelley Drye & Warren LLP:
"Frank's intelligence and dedication to legal excellence comes through every time we work together. He is committed to advancing Infosys's legal needs through practical and business-oriented solutions."
—Deepak Nambiar, Partner