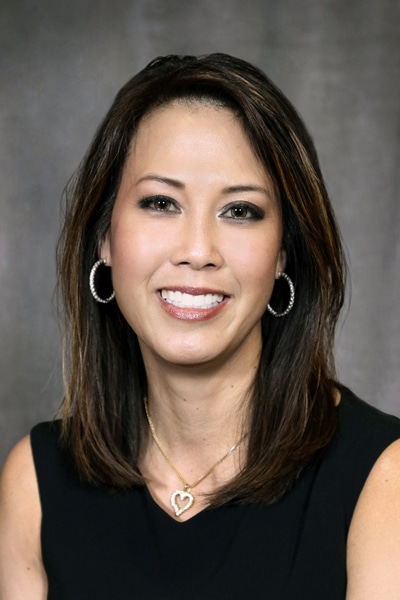 Southern California native Joni Lee Gaudes has been a lifelong athlete. These days, she attends Orange Theory Fitness and Muay Thai kickboxing classes, but back in 2001, she had an ambitious goal: running the Los Angeles Marathon. After weeks of training, she did it, finishing in a respectable five hours.
Like any athlete, Gaudes puts a lot of stock in her footwear, and in 2015, as she was getting ready to run a half marathon, a shoe salesman suggested she try a new pair. "I had been running in a fairly heavy shoe," Gaudes says. "The first alternative he gave me felt way too light. Then I tried on a pair of ASICS. It was the GEL-Kayano model, and I've been a devotee ever since."
Little did she know that her love for that pair of shoes would one day lead to work for the Japanese-based brand, which designs and manufactures performance footwear and related apparel. "I was recruited to work for the company by a colleague I had previously worked for," Gaudes says. "I was already running in their shoes, and I respected the brand and its emphasis on quality."
She joined as associate general counsel in 2017. On day one, the hiring team cemented her loyalty even further by leading her into the company store and letting her pick her choice of shoes. She went with a fresh pair of the GEL-Kayano model. About seven months later, Gaudes became vice president and general counsel, and today she leverages her extensive legal experience to help spread word of the brand through the handling of sponsorship contracts and oversight of real estate deals in new markets.
"It helped that I had worked for a Japanese-owned company before," Gaudes says. In 2014, she was the vice president, general counsel, and corporate secretary for FCTI, an ATM company that was owned by Seven Bank, based in Tokyo.
That's not where she got her start, though; after getting her law degree from Southwestern Law School, Gaudes spent eight years at Breidenbach, Huchting & Hamblet, primarily handling insurance litigation and eventually becoming a partner. Then, she landed her first in-house position as vice president, general counsel and corporate secretary for 1-800-DENTIST.  "Most companies want lawyers with significant transactional experience as their GC, rather than someone who has focused on litigation," Gaudes says. "But 1-800-DENTIST wanted an attorney who had tried cases and could give a risk-management point of view to transactions and litigation. They thought I could learn the corporate stuff, which I did."
During her six years there, Gaudes was a true jack-of-all-trades. "They put quality assurance, the department that screens dentists and handles consumer complaints, and HR under me, and I also managed contracts and reviewed marketing content," she says. "I was used to working in a law firm with twenty other attorneys. It was a true trial by fire and a great learning opportunity. I now know a little bit about a lot of different things."
Her position at ASICS America taps into all of that, particularly given the leanness of the in-house legal department. "When I first started," she says, "there was just the general counsel, a compliance attorney, and me." Today, she oversees that compliance counsel, a corporate counsel, two contract attorneys (one of whom specializes in data privacy), and a paralegal, and together they handle things for nearly every arm of the company. "I counted it up the other day, and I work with nine different departments for the US, Canada, and Latina America," Gaudes says.
She and her team also oversee high-profile promotion and sponsorship contracts. Recently, they signed Grammy-nominated DJ, music producer, and record label founder Steve Aoki as the face of ASICS's I Move Me campaign. Launched in October 2017, the campaign is helping the company connect with new audiences in innovative ways—through, for example, online videos and social media showing how various influencers move, and via product drops at popular events, including Coachella and various music festivals.
"Aoki was a brilliant selection," Gaudes says. "He is a fitness fanatic, dedicated to leading a healthy lifestyle. He also pushes the boundaries creatively. ASICS's name stems from the Latin phrase anima sana in corpore sano, which translates to 'sound mind in a sound body,' so he is in sync with our core values. It was a bonus that he is Japanese American." (His father, Rocky Aoki, was a larger-than-life wrestler who founded the Benihana restaurant chain.)
Gaudes and her team are also involved in ASICS America's retail and geographic expansions throughout the US, Canada, Mexico, and South America. "We see lots of opportunities in Brazil, Argentina, Chile, and Peru," she says. "As part of our direct-to-consumer efforts, we will be opening more stand-alone ASICS retail stores throughout the region and increasing our online presence via our own website as well as third-party vendors."
Today, as the company continues to innovate and expand to help more people be active and healthy, Gaudes remains a loyal wearer of the brand, with at least ten different pairs of ASICS shoes in her closet. "I have running shoes, trainers, shoes for my various fitness classes, and lifestyle sneakers I wear to work," she says. "The sport-style or athleisure shoe is what most of us live in now. They take us from fitness classes to the coffee shop to the office to wherever we're going. It's exciting to be part of a company that plays such an integral role in people's lives."
Photo by Hugh Williams Photography
***
Pasich LLP is a bicoastal law firm focused on the representation of policyholders in complex insurance-coverage matters. Our attorneys help clients minimize risk and maximize recoveries from their insurers and third parties. Whether it be risk review, the design of new insurance and risk-management transfer concepts, insurance-claim submission, litigation management, or the pursuit, when necessary, of arbitrations, lawsuits, and appeals, we help clients navigate their most challenging legal and business issues.