Brian Pierson wasn't born and raised in Oklahoma; he's actually a product of suburban Chicago. But, living in the state since he graduated college in the 1970s has taught him a thing or two about its values and principles. And practicing law there for more than thirty-five years, including more than thirty in some capacity for BancFirst Corporation, has schooled him well in the ways Oklahomans manifest those values in terms of money management. Simply stated, they and BancFirst take the term community banking seriously, and in doing so the bank is continuing to broaden and better target its services across the state.
"BancFirst's tagline is 'Loyal to Oklahoma,'" says Pierson, who today serves as senior vice president and general counsel for the bank. "That appears in all our advertising and marketing and certainly tells people who we are."
The business's growth in the Sooner State syncs up with Pierson's time there. It first planted its roots in the 1970s, as Thunderbird Financial Corporation, and its founder, H. E. "Gene" Rainbolt, began offering management services to the rural community banks in which he'd acquired a controlling interest. By the end of the 1980s, he had taken twelve of those banks under a single state charter and created BancFirst.
Today, nearly thirty years (and 107 locations, in fifty-nine Oklahoma communities) later, BancFirst has more personal household relationships than any other financial institution in the state, including national banks. Its staff works to support not only its established branches but also what Pierson calls "twigs": the geographic markets surrounding each branch. This effectively puts BancFirst in as many as five additional communities with each new branch it opens. This is particularly important, Pierson says, given each branch's considerable level of autonomy.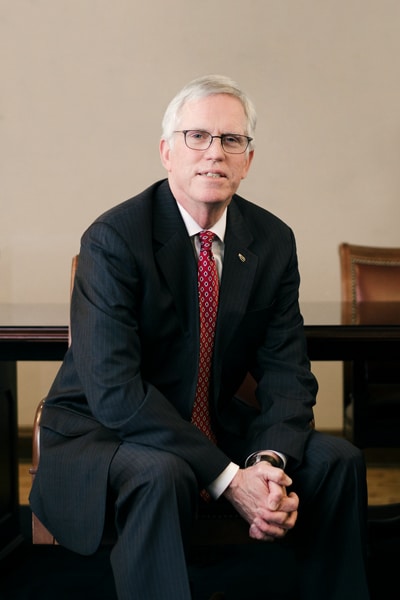 BancFirst's main office, in Oklahoma City, is referred to as the Support Center. "Here, we focus on providing technology, accounting, operational, and product expertise, and specialty offerings such as trusts, investments, and treasury management," Pierson says. "Complexity, cost, and scale of delivering these product lines are often a distraction from a community bank's primary role of taking care of customers. It is this unique balance of local autonomy and centralized support that is the differentiator between BancFirst and larger out-of-state banks. Local autonomy is a core value that drives our business model."
Pierson has now spent a good portion of his career helping the bank extend its reach over the state, but he first found his way to it gradually. After spending several years at a Tulsa, Oklahoma, law firm, honing his skills with commercial transaction work, foreclosures, and banking regulations, he relocated to Guthrie, Oklahoma (approximately thirty miles north of Oklahoma City), and came to represent the city in a variety of ways via his own law practice. When he "elbowed his way" into working with Guthrie's banks, too, he grew familiar with one that eventually became BancFirst Guthrie. His contract work with that location led to statewide work in the 1990s, and BancFirst offered him the general counsel position in the summer of 2000. "I decided I'd be a fool not to take it," he says.
Since then, he's been involved in the acquisition of twelve different banks and due diligence for several other potential deals that didn't pan out. Though BancFirst is most heavily invested in eastern and central Oklahoma, it now has community coverage in every part of the state except the less populated Panhandle. Pierson's work even takes him directly into the bank's new communities at times, where he and BancFirst's CFO will serve on newly acquired banks' boards during their interim periods. "I've done that four or five times, and that's a really fun experience," he says. "You get in there and get to know those folks, and in turn you get to know the community through their eyes."
This is especially important to BancFirst, which prides itself on granting each of its branches the freedom to tailor its services to its area's specific needs. "They have 99 percent control over what they want to do to support their community," Pierson says. "It could be a booster club, summer activities for kids out of school, senior citizen programs—we see it all, because we have that kind of diversity in Oklahoma."
Looking ahead, Pierson is working to stay on top of technology and digital banking services. "We have the economy of scale, where we can provide a lot more product line that's on the cutting edge of current industry technology," he says.
But, at the end of the day, after multiple decades living in Oklahoma, it remains both the Sooners he works with and the ones he works for that keep his work interesting. "When we provide a better community within our respective communities," he says, "it enhances the quality of everybody's life."
Photos by Tracy Hayes Photography
Brian Pierson and the Bovine Band
When he's not helping BancFirst acquire new banks and branches in Oklahoma, Pierson plays a mean rhythm guitar as part of a band. Here are a few fun facts about the group:
1) Founded in 1987, it's been around and played at different events and venues for more than thirty years.
2) It's full name is a mouthful. The band is officially called Billy Bob Bovine and the Embryo Transfer. "You don't get much more Oklahoma than that," Pierson says.
4) It's versatile. "We play four kinds of music: rock, roll, rhythm, and blues," says leadman Billy Bob Bovine, aka D. Jay Hannah, executive vice president at BancFirst.
3) It has brains. The band includes an assistant professor from the University of Central Oklahoma and a retired band director who now manages a music store, and there are several graduate degrees scattered among the members.
5) It can hang with the big boys. The band has played with such legendary country artists as Willie Nelson, Hank Williams Jr., and Hank Thompson.