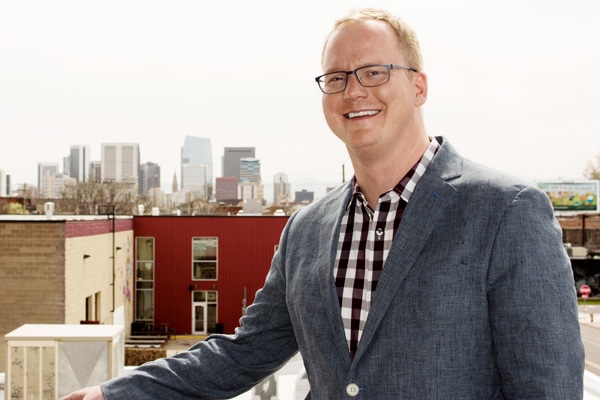 The implosion of several high-profile banks, a worldwide recession, and some of the shakiest economic ground in American history made 2009 a trying year for even the most seasoned of businesses. For Summit Materials, though, a Denver-based construction materials company, 2009 was something else entirely: a beginning—and an auspicious one at that. What vice president, deputy general counsel, and assistant secretary Chris Gaskill describes as a company founded that year around a kitchen table quickly began a virtually nonstop acquisition process of dozens of construction companies, some with histories dating back more than a hundred years.
As only the second in-house lawyer, hired in 2015 (the same year Summit went public), Gaskill has been tasked not only with helping manage the company's acquisitions but also every other responsibility that may have legal attached to it. "There's a lot of work to go around, and to truly gain your colleagues' trust and confidence, you have to be extremely available and  responsive," he says. "I think we've performed admirably in this matter, and it makes having a passion for the business and the folks we work with an absolute necessity."
Gaskill came to Summit after amassing legal experience at Western Union, Cardinal Health, and Simpson Thacher & Bartlett, and he's found the entrepreneurial spirit at the company—as well as the leaders from the businesses it has acquired—both empowering and inspiring. "It really is a lot of fun getting to know a lot of these entrepreneurs who started their own companies; just learning from them and being there as a resource is something that's been very rewarding," he says.
While the workload may seem intense—Gaskill's legal team has cemented fourteen acquisitions in the past year alone—it's part of what drew him to the position, particularly as a lawyer who enjoys making deals. "I knew, coming to a place that was expanding this fast, that there had to be a real entrepreneurial spirit among everyone, no matter the function," he says. "Everyone has to buy into this vision of growing quickly but wisely and having your own ideas about how to expand the business."
Gaskill says that the inherent nature of Summit and what it provides is part of the reason it's been able to grow so fast. "The business itself is incredible," he says. "The materials we provide and the services we perform really are the backbone of the infrastructure in the markets we serve. Additionally, my CEO, Tom Hill, has always said that one of the greatest aspects of our business is that we are able to provide jobs to hardworking people that enable them to feed their families. This is a responsibility all of us here take very seriously."
As Summit has continued to grow, Gaskill and his team have endeavored to streamline its integration of newly acquired companies—without stifling the spirit of each company. "When we acquire a company, we are very careful to respect their way of doing things," he says. "Some of the businesses we have acquired have been family owned for dozens of years; they know their markets and business best, and we at Summit are extremely cognizant of this."
Outside counsel Gaskill works with, including Steven R. Shoemate, a partner with Gibson Dunn, are impressed with his careful approach to acquisitions. "Chris's ability to identify the important issues in negotiations and apply his business acumen as well as his technical legal skills is a game changer, given the pace and complexity of Summit's acquisition strategy," Shoemate says.
Gaskill admits that it might make for less work on the weekends if Summit were to simply embrace a more "do-or-die" mentality, but he counters that Summit's decentralized model is simply the better way to operate. "From a legal perspective, that means each time we acquire a company, it's like getting a brand-new client with its own unique approach to how we do business," he says. "We have learned how to provide a great level of service, ensure compliance, and become trusted business partners, all while being mindful of how each of our companies does business. It's a challenge, but it's one we absolutely embrace."
One of Gaskill's main focuses lately has been working to make the legal group more than the "Department of No." "When I first arrived, I made sure to get out to see as many of our operations as possible, to know the plant managers, and to make sure they knew I was there to help them accomplish their goals," he says. "I think ultimately I want to make sure that the legal department is positioned at the center of all our business decisions. I think the role of in-house counsel can evolve from being boxed in to really being able to expand to more strategic and more organizational thinking."
As Summit pursues more acquisitions, Gaskill says, it will be important for the company to continue to spend time listening rather than laying down the corporate line. He believes that most successful integrations come down simply to matters of humanity. "The point is, you have to be humble," he says. "It's important that we keep reminding ourselves that though we have a lot of talent and expertise here already, we can always learn more. It just requires more flexibility, being adaptable, and, frankly, being willing to put in more time."
A willingness to put in the time sums up the entrepreneurial spirit of Summit well, and it's why Gaskill is so optimistic about the company's future. "We are not a goliath of our industry," he says. "We are relatively small compared to the other public companies, but that makes us scrappy and hungry and want to prove ourselves."
Growth through the Years
Since its 2009 founding, Summit Materials has completed more than 60 acquisitions, gone public, and amassed 3.3 billion tons of proven and probable aggregate reserves. Here's a year-by-year look at the company's radical expansion.
2009: Receives a capital commitment from the Blackstone Group and makes its first acquisition
2010: Makes twelve more acquisitions, establishing its presence in the cement industry, and moves into five new states
2011: Secures eight more acquisitions
2012: Completes three more acquisitions
2013: Relocates to Denver
2014: Makes eight acquisitions and enters the Houston and Midland, TX, markets as well as the Vancouver market
2015: Has its IPO in March and makes four more acquisitions, including a cement plant in Davenport, IA
2016: Blackstone ends its investment, but the company makes nine more acquisitions, including purchasing Boxley Materials Company
2017: Deploys $400 million spread over fourteen new acquisitions in its busiest year to date, and its revenue reaches $1.9 billion
***
Constangy Brooks Smith & Prophete:
"I have worked with Chris in navigating thorny employment issues, including high-stakes, highly sensitive workplace matters. Chris has a keen understanding of the complex dynamics inherent in workforce management and brings a practical, level-headed approach and a fresh perspective to problem-solving. I am honored to be one of his trusted advisers."
—Jim Goh, Managing Partner, Denver
***
Simpson Thacher & Bartlett LLP:
"Chris Gaskill brings incredible determination, energy, and sound thinking to each project. I have the pleasure of working closely with him on various matters and am amazed at his skill in seeing demanding projects through."
—Edgar Lewandowski, Partner
---
Expertise Spotlight:
Gibson, Dunn & Crutcher, a Summit Materials partner, is a premier, full-service international law firm and recognized leader in representing companies ranging from start-up ventures to multinational corporations across diverse industries from industrial, manufacturing, technology, and financial institutions to service companies and government entities. The firm advises its clients on some of today's most complex, challenging, high-profile, and transformative transactions and matters around the world, handling every aspect of corporate transactions and counseling, private equity, mergers and acquisitions, litigation, crisis management, corporate governance, regulatory law, antitrust law, business restructurings and reorganizations, tax law, employment and labor law, intellectual property and real estate law, and many related practice areas.
Consistently achieving top rankings in industry surveys and major publications, Gibson Dunn is distinctively positioned in today's global marketplace, with more than 1,200 lawyers and twenty offices located in major cities throughout the United States, Europe, Asia, the Middle East, and Latin America.
---
Expertise Spotlight:
Simpson Thacher has been privileged to partner with Summit Materials on numerous capital markets transactions, including its 2015 IPO as well as ongoing public-company advisory and corporate-governance work. The firm's public-company advisory practice (PCAP) works closely with Summit Materials as well as numerous other US and non-US public companies on all aspects of their compliance with US securities laws and the listing requirements of the major US exchanges. The PCAP is built of an established team of partners, counsel, and associates who are devoted entirely to ongoing public-company representation and dealing with the issues public-company clients face on a daily basis. The firm offers each of its clients a dedicated team of attorneys from the PCAP who know and understand the clients' businesses and are committed to serving them. The extensive experience of the PCAP and Simpson Thacher's client-team approach allows the firm to leverage its knowledge of evolving industry and market practices from across its advisory platform to provide its clients with timely and cost-effective advice.
The lawyers in the PCAP routinely assist public-company clients with ongoing SEC reporting requirements, appearing on their behalf before the SEC and counseling clients with respect to the requirements of the New York Stock Exchange and the Nasdaq Stock Market. They also advise clients on board and executive compensation, corporate governance, internal controls, disclosure controls, and procedures and compliance with beneficial-ownership reporting requirements and the short-swing profit-recovery rules. In addition, they regularly review with clients their defensive profiles and counsel boards of directors and board committees on significant transactions. When circumstances warrant, they also bring a depth of judgment and experience to the conduct of internal investigations and help clients respond effectively to formal and informal inquiries from the SEC and other governmental authorities.