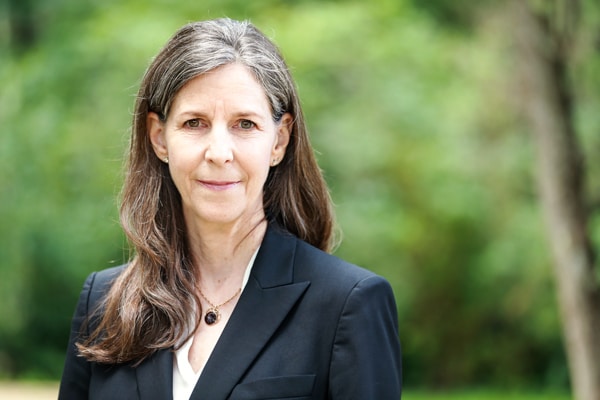 Megan Chambers grew up certain that her love of all things learning-related would translate perfectly to a career as an educator. At just sixteen, she began taking college courses while still in high school to build toward that goal, but about a year into her coursework, one of her professors insisted she needed to change tracks and go to law school. The young student took that advice and ran with it, but she never entirely gave up her passion for education. In fact, as the executive vice president, general counsel, and corporate secretary for wealth-management and private-banking firm Boston Private Financial Holdings, she has found a number of ways to both learn and educate others about how to address unexpected changes.
"My perfect job would involve going to school for the rest of my life; I am curious about everything," Chambers says. "But now, when something comes up at work, I can often jump in to help explain it or teach it to other people. It's important for legal teams to be able to take complicated or esoteric topics and turn them into a relatively structured and understandable format so that it's not too complex to implement a process around it. You also have to be able to work with people at all levels and develop relationships."
When Chambers started at Boston Private more than fifteen years ago, the organization had yet to even establish a legal department. She has been able to build it from the ground up and continues to shape it to adapt to the changing needs of the business and the industry.
Chambers had a proactive, prepared mind-set instilled in her at the beginning of her career, when she was still an associate at global law firm Ropes & Gray. In lieu of just giving pep talks to associates, a manager at the firm would say, "There's always room for one more file." More than seeing that as a model by which to help others in the office, Chambers has seen it as a good way to live life: being ready to help when it is needed, and to learn something in the process.
She also believes in establishing relationships. In order for her legal group to be most effective, Chambers made sure its members established strong, positive relationships throughout the company. The department needed to show its business value and not be a bottleneck for the business lines. "I wanted us to be seen as a group where our clients could come for solutions," Chambers explains. "My philosophy is that I need to take care of my team, and my team needs to take care of our company, and our company takes care of its clients. Entry level or CEO, we treat everyone in the company as our client and collaborate with them as their strategic business partner."
To fulfill that philosophy, she and her team now work as collaboratively as possible across the enterprise. The six-person legal team, which includes three lawyers, handles SEC matters, leasing, insurance, employment and labor law, personnel issues, strategy, board relations, M&A, regulatory and compliance matters, litigation, and more. That means that every team member needs to be constantly learning and developing a trustworthy relationship with other teams and working to educate others on the legal perspective. "Education is facilitating people's understanding or finding a new way to do something," Chambers says.
Outside counsel such as Michael Wiseman, a partner with Sullivan & Cromwell, have taken note of Chambers and her team's wide range of capabilities, too. "Meg's role calls for her to cover a wide range of strategic, disclosure, regulatory, and governance issues," Wiseman says, "and she covers them all superbly."
Chambers also works closely across her company with other senior executives, including chief risk officer Tim MacDonald. Together, the two prepare for any potential litigation or other emerging legal, regulatory, or compliance risk. In the past, Boston Private's holding company had five separately chartered banking subsidiaries, each with its own board of directors, senior executives, and annual regulatory exams. Once they were all consolidated into one bank, under one Massachusetts charter, the legal office's relationship with the bank was more streamlined and effective. Moving the whole company toward a more integrated enterprise has not only allowed the legal group to be more closely involved; it has allowed for better service for clients.
Another key development that has epitomized Chambers's collaborative approach—and required learning and teaching—has been Boston Private's establishment of a crisis-management process.
While the process is led by chief information security officer Jo Bentley, it functions across the enterprise and involves everyone from legal to HR to marketing in finding needs and determining solutions, with a clear road map. "We don't want people casting about wildly in the middle of a crisis, trying to figure out who to call," Chambers says. "The resources are there, identified specifically by name, by phone number, and by e-mail."
Whereas Chambers's legal office necessarily worked reactively when she first established it, the crisis-management process requires that issues be addressed proactively. Having a road map allows the legal group and Boston Private to ensure standardized best practices, but they can also adapt the road map to lessons learned. It allows employees to focus on a crisis itself, rather than needing to manage the frustration or confusion caused by the crisis. "There's no such thing as a good surprise, unless it's chocolate or flowers," Chambers says. "Nothing should be a surprise. I'm not a surprise person."
More than protecting Boston Private, the crisis-management process keeps clients safe, too. Financial institutions hold substantial amounts of sensitive personal data and are prime targets for attacks from hackers, so cybersecurity has been a key part of the process. The hallmark of Boston Private, Chambers reiterates, is exemplary client service, and first and foremost that means ensuring those clients are able to trust that their information is secure.
"In the end, there's always room for one more experience, one more connection, one more kind thing that you can do, one more way that you can help," she says. "And if you stay in that mode, it's not going to deplete you to help somebody else out, to learn something or teach someone; in fact, it fills you up." Though it might not be in the classroom, Chambers has found a career and a life in which she can serve and educate others while also constantly learning herself.
Photo by Greg Weintraub
Diversity Done Right
Beyond being the right thing to do, Boston Private Financial Holdings sees diversity as good business. Megan Chambers and the rest of the senior leadership team are committed to making sure that the company reflects the communities it serves. In fact, 50 percent of its board is made up of women, an unusual trait for a public company.
Chambers herself was part of the company's initial diversity steering committee, and one of her assistant general counsel led the committee. "It may not be something a legal group would be typically involved in, but in our case, we are," Chambers says. "It's a passion for us, and we want to be a part of making that change."
***
Goodwin:
Goodwin congratulates Megan Chambers on this prestigious recognition from Modern Counsel. She has demonstrated steadfast leadership and an enduring dedication to diversity + inclusion at Boston Private.
—Bill Mayer, co-chair of Goodwin's Financial Industry Practice
***
Sullivan & Cromwell LLP:
"Meg's role calls for her to cover a wide range of strategic, disclosure, regulatory, and governance issues, and she covers them all superbly."
—Michael Wiseman, Partner