Antony Haynes brings a broader base of knowledge than usual to his work as an associate dean and assistant professor at Albany Law School, drawing upon his diverse background in the military and in entrepreneurship to inform his current leadership role at the nation's oldest independent law school. Haynes says his unique career path has granted him great insight, experience, and flexibility, allowing him to return to the world of higher education—this time in the legal academy—where he's now shaping the minds of future law and policy leaders.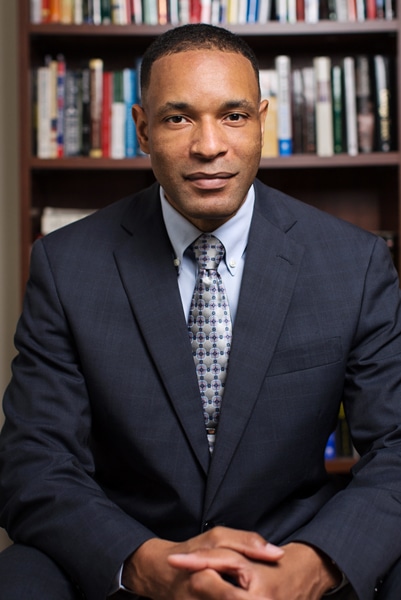 The son of two educators, Haynes says he took after them early in life. As an Eagle Scout at age sixteen, Haynes was the only teenage director of a department at Boy Scout Camp. He also taught Sunday school at his church. Now, he's ushering in a new era of learning at Albany Law School, a renowned institution founded in 1851 and accredited by American Bar Association.
"I have always thought the pursuit of knowledge and truth is fundamental and that in our human development, the pursuit of knowledge and wisdom may be the highest calling," Haynes says. "If you go back to the great philosophers, they will tell you the quality that distinguishes humans from other animals is our ability to self-reflect."
This mind-set motivated Haynes to pursue a bachelor's degree in computer science at the US Air Force Academy, followed by a master's in computer science at the University of Illinois at Urbana-Champaign. He then earned his certification as a signals intelligence officer and information operations planner, led an intelligence team in the Ninth Air Force as the chief of air defense threat analysis, and conducted information operations targeting.
He returned to the academy in 2000, this time in a faculty position. As an assistant professor of computer science, Haynes taught courses in software programming and cybersecurity for three years while developing the academy's information assurance concentration and creating the Intercollegiate Cyber Defense Exercise.
After leaving the academy, Haynes entered the financial world, serving as an associate at Chatham Financial Corporation, Capital Markets, where he led a companywide software effort, wrote financial accounting software, and coordinated technical developers—in addition to directly advising CFOs, treasurers, and controllers on the use of financial derivatives to hedge their interest-rate and currency-exchange risks and manage their balance sheets.
"Although I learned to write computer code in grade school, my military training and experience as an intelligence officer have led me to think about technology from a security perspective," Haynes says. "I want to help organizations focus on how to use technology appropriately, effectively, and securely."
Haynes felt pulled to private law, which he says is one area of society in desperate need of security. "Law firms contain client secrets," Haynes says. "But, cybersecurity is an afterthought, if it's thought about at all." After earning his JD at Georgetown University, Haynes spent several years as an associate at the Washington, DC, firm Williams & Connolly and at Quinn Emanuel Urquhart & Sullivan, tackling complex commercial, financial, and patent litigation.
In December 2015, Haynes arrived at Albany Law, in his newly created position. By then, he had extensive experience as a successful entrepreneur. He had previously started his own consulting business, leveraging his expertise in computer technology, business, and the law to advise start-ups, and he had also spent time helping acquire and grow companies.
Highly adaptable and versatile, Haynes is once again in his element. A primary focus of his current job is cybersecurity, teaching courses on cybersecurity law and finding ways to reach as many students as possible. He has launched an online MS in legal studies program, with specialization in cybersecurity and data privacy, an LLM in cybersecurity and data-privacy law, and a JD concentration in cybersecurity and the law.
As a teacher, Haynes is training new generations of lawyers to be more vigilant about cybersecurity. And, as associate dean and an assistant professor, he is aligning that training with the practical needs of law firms and other employers. "A lot of firms want graduates with practical skills, and our cybersecurity and privacy law program is a way to give them those skills," Haynes says. "It's a credential they can use when they're looking for a job with a firm."
An emphasis on cybersecurity education is also practical for graduate students who already have jobs, according to Haynes. He explains that students in his cybersecurity and privacy law and policy classes spend time conducting high-level policy assessments of their employers. They leave Albany Law School having already applied what they learned in the real world.
Haynes's forward-thinking perspective has him looking at challenges beyond cybersecurity, too. His latest research focuses on machine learning—the technology driving innovations such as self-driving cars and face-recognition software—and, in particular, how machine learning embeds human bias. He also notes how robotic technology has already displaced blue-collar workers around the world and says it won't stop there. "We thought it could never happen to white-collar jobs like accountants and lawyers, but it is," he says.
One example of machine learning invading the legal profession is the automated legal research software ROSS Intelligence. A number of the world's largest law firms use ROSS to sift through thousands of documents, a job once tackled by hundreds of humans at a time. Haynes also points to TurboTax and LegalZoom as software programs ably tackling white-collar work.
Ultimately, Haynes says, lawyers will need to focus on skills difficult for computer algorithms to emulate—skills such as empathy and creativity and understanding a client's overall business. In class, he encourages students to seek out creative solutions to legal problems. He also prompts them to think more creatively about their futures in law and policy. Automation has reduced demand for new attorneys at law firms and in industry, according to Haynes. Lawyers serving low- and middle-class citizens, however, are in high demand.
While massive student-loan debt prompts many graduates to ignore that demand, Haynes and his team at Albany Law School are focusing on solutions. If humans don't figure out a creative solution, Haynes says, software programmers will. He says his team is asking, "How can a graduate degree from Albany Law School better apply to careers, pursuits, and industries that graduates may not have considered or even imagined?"
Answering this type of question is part of the big thinking that is changing the brand and culture of Albany Law School, an institution with a legacy spanning more than a century and a half. And, Haynes suggests that further innovation could potentially result in half the student body being purely online students. Already, in under two years, a new learning management system has become a critical tool for all faculty, staff, and students. Albany Law School is continuing to implement technological solutions to evolve with the ever-changing professional landscape, largely thanks to Haynes—and he's just getting started.