A
ndrew Gratz's mornings don't start with a casual cup of coffee and a gradual acclimation to the day. Instead, as associate general counsel for LyondellBasell, one of the largest chemical companies in the world, he immediately gets to work responding to the many emails and calls that come in overnight from the company's offices in Asia, Europe, and other regions of the world. "The minute I open my eyes, it's go time," he says. "And that's what I love about my job."
Gratz's resilient attitude in the face of such pressure may be the product of having finally found the perfect role, but it's one that didn't come without a great deal of searching. His work supporting LyondellBasell, a $47 billion publicly traded company, is the result of a love of learning and an exploration of several different career opportunities. But, now that he's found his calling, he's using his wealth of experience from his time before LyondellBasell and his time with it to provide advice and counsel in support of the company's businesses, strategic goals, and initiatives.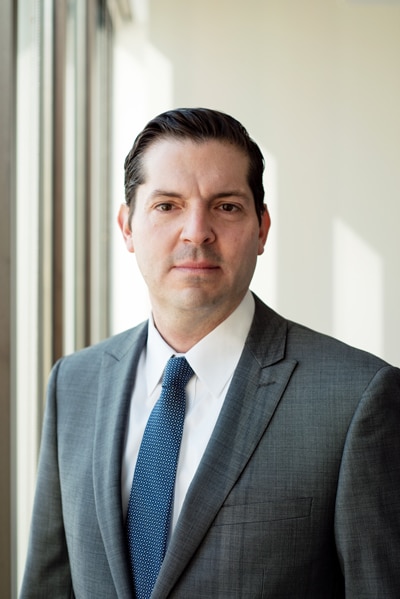 For Gratz, the overarching responsibility of his current role is the same as that of his very first job out of college, managing political campaigns: understand the goal, and then make sure every single action the team takes advances that goal. "Any time someone from our business or strategic planning group suggests an idea, I immediately ask, 'Why? What are we hoping to accomplish? How does this help the company achieve its strategic goals?'" Gratz says. He believes it's imperative to look at the whole strategic picture and see where an organization is going before taking any actions to try to get there. "Every action you take has to be advancing the goal," he says. "If you don't know the why, you can't effectively develop the how."
Understanding and achieving organizational goals has been an imperative for Gratz even when his own professional path hasn't been as clear. Following his political work, he obtained his law degree and went to work ligating employment-law cases, personal-injury claims, and commercial disputes, but something was off. "I realized that litigation, no surprise, is very contentious," Gratz says with a laugh. "You're trying to defeat somebody. Each party is aiming for a different target; there's no shared goal, and that doesn't encourage collaboration or teamwork."
Gratz decided to pursue his MBA at night. "I was going in with the full assumption that once I got that degree, I was going to leave the practice of law," he says. But, after taking on mergers, acquisitions, securities, and other corporate-law responsibilities in private practice, Gratz realized he'd found his calling. "Being a corporate attorney allowed me to collaborate each and every day and work with people to accomplish the same goal."
That work led him to LyondellBasell ten years ago, and Gratz has held a number of roles within the company since, his most recent being associate general counsel of commercial and strategic transactions. His global qualifications, though, were first cemented during a two-year assignment traveling the world as part of LyondellBasell's compliance team. "Because I had responsibility for managing the company's global anticorruption and antitrust compliance programs, I had the opportunity to visit all our offices in Asia and many in Europe," Gratz says. "These visits gave me a true appreciation for the different cultures and viewpoints that contribute to LyondellBasell's success."
Those differing viewpoints have to be approached individually and with care. "If you're in the senior leadership of a global company, you have to understand that your stakeholders have different perspectives as well," Gratz says, adding that a US perspective does not always take precedence in a global negotiation. He also believes that working to understand different political and cultural views is essential—not only for good business development but for good relationships. "Our employees, suppliers, and customers are everywhere; we buy and sell product everywhere in the world," he says. "If you don't understand different cultural norms and differences, you're not operating as effectively as you can be in a global company."
Providing legal support for the company's strategic goals and transactions also means maintaining an effective external and internal network of trusted professionals and colleagues. "I have the privilege of working for and with an amazing group of individuals," Gratz says. "We depend on and trust each other, which makes all the difference."
When it comes to his own team, Gratz stresses the importance of understanding not just the different cultures in which LyondellBasell operates but the company's different products and business lines. "I expect the lawyers on my team to truly understand the businesses they support and talk with our business clients on a regular basis," he says. It may seem rudimentary, but Gratz places an absolute premium on being able to back up words with knowledge. Understanding the business and commercial dynamics, not just the law, he says, is essential to being an effective and trusted counsel.
And, when it comes to managing his team, he says, it's important to strike a balance between being a motivator and a mentor. "I try to identify and cultivate each individual's potential," he says. "If my team knows I care about them reaching their personal goals, it encourages collaboration and a strong focus on teamwork."
Gratz says the best leaders never stop learning or evolving, and it's an ideal he's committed to, both in the variety of work he's done and the people he's worked with along the way. "The idea of being pigeonholed and doing the same thing over and over again doesn't work for me," Gratz says. "I truly relish the opportunity to do different things and to challenge myself each and every day."
***
Shearman & Sterling:
"Andrew is an outstanding lawyer and a consummate professional. His experience and a thorough and thoughtful approach to transactions and a calm leadership style with large and small transactional teams make him a very effective M&A practitioner."
—George Casey, Partner