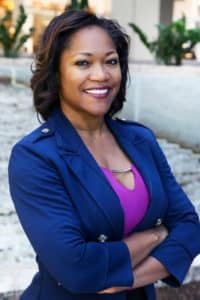 While no one prefers to be confined to a hospital bed, the ordeal becomes easier when being cared for by a knowledgeable and nurturing healthcare professional. Nurses have the ability to ease the blow of illness and injury just by being receptive and helping patients and doctors find the answers
they need.
Although Daphne Walker serves as chief legal officer at United Surgical Partners International (USPI), she was once that person comforting patients at their bedsides. But her roles of lawyer and nurse aren't as different as one would think. Throughout our conversation, she makes it clear that her nursing experience has informed her work in the legal field. And it all began with her mother—also a former nurse.
"My mom opened my eyes to the impact you could have on a patient by simply treating them as you would a friend of family member." Walker says. "I would run into her former patients with her all the time and hear them have the best conversations. They really appreciated the care she provided to them. When I went into nursing, the same thing happened to me."
After graduating from West Texas A&M University, Walker began her nursing career at nearby Hereford Regional Medical Center in Hereford, Texas. While there, she was encouraged by her colleagues to be versatile and have multiple field experiences. Not only did she assist patients about the medical/surgical, intensive care, emergency, and OB departments, but she also found opportunities to impact the hospital's strategic plan and coordinate nursing responsibilities on multiple units. This eventually led to a promotion to interim chief nurse.
During this time, Walker noticed the many legal questions that can arise for healthcare professionals and facilities on a daily basis. This observation reignited her passion in law.
"I was interested in law before I became a nurse, but I changed my mind early on," she recalls. "At some point during my career, I realized I was still very interested in it. Some legal matters that came up in my management roles interested me, and I wanted to learn more about them."
That inspiration pushed Walker to apply to study law at Southern Methodist University, where she was recognized as a Sarah T. Hughes Diversity Law Fellow. During her studies, she kept her foot in both the legal and medical world, continuing to work as a registered nurse on the medical/surgical floor at  a hospital in Arlington, Texas, while in school. After graduating, she worked with Fulbright and Jaworski (now Norton Rose Fulbright), an international law firm that went global in 2014.
While her law firm experience kept her connected to medical issues, Walker preferred to be more directly involved with hospitals and their patients. She went in-house as regulatory counsel and ultimately landed her role at USPI, an ambulatory healthcare provider serving more than 9,000 physicians and partnering with more than fifty nonprofit health systems nationwide. The company currently operates more than 260 ambulatory and short-stay surgical facilities, more than ninety urgent care centers, and more than twenty imaging centers. USPI facilities carry out over 2.5 million patient encounters each year, which includes over 1.5 million surgeries performed.
As chief legal officer overseeing USPI's legal function, Walker covers many areas, the three primary ones being development, facilities management, and litigation. Development prioritizes adding new facilities to the USPI portfolio through acquisitions or syndications, but her day-to-day operations and litigation work relate to the daily business of operating the facilities.
Walker spends the majority of her time supporting the senior leadership team and providing general guidance to facilities. Walker and her attorneys work to ensure that USPI team members are aware of important laws and regulations that govern USPI's businesses. She encourages her legal team to stay closely connected with facility operators so that they can be proactive in assessing and complying with applicable laws.
In March of 2015, USPI announced it would merge with Tenet Health. This transaction supported both organizations' continuous focus on delivering high-quality care while growing the capabilities and services available for the patients and communities they serve. Walker was assistant general counsel over outpatient services at Tenet before the merger and became engaged with the USPI leadership team during the process. She was thrilled to join USPI following the merger to help facilitate the transition and eventually lead their legal department. "While much of the transition has involved assessing or making changes to systems and protocols that make sense for the operations of both businesses," she says, "the two companies work hand in hand to identify opportunities for synergies and efficiencies that will ultimately benefit
our patients."
Transition can require a lot of work, but Walker is there to make a difference. Her twenty-four years of combined experience in the legal and medical fields make her a reliable resource for situations that might arise for the company or at a facility. Her colleagues know it too, and she feels the most appreciated when her attorneys and senior management turn to her as a resource.
"Whether I'm giving legal advice or just general advice, I like to help people solve problems and want them to be happy with the advice they're given," she says. "My team and I try to make sure we work together with our colleagues when they come to us with a problem, and that we come to a solution that makes sense for the company. I hope to give advice that has a multi-dimensional impact."
***
Baker & Hostetler LLP:
"Daphne's commitment and leadership have been remarkable. It has been a privilege to work with her and the USPI team."
—Donna S. Clark, Partner
***
Waller Lansden Dortch & Davis, LLP:
"Daphne Walker is a remarkable healthcare lawyer, who addresses issues practically to advance the company's business interests. Her technical legal skills are complemented by her experience as a nurse, giving her insight into the day-to-day operational aspects of healthcare facilities."
—Beth E. Vessel, Partner