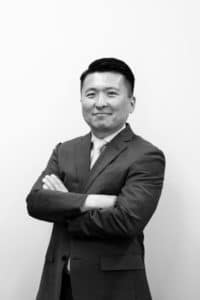 After Austin So stepped into the role of general counsel at StoneMor Partners, he consulted with his friends and mentors, the likes of whom serve as general counsel for various Fortune 500 companies. "Very few of them," he admits with a laugh, "have had to deal with the number of crises that I have in such a compressed period of time."
In less than a year, So not only had to teach himself the legal intricacies of the death care industry, but also navigate a company in transition while building a legal department from the ground up. "I've been here eleven months now, and this has been the most challenging and thrilling year of my career—hands down," So says.
Before StoneMor, So served as the division general counsel of a Fortune Global 500 manufacturing company headquartered in Germany. He also served as a corporate transactional attorney at Cravath, Swaine & Moore, then ended up as a litigator at Akin Gump Strauss Hauer & Feld. Having both transactional and litigation experience is rare, particularly for a biglaw attorney. But his unique career path also includes starting his own practice.
"I've experienced more of the practice and profession of law than most of my peers—corporate, litigation, big firm, small firm," So explains. "Skills I developed from my unique career path, and the experience of starting and managing my own business as an entrepreneur, have been vital to my success as a general counsel. I've taken a lot of risks in my career. I'd been told more than once in my life that I'm jeopardizing my career with this move or that. But each time, I went with my gut. All those choices led to the best job I've had in my entire career. I absolutely love my job and am excited to come into the office every single day."
But the death care industry wasn't one So readily sought out. Rather, it was a random call from a recruiter that brought him to StoneMor. "When she mentioned the death care industry, I had no idea what she meant," he recalls. "She went on to explain that the company was the second-largest owner and operator of cemeteries and funeral homes in the US, with over three hundred cemeteries and one hundred funeral homes at the time. I cracked a couple of obvious jokes with my wife at first. But the more I looked into the business, the more fascinating it was." Still, all the legal acumen in the world can't prepare you for an unfamiliar industry. "You would think death care would be fairly straightforward—cremations and funeral homes—but I would challenge anyone to name a more complex business," So continues.
One particular nuance to the death care industry? It operates in both "at-need" (at death) and "pre-need" (before death) for those preplanning years in advance to ease the burden on those left behind. The law varies from state to state, but generally speaking, about 70 percent of pre-need revenue is held in trust until the customer takes delivery of the merchandise and services. StoneMor's merchandise and perpetual care trusts total more than $800 million. Management of those trusts is as sophisticated as management of any investment fund and is "a significant aspect of our business," So explains.
Adding to complexity is the fact that the industry is highly regulated across a number of federal and state agencies, from the Federal Trade Commission to state cemetery boards. Furthermore, as a publicly traded company, StoneMor is governed by federal securities laws. But unlike most public companies, it is a master limited partnership, which imposes sophisticated tax and accounting treatments.
It wasn't the intricacies of death care, though, that challenged So as much as it was the state of StoneMor's business once he signed on. As So puts it, StoneMor began as a small operation that quickly blossomed into a massive company after it went public in 2004. When he arrived in 2016, So was StoneMor's first in-house lawyer, which is unusual for a company with a nearly billion-dollar market cap. Instead, StoneMor had relied exclusively on a fully outsourced legal department.
And for a business with roots that hearken back roughly forty years, with law firm relationships that predated So by several decades, it wouldn't be easy for So to make much-needed changes.
"Every piece of paper, every bit of institutional knowledge, was housed outside of StoneMor," he says. "When I came in knowing nothing about the business, it was really a challenge to educate myself by learning from outside law firms who'd supported the company for decades, while trying to reduce our reliance on those same vendors."
At the time, StoneMor had active relationships with fifty different law firms. Those relationships were built on a solid foundation, and So praises the legal services the firms had been providing to StoneMor, but emphasizes that allowing a vendor to drive both supply and demand obviously isn't healthy.
"Outside lawyers were telling us what services we needed and then providing them," he says. "It's not a surprise that our legal spend was, in my view, disproportionately high." After his first one hundred days, So established a four-pronged plan: overhaul outside legal vendor relationships, adopt an aggressive billing policy, implement billing-management software, and build a legal department. His goal was to cut the budget by 50 percent, which, he says, "seemed nearly impossible at the time." The obstacle was figuring out how to reduce reliance on his main outside law firms while transferring all of their decades-old institutional knowledge. "I couldn't just fire a primary law firm," So explains. "It would've been tantamount to joining a company as the GC and firing the entire legal department. We would've seriously jeopardized the day-to-day operations of the business."
In the midst of So building the legal department, restructuring law firm relationships, learning the ropes of the business, and educating himself on
complex regulations, the company entered a period of unprecedented challenges, including a restatement of its financials. A securities class action soon followed, as did a complete turnover of senior management.
So quickly recognized that he had to step outside of a purely legal function and help lead the business as a whole: "Other leaders and I worked hard to keep up morale at headquarters," he says. "I always knew that a good GC has to be so much more than a lawyer. He has to be a business leader. But the position I found myself in was a daunting crash course in leadership."
One of those leadership efforts extended to the human resources department, a sector of the business that So believes must have a strong relationship with legal. During StoneMor's time of transition, So took on oversight of HR, a team of fifty, and identified an internal candidate to take over leadership of the department, who he says had a dramatic impact on, as he calls it, StoneMor 2.0. "With my world-class legal team fully in place in just eleven months, and with HR now under new leadership, I can now take a breath and focus on long-term strategy rather than putting out fires," So says. "My job description is constantly evolving. In purely practical terms, that means working to imbue the company with a culture of compliance of the highest ethics, as well as a high level of professionalism and integrity among our colleagues."
So notes that despite the daunting challenges of the past eleven months, StoneMor is hands-down the best job he's had. "There has not been a single day when I didn't come into the office excited to make change," he says.
While So has more than his share of sleepless nights, he's happy to report that in less than a year, his department of five lawyers and three legal professionals is already on track to accomplishing his ambitious goal of slashing the legal budget by half.
"The past year has witnessed the rebirth of StoneMor," So says. "With a new CEO, CFO, and acting COO, I'm excited to be part of the management team of StoneMor 2.0." The past year has also seen the rebirth of So's career.
He isn't just a lawyer anymore. He's a leader.
***
Akin Gump Strauss Hauer & Feld LLP:
"Austin is a tremendously talented general counsel. He has done it all from corporate to litigation to regulatory and enforcement.  He is dedicated to pro bono and giving back to the community. Congratulations!"
—Robert Hotz, Partner
***
Duane Morris LLP:
Austin possesses a terrific combination of legal skills and business acumen. As general counsel, he has helped very skillfully guide StoneMor through both legal and business issues via innovative solutions. Duane Morris is very proud to partner with Austin So
and StoneMor.
—John J. Soroko, Chairman & CEO