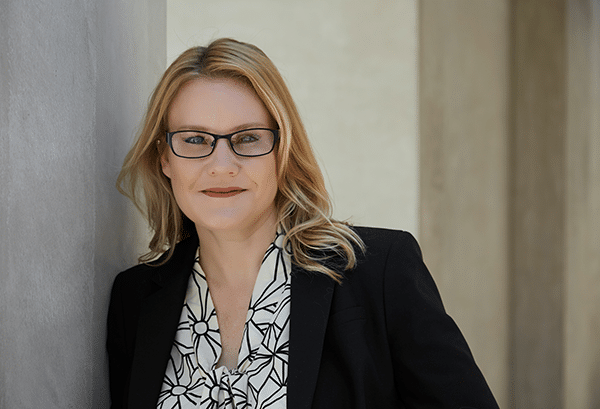 Laurie McLaughlin has only been with Performance Team for a little more than a year, but she's already made an impact in her time with the company.
In a conversation with Modern Counsel, the company's general counsel discusses the leadership style she brings to the table and the personality traits she looks for in bringing new members aboard the legal team.
Tell me about your leadership style as general counsel.
I believe what makes me effective as a GC is my approach to taking ownership of problems, holding myself accountable, and having the confidence and ingenuity to try new approaches. I have learned to trust my instincts and not assume that others already have figured out the best approach or thought of everything that can be done. I enjoy the challenge of finding a solution that makes a real difference for the company. I think of myself not solely as the company's legal counsel, but also as a key business partner with the unique perspective and skills of a lawyer.
How is that approach different from the leadership style of most GCs?
I take a very hands-on approach and handle the large majority of legal work in-house. When I do hire outside counsel, I work very closely with them—developing strategy and working collaboratively to prepare and revise legal pleadings, briefs, and contracts.
"I would suggest that other in-house counsel ask themselves, when confronted with an important issue, 'How would I handle this situation if this were my company?'"
Where did you learn this management style?
I have always been a very proactive person, so it's natural for me to take this approach. However, I really grew into this leadership style when I transitioned from being a litigator in private practice to being in-house counsel. As in-house counsel, you have one client, and to be effective, you need to understand your client and be very invested in the outcomes you are able to achieve for your client.
How do you think other attorneys can learn to lead this way?
I would suggest that other in-house counsel ask themselves, when confronted with an important issue, "How would I handle this situation if this were my company?" That way, they are able to not only utilize their legal expertise but also think in terms of what is best for the business.
You mentioned the hands-on approach you take to your line of work. Can you talk about some of the major projects you've undertaken as general counsel?
When I began as general counsel of Performance Team, one of my top priorities was to resolve costly litigation for the company. Although I did not have an extensive labor and employment background, I used my broad base of experience to bring a new and fresh perspective to these cases, and came up with strategies that were innovative and aggressive. I then identified highly skilled outside counsel whose approach was in line with mine. These strategies are proving to be very effective in resolving these cases.
Also, I'm working to implement company-wide initiatives to ensure that Performance Team is at the cutting edge of compliance with labor and employment laws in all the states in which the company operates.
SPOTLIGHT ON: THE PT FOUNDATION
Performance Team recently launched the PT Foundation as a way to give back to local communities.
"I'm helping to set up a 501(c)(3) to support Performance Team's charitable activities, and I've also helped to develop policies to provide paid time off to employees who volunteer their time to charitable organizations," Laurie McLaughlin says. "It's an important part of the company's culture to give back to the communities in which it operates. The company organizes volunteer initiatives such as preparing supplies. Last year, the company raised $30,000 through bake sales, taco trucks, and other activities for Children's Hospital LA."
You can find out more about the PT Foundation on Performance Team's company website and on Facebook.
As a hands-on manager, what do you look for in the attorneys you hire?
Typically, I focus more on finding people who have the right attitude and intellect than finding people with a very specific skill set. Skills can be taught, but intelligence and personality are what they are. Recently, I hired a senior attorney who has already become invaluable because she is smart, highly effective, and has skills that enable us to significantly reduce the company's reliance on outside counsel.
Once you hire those attorneys with the right attitude, what approach do you take to mentor the attorneys on your team?
I have a very open, collaborative style. I try to be as inclusive as possible and involve them in my thought process, strategic discussions, and communications with business managers. I allow them to operate at a high level, making myself available as needed, but giving them the autonomy to utilize their skills to the fullest.
You are relatively new to your current position. Are you enjoying it?
I've been with Performance Team for over a year now, and I love it. Performance Team is a leading third-party logistics company that provides warehousing, distribution, and transportation services to major retail and e-commerce companies. The work is interesting and challenging, and I enjoy the people I work with. Also, the company is extremely well-run and has a highly effective and committed management team. It's great to work in a culture where merit and achievement are rewarded and long-term employees are considered family.