IBM Corporation received more than 7,000 US patents in 2015. The feat sounds impressive, but it's nothing new for the leading tech innovator. In fact, 2015 was the twenty-third straight year the iconic company—founded in 1911—received more US patents than any other organization worldwide. Over that time, IBM invested billions of dollars into research and development activities.
Manny Schecter has helped IBM build and protect its patent profile as chief patent counsel since 2009. In that span, his team helped the company generate about $20 billion from its intellectual property (IP). As high-profile events such as the Supreme Court's decision in Alice Corp. v. CLS Bank Int'l (2014), the enactment of the Defend Trade Secrets Act, and the possible unification of the European Patent system continue to change the evolving patent landscape, Schecter is altering IBM's strategy as needed to help the company stay on top as computing moves further into the age of cloud technology, enhanced mobility, telehealth, and artificial intelligence.
Although Schecter has spent his entire career at IBM, he never set out to become one of the world's top patent experts. Raised in a suburb of Philadelphia, he studied engineering at Cornell University, where he met an IBM recruiter and accepted an entry-level engineering position in microelectronics. As an engineer, Schecter was active in the IBM invention process. However, while he worked to develop and implement new manufacturing processes for IBM's use,  he maintained an interest in patents that stemmed from an experience his father had being cheated out of a patent on his own invention.
So when he learned of an internal operation designed to retrain engineers as patent attorneys, he jumped at the chance. The young engineer moved to the nation's capital and attended law school at night. During the day, he worked in the adjacent US Patent and Trademark Office.
Upon graduating, Schecter transferred to Tucson,  Arizona, where he worked on IP issues related to data storage technologies of the time, which included tape systems as well as magnetic and optical disks. Schecter cites his professional development at IBM as the reason he has remained with the company for more than thirty years.
"I've been able to take on different roles and grow my career without ever having to leave the company. I never had to go somewhere else to do something different, learn something new, or get the experience I wanted."
Today, Schecter is responsible for any patent matters that arise at IBM. He advises on routine matters, leads strategy around the company's patent portfolio, evaluates patents for acquisition or licensing, and defends against assertions of patent infringement. Additionally, Schecter communicates with policymakers and officials to advise on or influence current and pending legislation. As external factors continue to change global patent systems, lawyers like Schecter must respond accordingly.
"An IP law team must be flexible, and its leaders must evolve strategy, matching it to the organization as the business moves forward," he says. He does this well at IBM, thanks in part to strong support from senior leaders who remain committed to leveraging the company's robust IP portfolio. That commitment and past performance help Schecter secure the resources he needs to flourish as IP becomes a more important part of the IBM strategy.
An earlier era in Schecter's career illustrates the importance of flexibility and the impact IP has on the overall business. At one time, IBM was more concerned with defending itself against the patent portfolios of other companies but didn't often assert its own patents. When the PC business came along—and later, the Internet—it ushered in a seismic shift.
"The number of competitors was growing rapidly, and nearly all of them were using IBM-developed technology in some way," Schecter recalls. IBM's IP team began asserting IBM's patents more frequently to issue licenses and recover royalties. This marked a profound change and the team began to leverage IBM's patents and capture new revenue streams for the organization.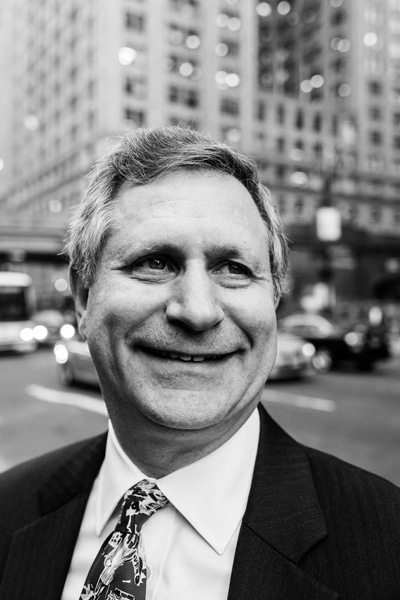 Schecter and his team face similar decisions in today's environment as IBM shifts again from hardware to the software and services businesses. Forging deeper into the world of cloud, mobile, intelligence, and analytics requires ongoing changes in business and legal operations.
These industry trends are made even more complex by Supreme Court cases, Brexit, and other world events. The 2014 Alice decision made waves in the patent law community as it set out new guidance on whether abstract ideas were eligible for patenting, rendering numerous technology patents invalid. Since Alice, many issued patents have been invalidated, and inventors, engineers, and companies have complained about a lack of clarity around patent eligibility. Even already issued patents are affected. Schecter and his counterparts in legal offices at technology companies must now determine how to assess value and protect IP in the post-Alice era.
"We don't know exactly what the courts consider to be an 'abstract' idea," he says. "We've seen a tremendous amount of inconsistency, and we don't know where the boundaries are. It's now more difficult to determine the value of an invention."
The uncertainty impacts not only evaluation of a patent, but also choices around defense and assertion. Schecter worries that Alice made it "nearly impossible" to assert a patent that approaches Alice's blurry subject matter eligibility boundary with confidence. So far, the Supreme Court has not agreed to hear another case likely to change Alice, and Congress is not debating the issue.
In 2016, Congress enacted the Defend Trade Secrets Act, which creates a federal, civil cause of action for owners of stolen trade secrets. Instead of pursuing offending parties through a patchwork of state courts, companies such as IBM can now bring one action with nationwide authority. This major development—combined with the setbacks of Alice—is likely to have a significant impact.
"Patents and trade secrets both afford you protections, and there is value in both. I expect to see an uptick in our reliance on trade secrets relative to that on patents," Schecter says. As he and others navigate these issues, they do so with a close eye on Europe, where Brexit has plunged the unification of the European Patent System into doubt.
In IBM's patent law offices, leaders and employees have learned to accept uncertainty and embrace change. Schecter has helped Big Blue outpace competition in several distinct eras and environments. The solution for doing so is simple: a great team.
"We have exceptional and committed leaders, and I'm fortunate to have talented IP law experts on the ground all around the world," he says. "They are our influencers and advisors, and we help drive strategy because of them."