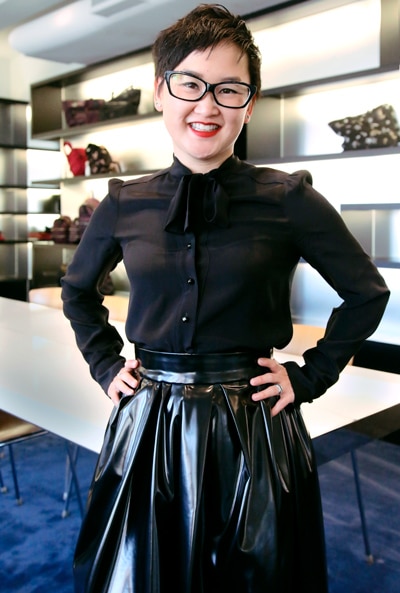 "When I'm hiring, your first interest has to be law and to be a lawyer," Kelly Koyama says.
One wouldn't expect this type of disclaimer to be reiterated to aspiring legal professionals, but for Koyama, it is essential in finding those who would be the perfect fit for apparel juggernaut Marc Jacobs International. "Your first interest shouldn't be fashion," continues the general counsel, "because what we're doing here is real legal work that can be quite complex, and we have a very lean team and a limited outside counsel budget."
Still, working at the company has its benefits. One day, Marc Jacobs himself complimented her dress, which was a piece from the company's runway show. That was enough, Koyama says, to make her day ten times over. While that's certainly a benefit, it was the opportunity to build a legal team that brought Koyama to the fashion company.
Previously, she served as associate general counsel at the parent company of The McGraw-Hill Companies (at the time a financial information services, learning science, and publishing company), where she focused mainly on corporate work and mergers and acquisitions. Useful experience, of course, but she was seeking more.
"I always wanted to be a generalist," Koyama says. "I worked really hard to reach that point because usually you're forced very early on in your career to be a specialist." That's what ignited her search for work at a smaller company, a place she could be an integral part of the business.
Then, an interview for another position at one of the sister companies of Marc Jacobs led to her current position—one that wasn't advertised at the time. Perhaps that's because not just anyone was suited for what awaited her at Marc Jacobs. The company needed a legal team. It needed a legal process.
Her boss at the time had just started six months earlier, and it was up to the two of them to build the legal department from the ground up.
"Together, we were just starting off brand new. The company never had a legal department. We had no files, no models, no processes. It was a very big change because no one was used to checking in with legal about anything," she says.
Koyama started with the basics. First, a simple library for the company's major agreements. With a laugh, she recalls how often they would have to hunt for documents, needing to perform detective work to track down agreements, whether they were tucked away on a colleague's local hard drive, in files locked in a safe, or randomly hidden elsewhere.
From there, she had the task in front of her to ensure that all contracts began passing across the desk of either her or her colleague.
"That was a huge change," she says. "People used to sign things here and there, and then they wouldn't know what's in it and, surprise, you're locked into something for five years, or it had an automatic renewal provision with a deadline that had already gone by."
Strengthening the company's internal compliance came next, and with it, a staff to help assist with compliance functions (a broad term that includes legal compliance and governance, environmental sustainability, and social compliance).
Perhaps most important for Koyama, was using this unique opportunity to avoid the fate of too many legal departments, which are often relegated to what she calls the department of no. She didn't want there to be an inherent division between legal and the rest of the company. She wanted to know everybody, to become a reliable resource for all things legal or otherwise. And that takes time.
"I wanted to be very careful to integrate myself into the company so that they would see me as a resource," Koyama says. "To this day, I spend a good portion of my time just going around the company talking to people in different departments to see what is happening and what they're working on. When I'm downstairs in the lobby waiting for a car, I want to be able to know everyone passing by and to say hi."
Now, almost ten years later and as general counsel, Koyama finds herself at a bridge of sorts. "I'm in a unique position because I work with all the departments," Koyama says. It's easy sometimes for one department's problems to stay within that division, even if the problem will end up reverberating throughout the entire organization. That's where Koyama steps in. "I can help all the departments link all the pieces together," she continues.
That outlook extends to her staff, who she trains to abandon what she refers to as a "strict lawyer mentality."
"If you want to be part of this department," she tells them, "you have to be flexible and find a business solution. You do not just sit in your office. You need to get out and get to know the people and the business so you can serve them well. We're not the department of no. We're seen as a resource for good advice, not limited to just if something is legally possible."
This has led a legal department that's firmly integrated into the fabric of the organization, as well as a general atmosphere that's casual, openhearted, and still retains some of its quirkiness.
"For the longest time we had a start-up mentality," Koyama recalls. "But we've grown so big that we can't have that. But we still try to retain some of it."
Dress is casual (or not, depending on your personal preference). The holiday parties are fun, creative, and well-attended. The company even saves a place for all of its employees at the fashion shows. "We are the only fashion house—the only one—where the entire company gets to go to the fashion show," she says. "That's really special. No other company does that."
Koyama says the future will find the company bringing more of its work in house. In fact, Marc Jacobs has already begun managing its own trademark portfolio.
"We are the only fashion house—the only one—where the entire company gets to go to the fashion show. That's really special. No other company does that."
"The more you can control the knowledge that you have," she explains, "the better you can serve and tailor it to the business needs." Koyama is currently working with her business partners to improve both Marc Jacobs' retail and wholesale network, a massive project that's currently consuming a large portion of her time.
For every project, she wants to keep the teams small with a hands-on approach, a way of helping to encourage communication and communality. That approach has been a perfect fit so far, so why pick at the stitches now?
_____
Barack Ferrazzano Kirschbaum & Nagelberg LLP:
"As outside counsel, we've been fortunate to collaborate with Kelly for almost a decade. Her experience and understanding of the legal issues affecting the retail industry is outstanding, and the recognition she's received is well-deserved."
—Peter J. Barack, Co-Founder & Senior Partner, Fashion, Luxury & Retail Group
_____
Katten Muchin Rosenman LLP:
"In the fast-paced world of fashion, Kelly's classic business style, combined with her distinctive approach to legal positions and strategies, is second to none. She's forward-thinking, highly responsive, and extremely effective. A true original."
—Karen Artz Ash, Partner and National Co-Chairperson, Intellectual Property Department
_____
Kelley Drye:
"Kelly has the qualities you find in every great GC: she's smart, pragmatic, and innovative. She's always spot-on about what makes sense for the brand and knows how to avoid legal pitfalls without sacrificing the company's creative objectives."
—Michael Zinna, Partner