For many people in the legal world, mergers and acquisitions (M&A) exist in a vacuum. Lawyers may shepherd a merger or acquisition to completion, then move on. Or maybe they're an outside counsel brought in specifically for M&A work. Perhaps they got hired by a company after the deal has culminated and integration had begun.
Catherine Spicer, vice president and deputy general counsel of Tailored Brands, has a unique vantage point. She was with Jos. A. Bank Clothiers (JAB) before, during, and after its acquisition by Men's Wearhouse (MW) after which both companies joined others under the wider Tailored Brands umbrella. Spicer credits her four years at the district attorney's office and a subsequent decade spent running a general practice for giving her the skills to join and succeed at JAB more than eleven years ago, as well as the desire and stamina that was required to see such an unconventional deal to completion.
"All the learning-on-my-feet litigation training I received straight out of law school is probably why I'm comfortable working in so many different areas," Spicer says.
Seeing as Spicer was present for the entire acquisition, (including a period where it looked as though JAB would purchase Eddie Bauer), Modern Counsel checked in with her to hear about all three phases—before, during, and after—of this unusual M&A transaction.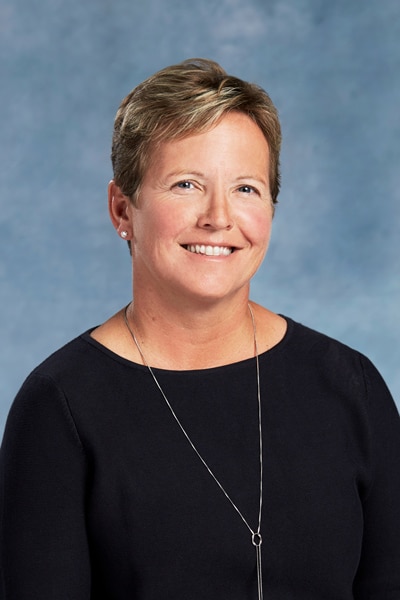 Before: A Lot of Back and Forth
CATHERINE SPICER (CS): We started off trying to buy MW, and they ended up buying us. We made a couple of counterproposals before we walked away from the idea of purchasing them and moved on to the idea of purchasing Eddie Bauer, which everyone became very excited over. While we were working on the Eddie Bauer deal, MW started to pursue us. I learned from others it became a unique "Pac-Man" situation.
At some point in February 2014, it became obvious that MW would purchase us, and we would walk away from the Eddie Bauer deal. Although there was a lot of back and forth, it ended up being a great situation for our shareholders.
It wasn't until sometime in February, I believe, when the JAB board accepted MW's proposal, and yet this process had started in early fall the year before. Once the deal was finally wrapped up, I asked outside counsel how in the world they did this type of work 100 percent of the time. For the two months at the end—before the board signed off on the deal—it was literally constant eighteen-hour days. Every day felt like it was critical.
During: Uncertainty
CS: Having a deal approved brought closure to the crazy back-and-forth era, but it also brought uncertainty. No one at JAB knew what to expect post-closing, so nerves were high during this next era.
This was actually my first experience with mergers and acquisitions, but from everything I've read and everyone I've spoken to inside and outside of our transaction, it was unique in the deal phase, as well as the closing phase. Once the deal was struck, we still had to have approval from the Federal Trade Commission (FTC) before the transaction could close. My role cut across numerous functions in that I was responsible for leading the due diligence related to both the Bauer and MW deals, overseeing the litigation that occurred connected to both, and responding to the FTC investigation. I had essentially given up my normal job functions to concentrate 100 percent on the M&A process.
In light of the need for FTC approval, a lot of parameters had to be put in place. The business folks weren't able to talk to each other without a lawyer present, so I took that role on as well. Not knowing what would happen after closing, everyone was very nervous during this time period. Every department at JAB and MW had at least one call and as many as twenty calls wherein discussions took place between the content area experts providing the information MW needed with a lawyer on the phone. Having lawyers on every call probably didn't help settle anyone's nerves at that point either.
Although it was a stressful time period, it was also interesting in that, with every call that introduced us to an MW executive along with their team, it was confusing to us how nice they all were. It was actually pretty unbelievable given the battle that played out in the first phase.
After: All In One Family
CS: Finally, in June of that year we were able to close, but that certainly wasn't the end of the anxiety on the JAB side. No one had any idea what to expect, and given the way the pre-closing share of information had to be conducted, MW wasn't able to make immediate decisions on necessary changes. Anxiety levels stayed high until decisions could be made and shared.
Both the JAB and MW sides have experienced a lot of change. There were certainly some immediate integration changes that had to happen. Work areas and job responsibilities had to be melded. A by-product was certainly a loss of jobs on the JAB side, but there were also a lot of positive changes. Being able to embrace change has certainly been the focal point for everyone in the company.
One of the changes has been our new corporate structure and embracing the move to Tailored Brands. MW is no longer the only big brand in the structure, so having the company named Men's Wearhouse didn't make sense any longer. I love being under one umbrella, which helps everyone realize we're one, even though we have maintained and will maintain these distinct brands. We learned during the FTC process that the customer bases are very distinct and that we have very different customers. So it makes sense to keep them separate. We don't want to morph the brands or make them similar when the customers are not. The need to embrace change and be comfortable with it is not going away. I think it's an imperative skill for anyone in the retail world. We're going to be required to continue to find ways to do things better across all brands more efficiently from both a cost and time perspective. That's just a part of the world we operate in. The ability to accept change is now part of our fabric.
The great thing for me is that I get to work with all the departments and the incredible people within them. In one day, I could be talking to someone in marketing. I could be talking to someone in customer relations; someone in one of our distribution centers or our stores. I really thrive on all the differences I see every day and all the different types of litigation I get to work on. I feel incredibly lucky to have gone through this apparently unique experience and come out of it as part of a fantastic family.
_____
Armstrong Teasdale LLP:
"My colleagues and I at Armstrong Teasdale have great respect for Cathy. She is a fantastic leader and exactly the kind of client you hope to have. She's been a great partner to the firm, and her work at Jos. A. Bank and its affiliated companies is extremely impressive."
—E. Calvin Matthews, IV, Partner
_____
Vorys, Sater, Seymour and Pease LLP:
"It's a tremendous pleasure working with Cathy.
She is smart, collaborative, and intensely focused on supporting her team and the growth of the company. I am confident we have seen only the start of Cathy's successes."
—Andrew Smith, partner and chair of the Vorys labor and employment group