How To Restructure A Legal Function In 100 Days – Email
How To Restructure A Legal Function In 100 Days
When Christina Ackermann arrived at Alcon, she immediately saw a handful of areas within the legal department that she wanted to improve upon. She used her more than 11 years at Novartis, Alcon's parent company, to inform talent allocation and development in the legal function
BY BECKY MAY
The Impetus
The first thing Ackermann noticed about the Alcon legal department was the fragmentation between the business structure and legal function. "There was no clear go-to person for our business partners within legal," she says.
Another challenge Ackermann encountered was finding a way to get the two legal segments of general legal and intellectual property to improve collaboration. Both were run independently of the other.
Furthermore, the company's headquarters, based in Fort Worth, Texas, created a lack of legal presence in Alcon's locations outside of the United States. "Because we are a global company, we needed a global presence in legal," says Ackermann.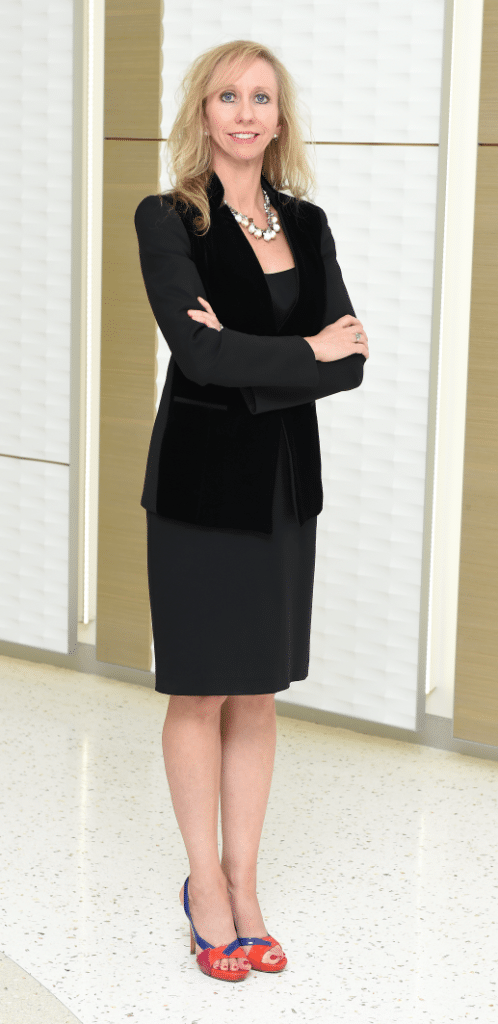 With a checklist of items that needed to be ticked off, the general counsel knew her previous experience at Novartis would come into play in reshaping the company's legal department.
The Plan
Ackermann wasted no time in restructuring the company's existing department, and once approved, she began implementing her 100-day plan. The first part consisted of learning the business. Despite being under the umbrella of Novartis, Alcon's operations were very different from the parent company. Alcon consists of three different businesses: surgical, pharmaceutical, and vision care, which essentially meant Ackermann had to learn the ins and outs of three different businesses. She needed to learn Alcon's processes, initiatives, and people. "The most time-consuming part was getting to know how legal interacted with the business," she says. Ackermann sat in as many committee meetings as she could to get a better sense of the company. "I needed to figure out which one of my lawyers I needed to send to what meeting so we could give immediate advice rather than reactive advice."
Part of restructuring the department included reevaluating current positions and redistributing personnel. "We have a number of talented professionals but we needed to leverage our level of expertise," she says. Ackermann admits the changes didn't go over well with everyone at first. "I took away work from some people and gave it to others," she says. She also reorganized the paralegals, bringing them under an umbrella led by a senior paralegal, and split them into two groups: general legal and patents. This created more efficiency and allowed them to support a whole function.
In reorganizing personnel, Ackermann saw an opportunity to open the door for associate development. She saw that many employees had been in the same position for years, which is something she wanted to change. "When I interview an associate, I see if they can work in the pipeline of Novartis," says Ackermann. One patent attorney, she uses as an example, moved to the general legal side of the function and is now leading a business franchise as its general attorney. "He is agile, and that is how you get the best out of people," says Ackermann. "You stretch them with the right support."
Ackermann found that building centers of excellence would create a more dynamic work flow. She designated five centers: global regulatory and development, global transactions, global IP, global integrity and compliance, and global trade compliance. While divvying up staff, she also brought in a handful of new talent to actualize this plan.
A technical challenge Ackermann came across was making the switch from a paper-based system to an IT database. "We weren't going to be a law firm from the '80s. We're going to be a lean law firm from 2015," she says.
Ackermann's plan also targeted the company culture. In order to do this she elicited help from Alcon's communications and HR departments. She promoted "Speak Up!" which encourages attorneys to say something when they see a red flag and to do so in a way that engages the business side to listen. It's an initiative that is still in the process of coming to fruition. Ackermann foresees the "Speak Up!" culture sinking in through her interactions within legal and the business in different countries to develop a personal relationship. "Attorneys who are sitting alone, akin to sole practitioners in a country, need to learn that we, at the global or regional level, are a safety net for them and here to help," she says. Another initiative the legal function is working on encourages lawyers to spend the day with salespeople to see procedures and learn the products. In Ackermann's eyes, this "ride along" initiative will help her attorneys give advice that isn't in a vacuum.
At Alcon's most-recent global internal conference, company leaders emphasized the importance of modeling good behavior in order to achieve a cultural change. Ackermann says this global strategy will help her teams continue to build with a continued focus on optimism and clarity.
The Results
Since Ackermann began implementing her plan in March of 2013, the company's legal department has improved. Prior to the departmental changes, Alcon relied heavily on outside counsel. "We leveraged Novartis's preferred legal firms to partner with firms that we have worked with before and which know us," says Ackermann. "Our total external budget has gone down by bringing stronger talent in-house and managing our cases more vigorously, even though our total number of cases has gone up."
Ackermann continues to expand and enhance the Alcon legal team, particularly in countries outside of the United States. Since 2013, Ackermann has brought in a significant number of new staff members including lawyers across the globe, paralegals and assistants, and compliance officers. With legal staff in more than 26 different countries and growing monthly, she is still pushing the company to work on its global presence.
Subscribe to our Newsletter
Keep up with the latest legal trends and most influential in-house counsel with the
Modern Counsel digital newsletter.