It all matters. That should be the main takeaway from the journey of Nicole Fritz, assistant corporate secretary and senior counsel of corporate governance and securities at the Kraft Heinz Company.
The lawyer earned her undergrad at the prestigious University of Missouri-Columbia School of Journalism, but didn't wind up working in journalism. In fact, Fritz completed the required two hundred hours of dental observation required to apply to dental school, but she hasn't touched any teeth but her own since. She was a relative latecomer to University of California, Berkeley School of Law, having spent time working in public relations and marketing before ultimately deciding to pursue law.
And she wouldn't take any of it back.
"If I could go back and give myself advice, I think I would honestly tell myself to seek out even more experiences," Fritz says. "I'm not some free spirit who jumped from profession to profession. I'm a super planner and was always very focused on completing my goals. I wish I had given myself the chance to study abroad, just relax a little and experience even more."
The long road, almost always, is the more interesting one. And Fritz wishes more young people would be willing to live in the unknown at least for a little while. This advice comes from an attorney who wrote her first résumé on her grandfather's typewriter at the age of eleven.
Fritz came to the Kraft Heinz Company in May 2020 as one of the most versatile securities lawyers around. The attorney knew she wanted to go in-house at some point and made sure that her résumé reflected the wide swath of skills necessary to be successful inside of a company. She gained this experience by constantly saying "yes," occasionally to her detriment. Fritz recalls working on small deal teams for two simultaneously launching IPOs.
"The partner said the timing would work out fine," she remembers, laughing. "I was a second-year associate. They wound up launching at the same time." The young lawyer somehow made it through and considers herself lucky for the trying but informative process.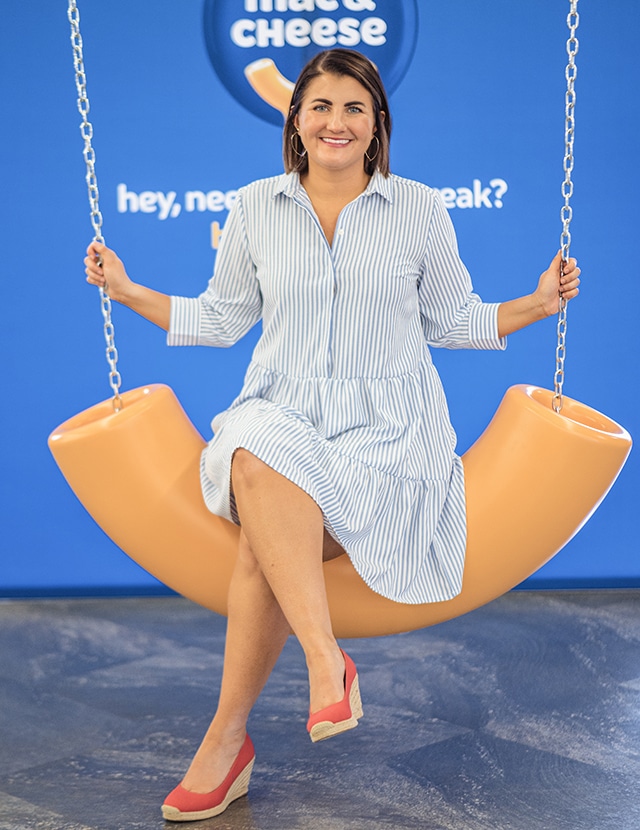 Having worked through multiple IPOs and gaining intellectual property and M&A experience for public companies, Fritz found herself wanting to be closer to her family in Kansas City, Missouri, and, frankly, wanting to be a part of a company that is recognizable to the average person on the street.
"Telling someone you're a securities lawyer is a real conversation killer," Fritz jokes. "But saying you work at Kraft Heinz, nobody else has to know anything. You've already made a connection; everyone knows this company."
While her workload is a little more specialized at present, Fritz is able to continue branching out into new areas to keep her in-house skills varied, transferable, and well-informed. That can be tough at times, given the rulings coming out of the US Securities and Exchange Commission (SEC) are the most prolific and wide-ranging since the Sarbanes-Oxley Act of 2002.
"There are climate change rules, share repurchase rules, cybersecurity rules, insider trading rules, new human capital management disclosures; there is just a lot happening right now, which keeps my job pretty interesting," she says.
Fritz says she's encouraged by the growth that Kraft Heinz has demonstrated in a relatively short period of time. The company's increasing board diversity, its improved proxy statement disclosure, and the shift from its concentrated ownership to smaller and more varied investors are signs of evolution at the multinational food company.
The Kraft Heinz securities and corporate governance team also continues to implement best practices, seek out new ways of interacting with its shareholders, comply with new SEC standards, and work cross-functionally due to its small but mighty size.
Fritz's world continues to expand as well. The lawyer is busy exploring her relatively new Chicago surroundings; walking her dog; and visiting her nephew, nieces, and extended family in Kansas City. The journey was winding, but Fritz wouldn't change a thing. It's made her a better lawyer and a better person.
What's next? That's the best part. Given Fritz's career up to now, it could be anything.
---
Take the Chance
When Nicole Fritz, an avid sports fan, was intent on finding a way to intern with the Pac-12 Conference and Network while in law school, she went into private detective-mode.
"I lightly internet-stalked the general counsel," Fritz says, laughing. "He used to work for the Kansas City Chiefs and that's where I grew up. So, I took a guess on what his email might be and sent a message."
Fritz got a response, but there was no internship program. Still, she managed to get a meeting and, ultimately, carve out an internship exclusively for her. Sometimes, you just have to make it happen any way you can.
---
"Nicole is a dedicated professional and a pleasure to work with. Nicole is a valuable asset for Kraft Heinz because she is proactive and often identifies key issues before reaching out to outside counsel. Nicole is extremely thorough and her ability to get things done is remarkable."
—Lori Zyskowski, Partner