In 2021, for the first time in Super Bowl history, the Tampa Bay Buccaneers took home the Vince Lombardi Trophy while playing on their home field. But that's not what Michael Buchwald remembers the most.
The vice president and legal counsel for the National Football League (NFL) remembers the staging of the event in Tampa with far more clarity than the winning team's celebration.
"It was a surreal moment because it was the Super Bowl, but a Super Bowl like no other," Buchwald explains. "We had limited capacity because of COVID. There were a limited number of fans allowed in the building and at the hotel, we had all of these restrictions on how we could interact with colleagues and others. You essentially operated from your position during the game and then went back to your room."
A great deal of change occurred in the attorney's world since he last spoke with Modern Counsel in 2019. For one thing, as his tenure at the league has lengthened, Buchwald has taken a more direct and integral role in various matters and in the overall business of the NFL. Once COVID hit, though, the more pressing issue at the League was how the thirty-two team league would be able to present its football games in the middle of a global pandemic.
"I don't think anyone anywhere wants to think back on that time more than they have to," Buchwald says. "But in my case, I remember getting up out of bed, wandering over to the computer while the kids were trying to do school from home, and then jumping on a Zoom call with thirty other people in similar situations, all putting our heads together to try to figure out how to make an NFL season happen."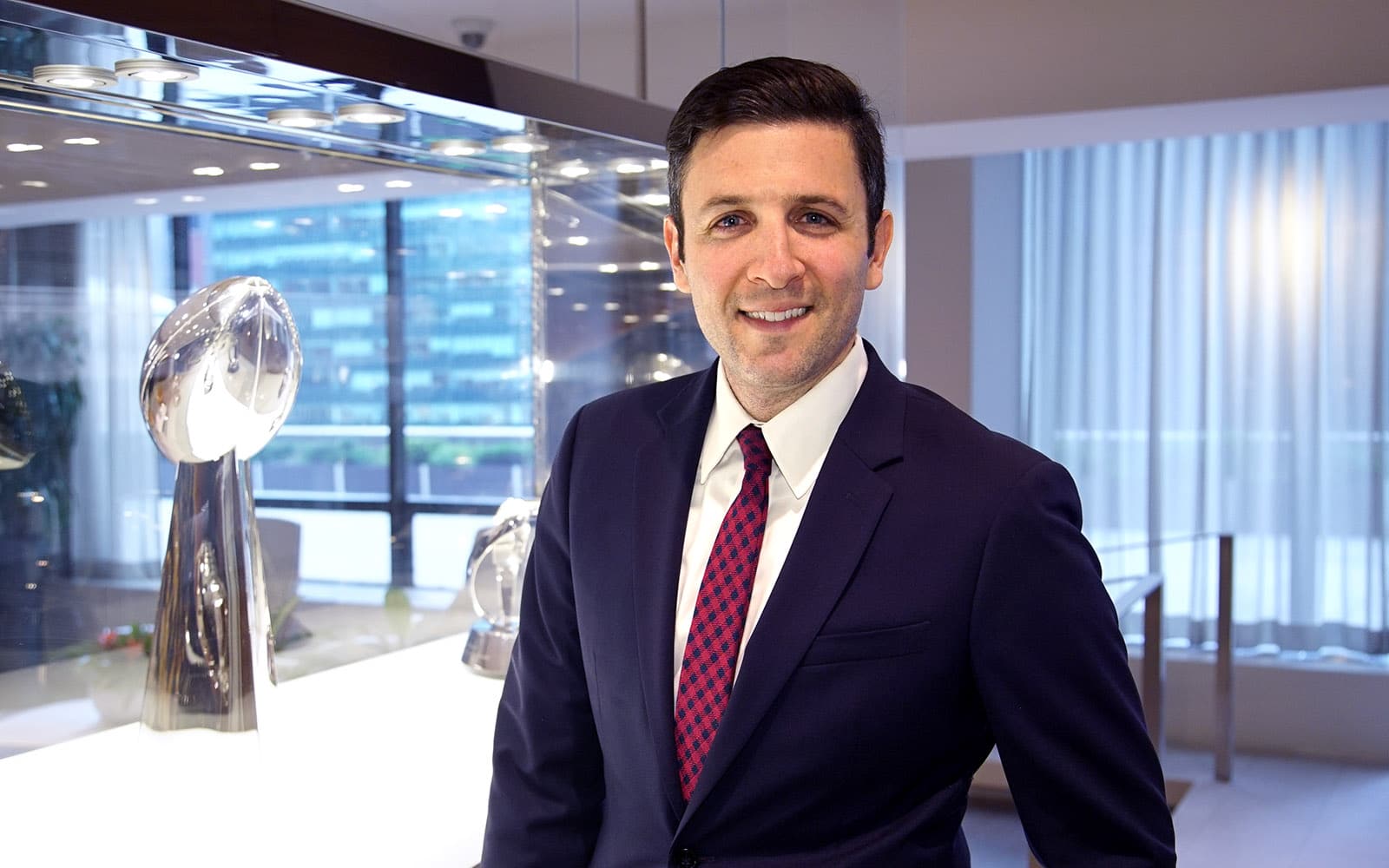 One particularly inspiring moment from this time, as Buchwald remembers, was the successful presentation of the first-ever fully remote, live NFL Draft. There would be no live shots of huge groups gathered in cities across America, celebrating together as their team selected the next potential Tom Brady who would lead their team to a Super Bowl victory.
Instead, cameras were installed in the homes of all the draft prospects, coaches, the general managers of NFL teams, and the NFL Commissioner. It was the first major live event during COVID that, for a few moments, sought to reunite a world that had been sent home.
One of the high points of the night? New England legendary coach Bill Belichick somehow swapped places with his Alaskan Klee Kai, with the chyron identifying the dog as the most Super Bowl-winning coach in history. It was television even a casual sports fan could get behind.
"It was finally a chance for people to interact with the rest of the world around a live event," Buchwald remembers. "I felt so proud of this organization and how we were able to pull it off. I think it was the first step to being able to make two full seasons work during such a challenging time."
As things eventually worked their way back to some semblance of normalcy, Buchwald would develop into his new role, one that after ten years with the NFL is still allowing him to grow in a multitude of new directions.
Having spent a great deal of his career collaborating with outside counsel on litigation matters and helping translate that work to the broader business, Buchwald is now more directly engaged with the everyday business of the organization. The VP is more embedded with the business and in tune with the overall goals of the league, not just from a litigation standpoint but also as a risk manager, advisor, and broader member of the business team working to drive better outcomes.
"It's a chance to be less of a reactive legal advisor and more of someone who is issue-spotting and troubleshooting, thinking about the kinds of risk we may face in our operations and figuring out how to proactively manage that and advising our team," he says.
He works closely with external partners across a variety of issues as well, such as Laura Flahive Wu and Cléa Liquard, partners at Covington & Burling LLP who worked closely with Buchwald on insurance coverage litigation over a billion-dollar player concussion settlement. "Mike combines terrific litigation judgment and League knowledge with a practical, collaborative approach," the pair says. "He elevates everyone on the team and is an absolute joy to work with."
Buchwald is also engaged with the league's extensive employee resource groups and community partnerships. The week of his interview in October 2023, the VP was running a professional exposure program for a group of high school students—notably a college prep high school for students from challenging backgrounds—to teach them about all of the ways they might be able to work in football, even if they're not catching passes.
"A big part of elevating and defining my role at the NFL has been intentionally seeking ways to demonstrate leadership in my own way, whether that's taking a more active role in the professional development of colleagues, training and mentoring interns and future employees of the league, or devoting time to give back to the community." Buchwald says. "I feel fortunate to have found my way to being a lawyer for the NFL, and I want to use that opportunity and platform to give back."
Being a lawyer for the NFL was not something Buchwald imagined when he was starting out. Buchwald seriously considered going to school to play drums for a living. Luckily, the VP has been keeping his chops up and had some upcoming gigs he was prepping for during his off hours.
But while his day job does not involve playing drums, in a manner of speaking, Buchwald still helps keep the tempo at the NFL. It's been ten years, but he continues to find new ways to bring extensive in-house value to the league.
---
"We have worked with Mike for more than a decade, and every time, his excellent judgment, strategic thinking, and knowledge of the sports industry combine are obvious. He is a real asset to the NFL."