Mark Casper tends to let his work and his results do the talking. So, it may not be widely known that as a first-year associate, he litigated two cases through trial as "second chair." In both trials, his clients won, and one case ultimately wound up as a published appellate opinion.
It may be even less known that Casper is a world-class tennis player and athlete, and that his son Luke was a top five tennis recruit in the country in 2021 and currently plays for Texas A&M University.
"I guess I never talk much about myself," the executive vice president, chief legal officer, and corporate secretary says, laughing. "I'm not the kind of person that needs to let everyone in the room know about me. I would rather talk about and learn about others than talk about myself. The other side to that is when I have something to say, my team knows it is meaningful."
Before leading teams of his own, Casper amassed ten years of law firm experience. His first lawsuit, a real estate litigation case involving California's unique antideficiency statutes, was a complicated enough matter in its own right but would be made exponentially trickier when two months before trial, the senior partner on the case left for an in-house role.
The trial had been put on hold many times already, and the judge refused to push it out any further. "We brought in a trial lawyer from another office," Casper remembers. "He was very skilled but did not know about the underlying facts or events. It was an amazing experience for me.
"As a first year associate, I not only drafted all of the motions but argued them as well, cross examined witnesses, interfaced with a difficult client, and was incredibly active in the courtroom against seasoned counsel," he continues. "I feel like I got to experience a whole career along with lot of stress and anxiety in that first year."
A few months later, he repeated this experience in US Federal Court in a matter where a plaintiff attempted to pierce the corporate veil of Casper's client. Again, he had tremendous success in this trial with his client prevailing.
The young attorney ran into the judge in a grocery store one night after his team successfully won the case. The judge said the rest of the attorneys had certainly been more polished than the young Casper whom he called "rookie," but that he did a great job in court and held his own. However, despite the kind words, Casper knew the courtroom wasn't for him.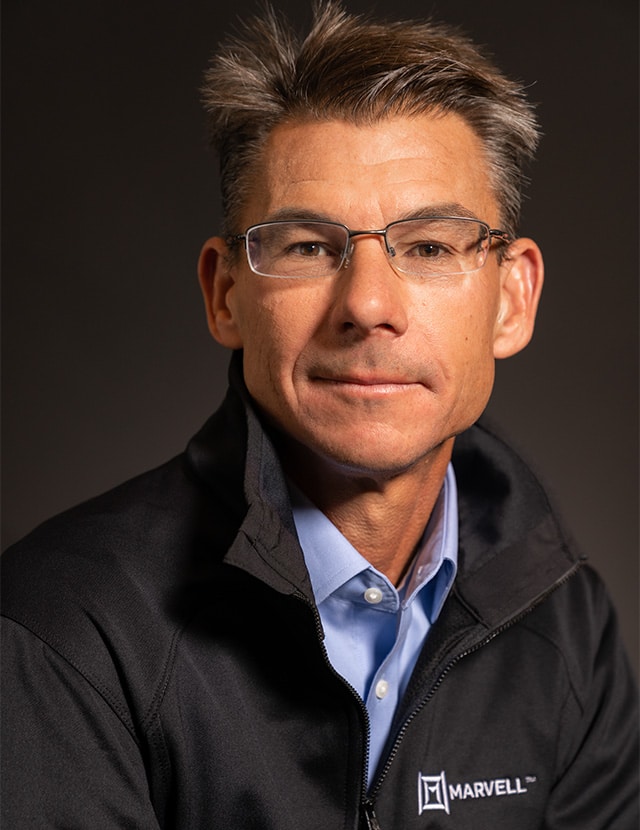 "It's not that I didn't like it, but I didn't want my career to have that kind of specialty," the EVP explains. "I learned how to be an effective litigator and outside counsel, but I wanted to be more interactive and collaborative with people and continue to develop new skills. As outside counsel, I didn't like the handoff of a case or a matter. I wanted to have full and extreme ownership from the beginning to the end."
Casper then went on to practice in complex commercial real estate transaction before going to Wilson Sonsini Goodrich & Rosati to practice corporate work for technology clients and ultimately went in-house to serve as Maxim Integrated's (now part of Analog Devices) first corporate attorney. He was ultimately appointed general counsel and held that position until Analog Devices acquired Maxim.
Over the last twenty years, Casper has perfected his in-house practice. Since joining Marvell Technology in 2021, he has had the opportunity to drive his department as a true business partner, and the lawyer has high expectations for his team.
Casper says a legal department shouldn't be mere conduits or middlemen, but, instead, add value and be solution oriented. "Problems are meant to be solved with practical solutions, and we need to be businesspeople as well as lawyers," he says.
Given his experience on both sides of the aisle, he is strategic about utilizing outside counsel. "Internally, our job is to be better than outside counsel," Casper says. "We have to know the issues better inside-and-out. We have one client; our outside counsel has hundreds of clients."
If a case requires subject matter expertise, such as a cross-border M&A transaction or a complex commercial dispute, Casper will engage outside counsel. But in those situations, he says internal counsel still needs to be an active and integral part of the process where outside counsel is acting as an extension of the internal legal team. Full and extreme ownership of the matter resides with the internal legal team.
The second situation arises when the internal legal team is simply too busy and stacked with work to cover a particular issue within the time deadlines required. Ideally a rarity, Casper admits that this is an issue all internal legal teams face at some point or another.
"Sometimes we need some additional horsepower to get through a hard push," he says. "But again, we need to work closely with outside counsel to ensure deliverables and timelines are met in a way we expect. Our internal team is still an active participant and must own the project and the deliverables."
Finally, if an issue poses a significant amount of risk and has the potential to have visibility at the board level, outside counsel may be sought to help validate the company's position and processes as well as ensure that the legal team is thinking strategically about resolving a particular problem.
Outside counsel from Weil, Gotshal, and Manges LLP have worked with Casper for nearly fifteen years, both at Maxim Integrated and Marvell. "Mark is a highly effective general counsel who really knows how to manage his in-house legal team and work collaboratively with outside counsel," says Craig Adas, Silicon Valley office managing partner. "He's able to bring everyone together with his results-oriented leadership style."
When it comes to Casper's passion for tennis, he's found a way to integrate both his work and personal life. He brought in tennis coaching legend Dick Gould to speak to his legal team about developing and maintaining successful teams, winning, and other crossover lessons from the tennis world. During the fireside chat, the legal team asked to get into the mind of a man who won seventeen NCAA men's tennis titles along with "coach of the decade" titles from the Intercollegiate Tennis Association.
Another tennis tip Casper uses in his professional life is to never leave the office feeling badly about his performance. "I was trained to never leave the tennis facility feeling upset about my game," he reflects. "If I struggled with my serve in a match, I stayed late and hit hundreds of serves until I felt better about it. If I did not move well during a match, I stayed after and ran sprints. I do the same thing today at work."
The attorney attributes much of his success to the strong support system and loyalty he has at home starting with his wife, Stephanie, of twenty-nine years and their seven children along with the recent addition of a grandson who lives with them. "My lucky number has always been seven, but now I am thinking it should be eight," he says.
---
"Mark is a stellar example of what all CLOs and GCs should aspire to be. He combines a steady, personable management style with a keen intellect and expertly navigates the realities and challenges of the worldwide semiconductor industry."
—Michael Ioannou, Partner