Some say a good mediation concludes successfully when neither side is happy. As senior corporate counsel of litigation at T-Mobile, Juliette Campbell challenges that idea.
With her work on consumer and corporate litigation, she's tasked with advocating for the company while being a champion of its customer's needs. Campbell uses her strong compassion and empathy for others while settling disputes with a goal of making both sides happy.
"As I work through complaints and demands, empathy helps me make a connection with our customers and get favorable results for both them and my client, T-Mobile," she says. "I take a look at what went wrong: what does this customer want and need? Because sometimes the want goes away if you can really understand the customer needs and are able to correct it. In my eyes, I do the best to make sure both sides are happy, and that happens when the customer feels heard and satisfied."
Campbell's approach developed years before she became a lawyer. She always had a strong sense of compassion, but certain things she experienced while pursuing an education career took that value to new heights. In college, she got to spend her first year teaching in an at-risk school in Austin, Texas, while she simultaneously pursued her master's degree. It was one of the most challenging times in her life.
"That opened my eyes to people from different backgrounds and the variety of struggles and hardships that people face when they are looking toward their future," says Campbell, who'd go on to spend two more years teaching. "I can vividly remember helping several of my second-grade students who didn't have many of the things that I took for granted growing up. Learning about their struggles and how they were overcoming those obstacles, while still showing up for school, taught me a lot about putting myself in someone's shoes, not judging, and giving people the benefit of the doubt."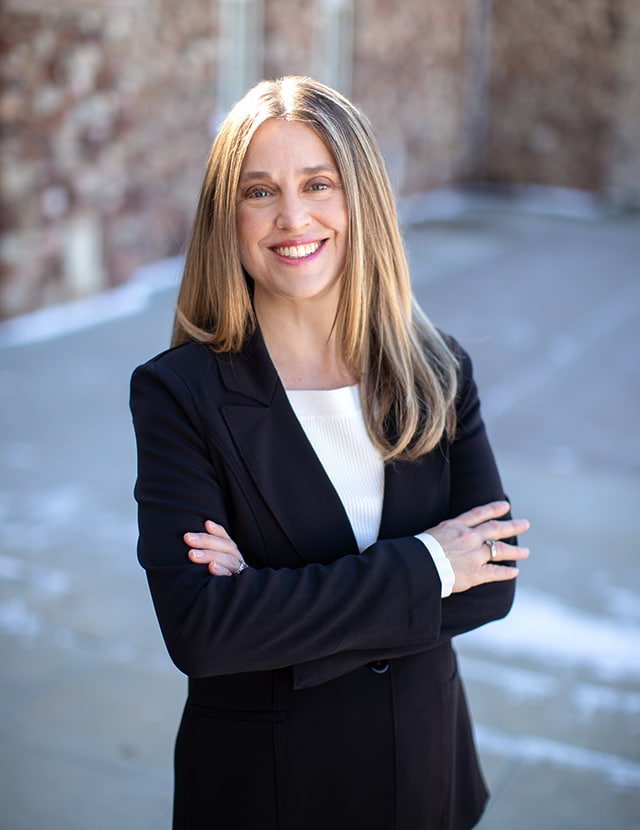 That experience stuck with her as she transitioned to law, a field that piqued her interest since middle school. When she decided to make the career switch at twenty-five years old, she initially thought to continue her involvement with education but from a legal perspective. She wanted to help provide support to dedicated teachers like her dad and the colleagues she had encountered in her career. But, as she progressed in her studies at Washburn University School of Law, she found herself drawn to technology and telecommunications.
"It was advancing so quickly," she says. "It was always ahead of the existing law; it was constantly changing, and I found that to be very exciting—to be part of making the law for those areas."
That's why she was quick to accept a job offer from Sprint to join the tax group in 2002 upon graduating law school and passing the bar exam. In her early days in the company, it was an eye opener for Campbell to learn about the many departments needed to advance telecommunications and technology.
Throughout Campbell's eighteen years at Sprint, she has learned new laws and has taken on several new subject areas. Campbell started in tax law, but as a lifelong learner, she continued on to other specialties, supporting around fifteen different areas of expertise. She settled litigation and dispute claims and advised on risk mitigation and regulatory requirements while also training litigation staff. Campbell recommends trying new areas of law; not every subject is a passion but be flexible, learn new specialties, ask for help, and be humble.
"As I began my career as a lawyer, it was humbling to recognize I was there to support and enable the teams around me to get their jobs completed. As a team we work together, and it's my job to find the supporting law and/or precedent that resolves an issue to everyone's satisfaction."
When Sprint and T-Mobile came together, she brought that same mindset to bare as she worked with new colleagues, noting they all had something to learn from each other.
Today, she resolves litigation and dispute claims involving consumer financing, product liability, cybersecurity, tax, risk management, and insurance, among other areas, drawing from her decades long career.
She advises young attorneys to try new things and to keep an open mind.
"Stay at a place long enough to learn some lessons and stay open to new opportunities so when you go on your next adventure, you're going in wiser and willing to learn," Campbell says. "Also, be open to helping the company be successful. Ask, 'What can I do for the company, what assets do I have that I can use to better the company, and what can I learn to help the company succeed?'"