You don't find too many lawyers with a background like Joel Roy in the pharmaceutical industry.
Before he became legal business partner at Novartis Pharmaceuticals Canada Inc., he cut his teeth as a small-firm litigator before moving to a subscription-based fractional practice representing healthcare and medical technology clients who worked on projects involving emerging technologies like artificial intelligence (AI) and machine learning.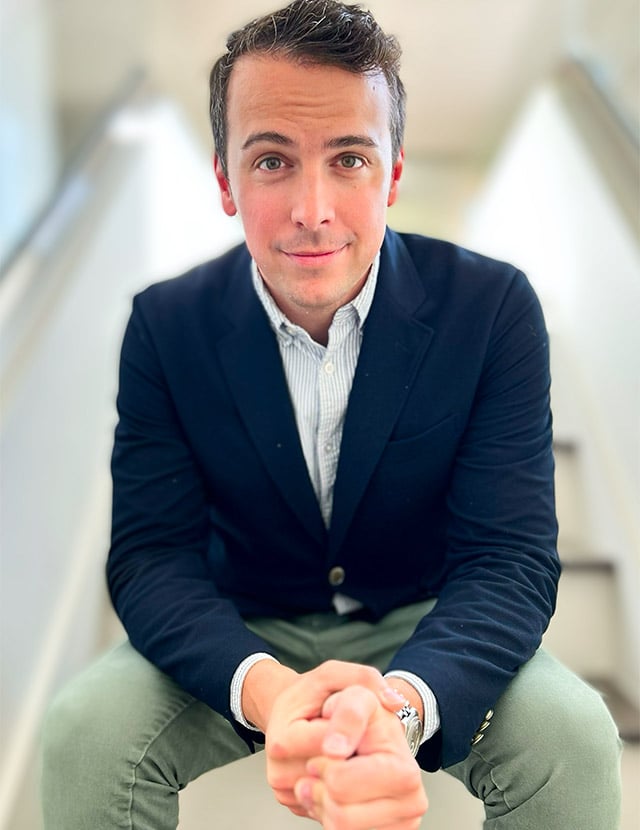 While Roy didn't fit the traditional pharma counsel mold, he brought a fresh perspective and an entrepreneurial mindset to the company that was readily welcomed.
"I was able to bring the perspective of the small start-up looking to collaborate with industry, the small founder who's bootstrapping an invention and trying to take it to market," he says. "Big pharma is more outward looking than ever, and we're trying to capitalize on the most novel ideas to reimagine medicine and deliver treatment as fast as we can to our patients. So, hopefully having people like me around can allow the company to talk the same language as these coveted partners and help proactively address issues they have in order to deliver the biggest win-win-wins."
Roy leveraged his underdog perspective to support various functions within the local arm of the global pharmaceutical company including litigation management, clinical research, the entire oncology product line and more. He's also had the opportunity to stand out as a legal operations leader after finding that the company's efforts on that front were just getting ramped up.
"One of the first things I noticed was that we had no local legal operations, and it wasn't something that was really on people's minds," he recalls. "I thought it was bizarre because coming from a subscription-based model; all you wanted to do was remove yourself from the business as much as possible because you're selling unlimited access. To be able to sleep at night, you therefore needed to automate processes as much as you could to keep the system working without having to do everything manually."
Roy shared those ideas with leadership at Novartis and they not only encouraged him to drive key local legal operations initiatives but also were happy to have him lead them more officially. Since then, he has built self-service contracting and playbook systems geared toward making legal more efficient. Other strides have included helping to standardize NDA agreements and Quebec clinical trial agreements, which contributed to a 75 percent reduction in cycle time.
For the accomplished attorney, the ability to pitch ideas like these and to have the opportunity to deliver on them has been one of the most unique things about his tenure at the company.
"Three months in, I was having a lot of high-powered colleagues listen to me, email me for things, and brainstorm ideas with me," Roy says. "The incredible flexibility I saw in the company was very special because it allowed me to have this sandbox I could play in, and I didn't feel that I could do very much wrong as long as I tried and gave it a good, honest shot. All the leaders I encountered said, 'If you think you can do it, have a shot at it and we'll be able to support and remove any roadblocks that we can.'"
Roy also places importance on building trust. This began in his private practice career, which saw him work with medical professionals who wanted to test the limits of technology in their practice and who were both extremely smart and risk averse. He had to become an expert at letting them know they could count on him. He learned that building trust is really just "textbook relationship building."
"It starts with empathy, being good at figuring out what keeps your clients or colleagues up at night. You need to understand what people want out of you and what their ultimate goal is," he says. "One of the first questions a solid counsel should ask when solicited is, 'Why are you asking?' Going straight for the statute or legal answer is often a missed opportunity."
Having seen the value of it in his private practice and in-house experiences, Roy advises young attorneys to become "trust builders." "Never forget that you're there to build the kind of rapport that will make people feel safe when innovating," he says. "If you want to do anything related to innovation—and good business is usually innovative—clients need a hand to hold onto that they trust, and you can be that hand."
He also encourages young people to leverage LinkedIn to connect with other attorneys.
"It's so underused by law students," Roy observes. "Reach out to folks who have careers you think are interesting. Ask them how they got there and for advice. I find most lawyers are happy to share their insights and wisdom to those who ask."