In 2015, the Ferrero Group entered an era of acquisitions. Started as a small family bakery in Alba, Italy, Ferrero burst into the North American market in 1969 with Tic Tac mints. Forty-six years later it began acquiring several brands and businesses.
"Ferrero's products were well-known throughout Italy, Germany, and France. While Ferrero had business in North America, the potential growth of Ferrero in the North American market was seen as an opportunity," says Beth Kotran, area general counsel at Ferrero North America.
Kotran and her team support Ferrero's North American area which includes the US and Canadian commercial businesses and its industrial manufacturing facilities, covering several brands, including the legacy Ferrero brands and those it acquired over the years.
Ferrero's growth in the US started when it acquired regional Chicagoland confectionery business Fannie May Confections, which had been manufacturing boxed chocolate assortments since 1920. Although operated within Ferrero North America, Fanny May retained its unique identity. Shortly after that, Ferrero acquired chocolate brands from Nestle, like Butterfinger, Baby Ruth, and—in the US—Crunch, and added several manufacturing facilities to its footprint in the US.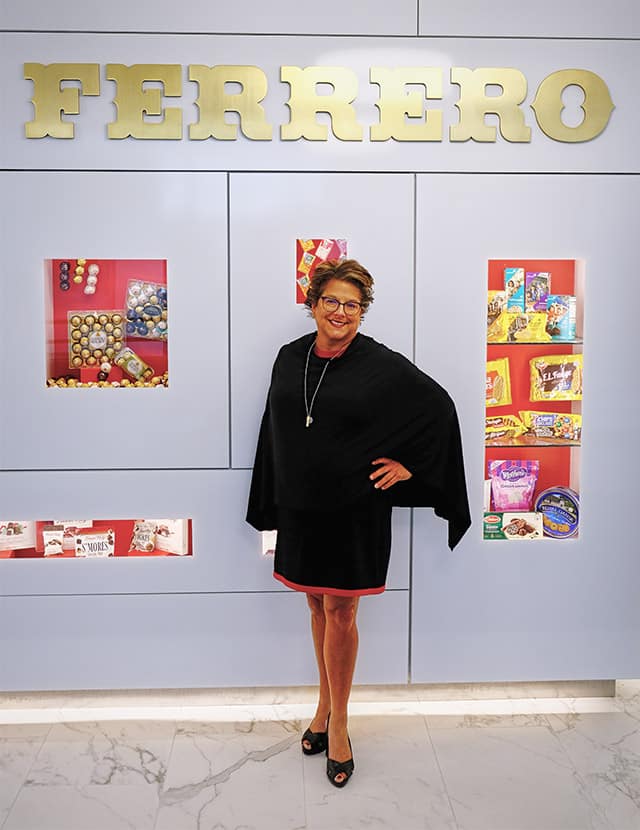 "We were a small legal team at that point in time, but we realized there was going to be a lot of work to integrate one slice of a large pie, basically a business without a company, which had been fairly unique for me," Kotran says. She and her team were immersed in the integration as they lent support across every workstream and functional team, while also working on the legal workstream.
"That was a pretty significant challenge for our teams because, at the same time, we were launching a number of innovative products we were managing the day-to-day legal affairs of the business. It was a lot of work for a very small group of lawyers," Kotran recalls. "We were stretched thin."
In 2020, Ferrero's growth continued despite the pandemic. As American workers retreated to their home offices, Ferrero was integrating the freshly acquired Keebler, Famous Amos, and Mother's cookie brands.
"Once again, we were not integrating a company, but a piece of business, creating complexities. Given the size of the cookie business, we needed to add lawyers to our team and consider how to structure our department to support the type and volume of work from our business clients in North America," says Kotran, who came to Ferrero in 2010 after an eight-year stint with Cadbury Adams.
Early on in the pandemic, Kotran realized she and her growing team would be at home longer than anticipated. So, she pivoted. "The acquisitions and the pandemic created a situation where I had to change my style in managing the team and how I would help to forge the culture in the team," she says.
She implemented a weekly team call, during which the first half hour team members would socialize. "It was meant to create an environment like you're in the office and you kind of stop by somebody's office and say, 'Hey, how are you doing?' Or, 'How was your weekend?' We would just talk amongst ourselves to keep that friendly comradery that we had in the office, like watercooler conversations," Kotran says. The team call was so successful that Kotran continues the practice to this day.
One of the biggest challenges Kotran faced leading through Ferrero's many acquisitions and COVID-19 was avoiding weariness. "When you have a high-functioning team that is doing a lot of things and is heavily relied upon to consult on the various aspects of the business, it can very quickly turn into burnout and exhaustion. . . . People were having a hard time shutting down [while working at home]," Kotran says.
Another challenge of working remotely was learning to trust her direct reports "at a different level." Many managers faced this concern. Members of her team had different levels of tenure in the company and while she knew their capabilities, she had to learn to trust her team to perform while unsupervised. "This was challenging," Kotran admits. "It required a different skill that many managers adopted: a type of learn as we go."
In a span of about eight years, Kotran hired seven lawyers, basing her hiring decisions on the belief that individuals with diverse backgrounds and experiences add to the rich tapestry of a large team. She also considers personalities to ensure new hires will complement the team rather than clash with it. During the hiring process, she encourages team members to meet with prospective candidates to gauge comfort levels on both sides of the equation. "You have to make sure everyone is going to be able to work together," she explains.
When Kotran is not leading her team of ten lawyers and legal professionals, she enjoys introspective activities like distance walking—without earbuds—and gardening. "I give a lot of my brain and my heart to my work and my family. I just need some of that alone time to be with myself and not even think about very much. Just be in myself," she says. "It helps me from the standpoint of managing stress, being a good mom to my kids, a good manager for my team, and the best person I can be."
---
Alston & Bird:
"Working with Beth and the Ferrero team has been a wonderfully rewarding experience. I admire Beth's leadership and how she has championed the team's recent growth and always look forward to working alongside her."
–Jeff Rosenfeld, Partner