Take a close look at any of the world's biggest software companies, and you're likely to see Thoma Bravo's fingerprints. The private equity firm has accelerated the launch of leading names in applications, platforms, and products. Their massive portfolio includes brands like Proofpoint, RealPage, J.D. Power, Instructure, and Dynatrace.
Together, companies in the Thoma Bravo family employ more than seventy thousand people worldwide while generating over $21 billion in annual revenue. Since 2003, the firm has closed more than 350 software deals. And while many of them have been wildly successful, each investment comes with a certain measure of risk and success is not guaranteed. Thoma Bravo's Steven Schwab has found the same has been true throughout his entire career.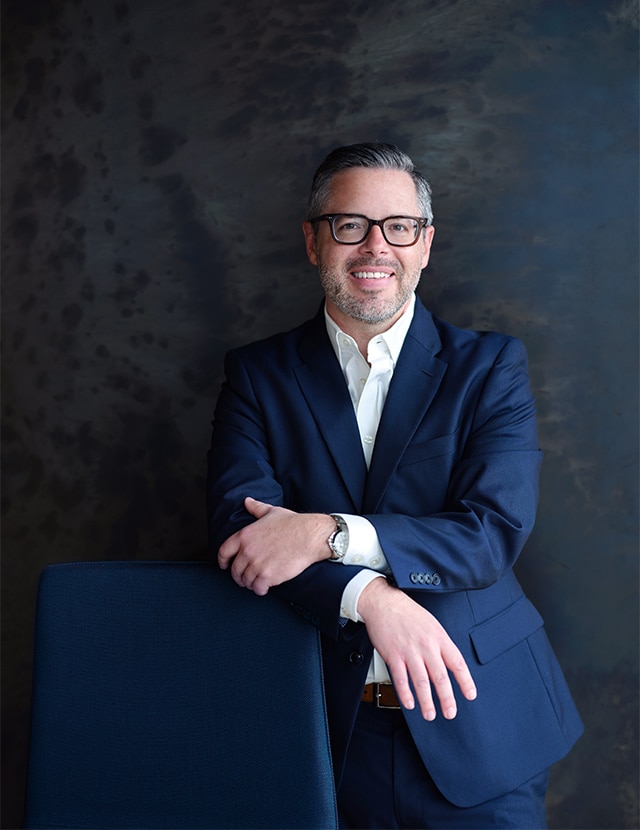 Schwab works out of Chicago and joined the organization in 2015. He came in as Thoma Bravo was growing from a small to mid-sized firm. Leaders hired him to build out operational functions, establish formalized structures, and assemble a robust compliance program.
"There were parameters but no set roadmap because growing organizations move fast, adjust course, and don't always know exactly what they need or want," says Schwab, who is currently senior director, deputy general counsel, and chief compliance officer. To find success, he would have to stay one step ahead and build the tracks of his program in front of what was already a moving train.
Growth breeds challenges and injects risk into the corporate environment, but Schwab has learned to embrace uncertainty. "I've often had to figure things out on my own, and that reality has taught me to lean on my skills and experiences," he says. "We can never stop learning if we want to be effective lawyers."
Schwab, an Ohio native, didn't have a background in law and didn't know any lawyers before enrolling at the University of Cincinnati College of Law. He realized early in his first year of law school that unless he made a change, he may be limited to a regional career in Hamilton County. That realization combined with a passion for international experience and an interest in city life led him to transfer to Loyola University Chicago School of Law after his first year.
Law school went well, and Schwab graduated with honors in a distressed economy that forced firms to reduce or eliminate new associate hiring. He had to scramble for a job and found a bank looking for someone with junior attorney skills. At first, Schwab was disappointed, but working on foreign exchange derivatives and other unusual financial instruments gave him a niche. Soon, he had become an expert in these specialty product areas.
The events gave him a front-row seat to the inner workings of banks and business, and he developed the skills he would lean on later in his career. "I learned things inside a bank that I never would have learned as a junior associate at a law firm," Schwab says. "Success isn't always just do A to achieve B. There is more than one path that can take you to your goals." Thirty months later, when Schwab joined Katten Muchin Rosenman's financial services practice group, he brought with him a clear understanding of how financial institutions operate.
Schwab spent the next decade in private practice and in-house roles, and he's learned from every success and failure along the way. Prior to joining Thoma Bravo, he was part of a promising start-up that closed when its business model became unsustainable. As general counsel, Schwab saw the negative impact of a struggling business on the people he worked with every day.
The experience led him to reevaluate what matters in life. "Everyone needs strong relationships, and you have to associate with people who will support you and give you the platform to succeed," Schwab says.
Now, he prioritizes good relationships and meaningful work more than ever before. Those are two of the factors that led him to Thoma Bravo, and after learning of the job opening, Schwab moved slowly to build trust and ensure fit. In fact, the company built the role around his specific skill set.
Seven years later, Schwab has created the legal and compliance framework that supports Thoma Bravo's growth plan. He came in when the company had one fund platform and $8 billion under management. Now it has five platforms and more than $100 billion under management. The award-winning organization has gone from 55 to 160 employees and from 2 to 4 offices to become one of the largest private equity firms in the world.
Schwab models humility, transparency, honesty, and authenticity as he leads his team. In his department, it's OK to admit you don't have an answer as long as you're willing to go out and find it. "I want everyone I work with to know that they can and should ask questions to their business colleagues," he says. "Asking 'why' gets the other party to explain and allows a lawyer or compliance professional to understand the issue and get to the best outcome."
"Steve's strategic thinking, leadership and overall excellence is unsurpassed, and it has been a pleasure to work alongside him," says Katie St. Peters, investment funds partner at Kirkland & Ellis. "He is incredibly thoughtful around the issues that matter most and committed to doing things the right way. There is no doubt that Steve will be a driving force behind Thoma Bravo's continued success."
When asked to give advice to his colleagues, Schwab leans on what's worked for him. Others should be comfortable with the fact that they don't know everything but remain committed to ongoing education. They should understand their skills, vocalize their desires, and realize professional journeys are rarely accomplished in a straight line.
And above all, they should cultivate one key characteristic: empathy. "Every good lawyer needs to be able to understand another person's perspective and care about their feelings," Schwab says. "It's an underappreciated soft skill that will take an aspiring lawyer far."
Schwab and Thoma Bravo are still moving fast. In late 2020, the company announced the largest private equity deal in software history (AxiomSL), and in August 2021, it completed its $12.3 billion acquisition of cybersecurity company Proofpoint. The firm completed sixteen acquisitions representing more than $48 billion in total enterprise value in 2021 alone, and it has continued its deal making pace.
Most recently, Thoma Bravo announced a large investment that values UserZoom at $800 million. The deal will take the digital user experience company to new heights and prepare the equity firm for its next big move
---
Expertise Spotlight
Kirkland & Ellis LLP has the largest, most active private investment funds practice of any law firm in the world. Comprised of more than 520 dedicated investment funds attorneys, Kirkland is the market leader in full-service legal advisory services to investment fund sponsors and global investors. The group has attorneys operating out of eighteen offices in major financial centers – and deep teams in all complementary practice areas—enabling Kirkland to serve private equity firms with complex transactions worldwide.
Kirkland has successfully built a comprehensive suite of services to serve its client base at every stage of growth and through the lifecycle of funds. The group has grown and evolved with the market and its clients, adapting to accommodate the meteoric growth of many developing sectors and strategies. Its scale translates into significant benefits for Kirkland's clients by improving efficiency, providing visibility into market trends and developments, and enabling data-driven decision-making.
Kirkland offers a deep regulatory and tax bench with a wealth of global experience. Several attorneys have held senior, policy-making, and enforcement positions in the key regulatory agencies governing the industry. This on-the-ground experience allows the group to help clients implement customized, practical strategies.