When Peter Jovanovic was seventeen years old, his friends were going to San Diego Padres games or hitting Pacific Beach, but he was busy working on the International Space Station. Jovanovic had landed an internship with Boeing and spent the summer as a programmer working in heater design and control. He learned a new coding language and wrote a program to keep data running on nineties-era microprocessors routed in the most efficient way. Although Jovanovic isn't certain whether his work is actually part of the unit orbiting the Earth, the unusual experience confirmed his growing interest in software engineering and put him on a circuitous path to one of the world's biggest tech companies.
That company is Dell, where Jovanovic now serves as legal director of intellectual property. He came to the organization as senior legal counsel in 2017 after gaining hybrid specialty expertise and experience in computer science and law.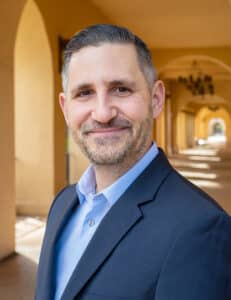 Jovanovic's two summers as a technical intern at Boeing propelled him forward to the University of California San Diego, where he studied computer science and mathematics. By 2001, he was working as a software engineer on large-scale programs at Lockheed Martin by day and going to grad school at San Diego State University by night.
At first, Jovanovic was happy and fulfilled. Soon, however, he started experiencing the early signs of professional dissatisfaction and feared he was on the wrong career path. In his little spare time, Jovanovic was reading blogs on the intersection of law and technology. Late one night, he saw his girlfriend's LSAT prep book on a desk and realized the legal profession might provide an outlet for him to apply his engineering background in a different way. "Law and computer circuitry both require logical thinking, and there was a lot of overlap for me," he explains.
Jovanovic signed up for the LSAT and received a high score, much to the chagrin of his girlfriend (now wife), who had studied for months as a political science major. He then enrolled at the University of California's Hastings College of the Law and concentrated his studies on intellectual property.
Despite knowing that he would eventually land in-house, Jovanovic opted to start his legal career inside a firm. "I wanted to help a variety of clients to understand what the decision-makers really want and how they're thinking about trademarks, copyrights, intellectual property, and the entire strategic portfolio," he says.
After about five years at a few Bay Area firms, Jovanovic was ready to leave private practice for a corporate role. He took a break from interviewing with numerous San Francisco startups to investigate an opportunity at Dell. He obtained an interview and noticed a culture fit right away. "Everyone I talked to inside and outside of the legal department understood the value in a strong patent portfolio at a growing tech company," says Jovanovic. "I knew this was the place for me."
While Jovanovic had never held an in-house legal position, the fact that he had already worked in small and large companies as a software engineer gave him a sense of the corporate environment and helped ease his transition. Still, he focused on meeting as many people as possible to get to understand Dell's inner workings. "In-house lawyers need the ability to uncover nuances related to what their business colleagues are doing and figure out ways to help. That happens through relationships," he explains. Jovanovic's previous experience developing software products gave him credibility and helped him establish rapport with Dell's engineers as he extracted the information needed to protect their inventions and innovations.
It was an interesting and important time in the organization. Dell had recently acquired EMC, a data storage and management company, for $67 billion in one of the industry's largest deals of all time. Jovanovic worked to support senior leadership to optimize the post-merger technology portfolio as they made key decisions about what strategic assets best fit the rapidly evolving company.
Jovanovic has also built great relationships with outside legal counsel. "Peter is a great legal partner, bringing a rare, deep understanding of law, technology, and business to drive strategy and develop optimal IP solutions. We've been fortunate to collaborate with him and Dell to help build their world-class IP portfolio," says Aly Dossa, shareholder at Chamberlain Hrdlicka.
Today, as legal director of intellectual property, Jovanovic has added patent litigation, negotiation, and open-source management services to his growing list of responsibilities. He also provides input on strategic direction and is getting more involved in areas like procurement, tax, sales, and marketing. While these areas may be outside of his core competencies, they have implications for Dell's IP portfolio, and Jovanovic says the work helps him maintain his professional growth.
That's an area he's helping younger employees, attorneys, and law students explore as well, both at Dell and outside it. "Dell is a great place to work because people are always willing to help you continue your professional evolution. For example, there are numerous opportunities to volunteer for assignments outside of your core responsibilities. Similarly, I try to mentor newer lawyers as they look to find fulfilling work and navigate a large organization," Jovanovic says.
Outside of Dell, the IP expert has another title—Professor Jovanovic. He's been teaching students the ins and outs of federal patent laws on an adjunct basis since 2017. Jovanovic designed his own class and aims to impart all the tips and tricks he wished he knew as a first-year associate. "It's a practical skills course that goes beyond the textbook to get hands-on," he says. Jovanovic brings in inventors and leads mock exercises in which students interview clients and determine how to capture their technology in an effective document before explaining the merit of a patent application to an examiner from the United States Patent and Trademark Office.
Jovanovic finds fulfillment in helping students reach their potential while drawing motivation from his parents and grandparents. They came to the United States to flee communist Yugoslavia after World War II. "Their story and sacrifice lead me to be better each and every day," he says. "I'm always pushing myself to improve, and I find new ways to mentor others and give back as I go, knowing the opportunity that has been given to me as a first-generation American."
---
Workman Nydegger, PC.:
"It has been our pleasure to work with Peter for several years now, and we have always found him to be a smart, practical, and responsive, attorney. His dedication to his work and to DellEMC always shines through."
–Pete Malen and Carl Reed, Equity Shareholders