When COVID-19 struck, insurance giant the Hartford sent the majority of its employees home to work and implemented new safety protocols for those few who had to venture into the office. For securities and corporate governance attorney Kevin Barnett and others on his team, this development altered how they performed their jobs. Also altering their performance was recently issued revisions to Securities and Exchange Commission (SEC) disclosure rules, one of which for the first time required extensive disclosure to shareholders about the company's human capital.
"Under the revised rules, we were required to disclose detailed information about the company's human capital in our annual report, including the impact of COVID on employees as well as the company's response in that regard," Barnett says.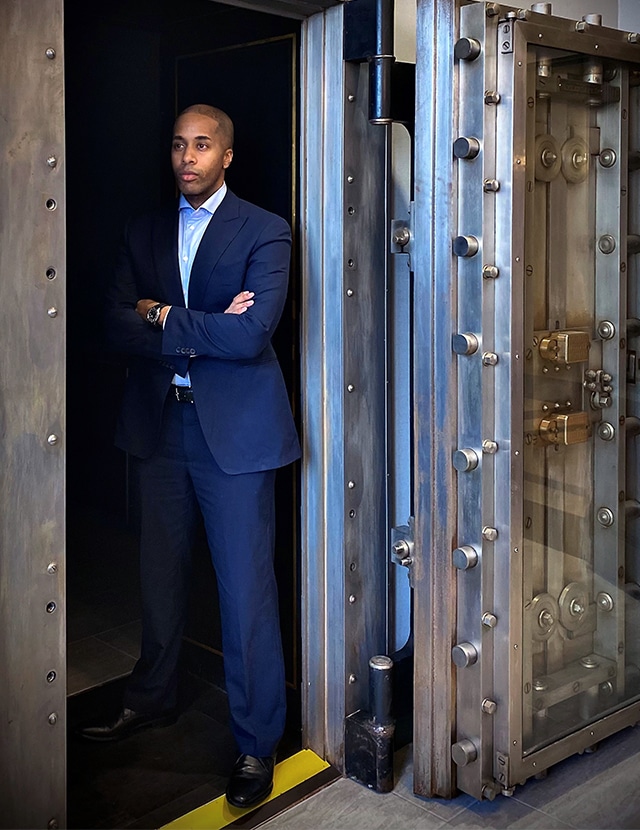 The SEC is increasingly focusing on environmental, social, and governance (ESG) reporting as well, and having to manage the new human capital disclosure requirement during an ongoing pandemic provided an early test for Barnett as the lead attorney for the preparation of the SEC filing. Working closely with top management and other departments including human resources and operations, Barnett painstakingly crafted disclosure regarding the company's pandemic labor and safety initiatives to submit to the regulator and shareholders.
The Hartford has always emphasized the importance of human capital to its core business strategy, Barnett explains. Because the insurance industry greatly depends on the efforts and expertise of its employees, the company's response to COVID in this regard was of interest to investors and to the SEC.
The human capital disclosure is just one example of how the constantly shifting landscape of rules governing large insurance companies with "very complex and highly technical securities and insurance holding company legal frameworks," keeps his team vigilant, Barnett says. "We really have to be the experts on the current rules, but also have foresight and always be thinking ahead about how upcoming changes to the rules can impact our disclosure regime."
For example, careful reading and analysis of every word from the SEC is a must. To assess how recent SEC developments might impact the company, Barnett's team thoroughly reviews published SEC bulletins and guidance, as well as enforcement actions and new lawsuits against other public companies. Data such as the particular fact pattern involved or nature of the action against the organization in question and the damages sought or amount of fine assessed, helps the Hartford evaluate its own processes and risks.
Barnett's team works with leaders from other departments to understand the Hartford's own current control procedures and risk management plans as compared with those of the party being sued or fined. Then, they present a risk and impact assessment to top leaders. This information must be presented in a way that business leaders can understand—in other words, no legal jargon allowed.
That work requires sustained collaboration with leaders in business units across the Hartford and presents opportunities for Barnett to learn about the inner workings of the entire company. "The great thing about preparing the SEC and insurance regulatory filings and disclosures, is that I get to become immersed in every detail about the business inside out, how it operates, its financial structure, its strategic objectives, risks . . . everything," Barnett says. "And I get to see it all through the lens of senior management and the board."
Increased focus on ESG is not just coming from regulators and investors. Due to recent developments in corporate governance caselaw, the standards for board of director oversight duties have also evolved to include oversight of ESG matters. In response, Barnett's team is responsible for designing and implementing the governance mechanisms through which the company's board is informed about the Hartford's progress toward its ambitious ESG goals, such as achieving top quartile industry representation in leadership roles for women and people of color, reducing greenhouse emissions by at least 2.1 percent each year, and positively impacting the lives of ten million people through its philanthropic efforts.
Barnett's steadfast determination hasn't gone unnoticed by his colleagues outside of the Hartford. "Kevin is the consummate professional—he brings enthusiasm, dedication, and unwavering commitment to all he does," says Craig Brod, partner at Cleary Gottlieb Steen & Hamilton. "It is a great pleasure for us to partner with Kevin and his other wonderful colleagues at the Hartford."
Barnett regularly interacts with employees at different levels within different business functions. This relationship-based work is enhanced by his core philosophy to "be humble and treat others as you want to be treated," which he says is deeply rooted in his upbringing growing up in the church (his late great-grandfather was his church's pastor) and has guided every aspect of both his personal and professional life.
This boils down to "putting others ahead of myself and treating every individual, regardless of position or rank, with the same level of empathy, kindness, and respect," Barnett explains. "It's also about being slow to take credit but quick to take blame; embracing and being eager to receive criticism; and having gratitude under all circumstances, even difficult ones."
Barnett's outlook continues to serve him well as he continues to build relationships and help navigate the Hartford through an evolving legal landscape. With senior management and the board depending on his team's expertise, support, and guidance, it's a vital role that keeps Barnett's skills sharp and provides fertile ground for absorbing the intricacies of how the company works.