The evolution of personal and professional goals throughout the course of a career can be a story unto itself. That's certainly the case for Eugene Kim, senior director of intellectual property (IP), at Twilio Inc., a customer engagement platform provider. Kim is a veteran of future-focused tech companies, managing priorities for acquisition-prone organizations as well as patent, trademark, and open-source initiatives across a wide breadth of areas.
But as Kim finds himself in the autumn of his career, he's poured more and more of his efforts into those around him, seeking out mentoring opportunities both formally and casually, and is looking to invest his time in addressing the troubling disparity in bar passage rates for students of color.
It's the sign of a lawyer whose résumé speaks for itself, and whose compassion, humility, and gratitude continue to play out on multiple fronts. The goal is simple: he wants to make the legal space a better one for those who come after him.
Kim assumed lead IP counsel roles for Twilio in 2018 after amassing a track record of IP excellence at Nimble Storage, Zynga, eBay, and several firms prior to going in-house. The son of Korean immigrants seeking a better life for their kids, Kim's parents seem to have handed down tech-minded genes to their son.
"In the early seventies, my father had the foresight to move from teaching physics into a nascent computer industry, and I think that's how everything started for me," said Kim.
It certainly wasn't a clear path. Kim majored in electrical engineering at Brown University and worked in the field before contemplating business school. There was just one problem: Kim was more interested in politics and current events.
"My close friend who was attending law school suggested that I should try law school," Kim recounts. "It was probably the first time I had even given the idea a thought. I was always more of a math- and science-oriented person, but I figured if I didn't like it, I'd just quit."
Kim's math and science background made him an ideal fit for patent law, and it would eventually move him from his Colorado practice to the heart of Silicon Valley. Kim's broad career has included patent licensing, patent acquisition, and patent litigation at eBay during their period of heaviest growth, including working with eBay's strategic acquisitions of PayPal, Skype, and others.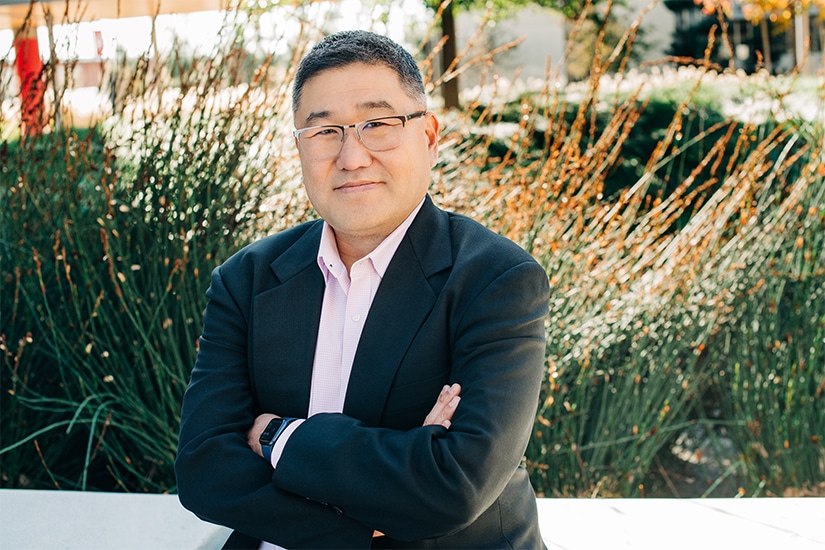 The attorney would follow former eBay deputy general counsel Jay Monahan to Zynga, the creator of the FarmVille craze of the early 2010s. Monahan was the driving force behind the landmark eBay Supreme Court decision and the architect of eBay's Verified Rights Owner Program. Zynga was an ideal fit both for the mentor Kim followed and the social game developer's focus.
"It was great because they were closer to an IPO, and I had the opportunity to be the first patent attorney," Kim says. "I've been a gamer all of my life. Zynga was expanding gaming beyond the traditional realm of gamers. There were a lot of nontraditional gamers playing FarmVille."
Kim has aided many acquisitions from both sides of the table. This experience came in particularly handy at Twilio with the 2020 acquisition of customer data platform Segment. The work required significant cross-functional partnership, especially as the deal was done in large part remotely because of the COVID-19 pandemic. Acquisitions of cloud communications company ValueFirst and data security company Ionic Security followed.
The Segment acquisition, however, will always be the most memorable for Kim. It coincided with his prostate cancer diagnosis and treatment. Kim downplays it, saying that many cancer patients have been through much more, and that his relatively short period of successful treatment pales in comparison to some others touched by cancer. Kim is thankful to God for his early diagnosis and quick post-surgery recovery and also to his family and friends for their support and prayers. It's that deep sense of humility that is evident within minutes of speaking with Kim.
That perspective now seems more important to Kim than ever. It informs, as he says, "the work that I do with younger attorneys: providing advice, taking them out to lunch or coffee, and working with interns." With great humbleness, he explains that "mentoring can provide a lot of support, particularly for people of color."
Kim has co-led Twilio tackling its Mansfield Rule Certification, a well-known movement to increase diversity recruitment and promotion in law firms and legal departments. Kim credits former Twilio general counsel Karyn Smith for taking the initiative to make the commitment.
Kim's own mentorship also extends to opportunities through minority bar associations, such as the Korean Bar Association. And then there's Kim's next big focus: minority bar passage rates.
"I had my own personal struggles with the bar, and I benefited from mentoring especially from the Colorado Hispanic Bar Association, who thankfully mentored all students of color," Kim explains. "The passage rates are pretty shocking. Overall passage rates for California are between 50 and 55 percent, but those drop to the thirties for minorities."
When it comes to hiring, internship opportunities, partnerships, and promotions for people of color, Kim says there is a lack of comprehensive data. But bar passage rates by gender and race, which have been historically publicly disclosed, are a good place to begin.
While those efforts will continue to occupy more of Kim's time, he says managing his kids' sports schedules has become a fruitful and enjoyable second career along with supporting his wife's role leading the kid's ministry of their church. The family man and skiing enthusiast doesn't find too much time for himself, even this late into his career.
And yet, the list of people who have benefited from Kim's role in their lives—personally and professionally—continues to grow.