Maya Angelou said that although people will forget our words and actions, they will never forget how we made them feel. It's a lesson labor and employment lawyer Derek Gilliam carries with him in his work as executive counsel and chief of staff in the office of the general counsel at Coca-Cola. For Gilliam, it's an especially memorable bit of wisdom—one that he learned directly from Angelou herself.
Angelou made those around her feel valued, special, welcomed, and included. At least that's how Gilliam felt when she invited her Wake Forest University World Poetry class into her home. "She was remarkably approachable for such a revered and influential person," he recalls. "She was very interested in each of her students and our own personal experience."
Gilliam and his fellow students took turns reciting poems in Angelou's lush courtyard. Then, they regrouped inside her home, where the celebrated author served chicken salad sandwiches and sweet tea, as they talked about their hopes and dreams.
The experience underscored for Gilliam the importance of respect, empathy, and connection—values he had already cultivated by volunteering on Indian reservations in an alternative spring break program. During those weeks, Gilliam not only prepared meals and repaired homes, but also talked to elders and tribal councils about the challenges their communities face. Some of those individuals later came to visit the Wake Forest campus.
These events helped Gilliam understand the power in connection and motivated him to consider the link between people and corporations as he enrolled in law school and selected a practice area. "Labor and employment is about understanding the stories of people and helping companies shape human processes that are fair as they strive to create really great places to work. It requires empathy and the ability to really listen," he explains.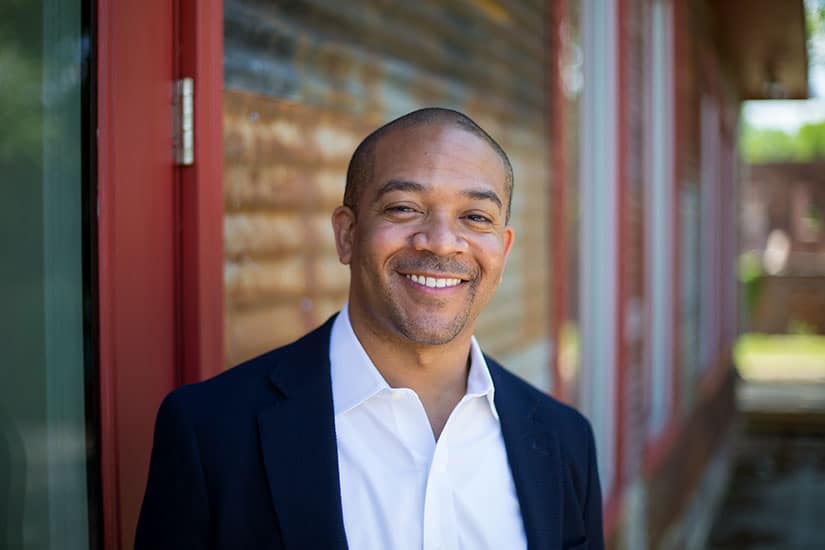 Gilliam graduated from the University of Wisconsin School of Law in 2008 and started in labor and employment at Quarles & Brady. Here, he represented public and private employers on all matters, while taking depositions and supervising outside partners. When internal mentors noticed Gilliam's competence, they let him cross-examine witnesses under the watchful eye of supportive senior partners. Soon after, the young lawyer was trying his own cases.
He also seized the opportunity to volunteer on the boards of organizations, like the Ronald McDonald House and the Milwaukee Symphony Orchestra. "A good lawyer should be active in the community, support causes that matter, and make time to offer pro bono expertise," Gilliam says.
After two years with another firm, Gilliam was ready to go in-house and joined Coca-Cola to oversee employment practice liability claims and advise HR professionals. He spent eight years in different roles, and as Gilliam visited plants, met with employees, interviewed managers, and moved through the legal department of one of the world's largest beverage companies, he noticed something changing in his approach. "I started to view myself as a businessperson, who happens to have a law degree," he explains. A deep understanding of overall strategy made his legal advice sharper and more valuable.
Now, as executive counsel and chief of staff in the office of the general counsel, Gilliam has more exposure to the business as he assists in strategic planning and project management to determine how the department delivers legal services to Coca-Cola's businesses.
Gilliam helps top legal leaders chart a course forward as social unrest, political instability, and a global pandemic cause companies to move faster and do more. "Legal departments, especially those at large multinationals, simply have to evolve," he says. "We have to create the legal department of the future."
At Coca-Cola, that means hiring, training, and developing highly motivated people and repositioning the department as a true business partner that provides input from the outset of each project or initiative. To accomplish this task, Gilliam is leaning on the lessons he learned from Angelou and his other mentors. "People will be at the center of our success, and effective communication is key," he says.
Emphasizing people and connection in a company with ninety thousand employees worldwide is no easy task. Gilliam is exploring the use of apps and other tech tools to help people communicate; looking for every opportunity to shatter silos and promote collaboration. He's leveraging the power of data, automating manual processes, and taking low-value work away from employees, who need to focus their time on critical tasks.
After more than 135 years in business, Coca-Cola offers two hundred brands in two hundred countries worldwide. The company prioritizes sustainability goals, giving back to its communities, and creating employment opportunities all over the world. With legal more involved in every area, Gilliam is confident the iconic American company will navigate an array of challenges and continue its long history of innovation.