For thirteen years, David Katz was getting big law first experience, representing employers in all aspects of labor and employment law across various industries. So, by the time he came to Related Companies as its employment counsel in 2016, he had the skillset and know-how to succeed as in-house counsel.
His interest in law dates dates back to his high school days. Watching his stepfather run a small practice—particularly his work ethic in addition to the interesting projects—impressed Katz.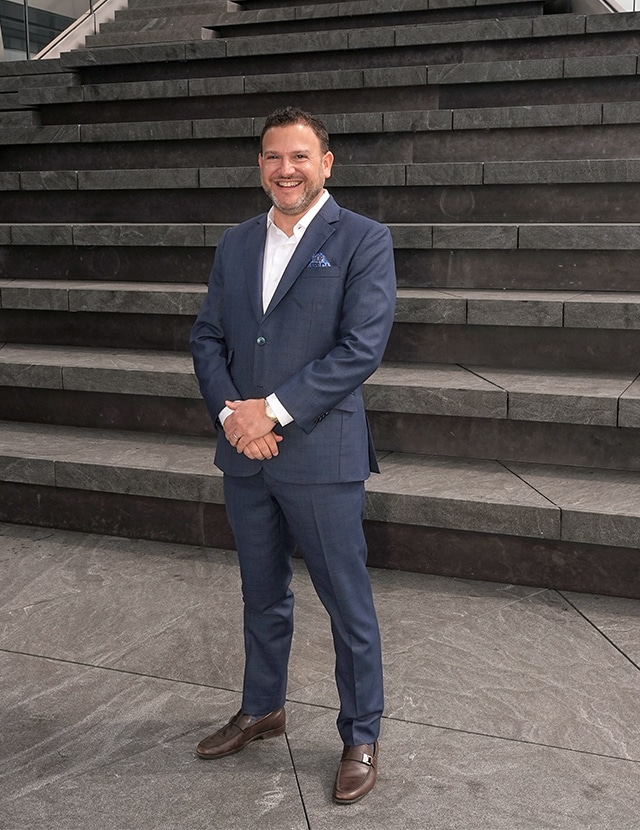 "From that point, moving into college, I had a job one summer pushing a mail cart around a large Newark, New Jersey-law firm, and got to know some of the lawyers there," Katz recounts. "Talking with them was really interesting, and I decided to go to law school."
He wound up going back to the firm—this time interning as a law clerk—and many found it humorous that the former mail cart guy now worked as a summer associate.
"I decided early on that I wanted to be a litigator," Katz shares. "That always seemed more up my alley. I enjoy the arguing, the sparring, and the debate. When I focused on the areas of litigation I was interested in, I was always drawn to the areas that were more personal to people."
Employment law quickly became a love of his, and Katz set out to make that the focus of his career. Katz had always admired Related Companies from a far, and he would routinely track the organization's growth in the real estate development world.
"I was working in law firms as outside counsel, I had some clients in the real estate development field and I found the industry to be really interesting," Katz explains. "I found Related Companies to be a very entrepreneurial place—a large company that's run in a lot of ways like a smaller one, and this is the type of environment that I wanted to be a part of."
Today, Katz serves as strategic and trusted advisor to the organization's senior leadership in areas of human capital, HR compliance, risk mitigation, and dispute resolution. "I was hired to do labor and employment—a position that never existed before I joined Related Companies, so not only to oversee the employment litigation, but all aspects of employment law," he notes. This entails working closely with the human resources department and legal department.
In February of 2021, his role transitioned into something more.
"I raised my hand to take on more responsibilities," Katz explained. "I saw an opportunity for oversight of commercial litigation across the organization, so my portfolio has significantly expanded since then as I oversee not only employment litigation, but litigation firm-wide."
During his time with Related Companies, Katz has helped the company save a lot of money with efficiencies implemented in litigation and how it oversees outside counsel and tracks all litigation matters.
But that's just the tip of the iceberg of what Katz accomplishes in his day-to-day role. He provides creative and pragmatic counsel and project management on the full spectrum of HR matters including policy and process design. He also conducts and advises on investigations and leads manager trainings.
Katz also implementeda full suite of Related Companies' COVID-19 safety protocols, from June 2020's return to offices, to health screenings, to testing, to contact tracing, to the company's first-in-industry vaccination mandate, and everything in between.
"Given the industry that we're in, which is a mix of real estate development and residential and commercial property management, the vast majority of our workforce—from construction to property management—are considered essential workers who have been on the front lines of our properties every step of the way," he says. "I vividly remember the beginning of all of it in March 2020 when the corporate employees were briefly working from home to comply with state and local mandates. We needed to figure out how to get the corporate workers productively working from home while safely keeping our frontline workers working."
That required him to study a patchwork of state and local executive orders in the twenty-five states where Related Companies operates and develop a plan suitable for all.
"I have had the privilege to work with Dave and observe his tremendous growth as an accomplished attorney," says Robert Bernstein, shareholder at Greenberg Traurig LLP. "Dave's leadership during the COVID-19 pandemic showcased his deep understanding of the law, as well as ever-changing regulations, creative approach to solving problems, and ability to turn challenges into new opportunities. Dave is an absolute pleasure to work with. Greenberg Traurig is fortunate for the opportunity to work closely with Dave and the Related Companies team."
Over the past couple of years, through counsel on interviewing and hiring practices, training, employee engagement and other areas, Katz also has helped further the organization's diversity, equity, and inclusion (DEI) initiatives, which formalized about two years ago.
"We're working to bring more DEI not only into Related Companies but the real estate development industry as a whole, which sometimes can look a little homogenous," he states. "We're working on bringing in more diversity in our internship program. Last summer, we had by far the most diverse class of interns, and we hope to improve on that again next year."
Training is another big focus in the year ahead. Alongside his team, Katz plans to dig a little deeper into unconscious bias training, which has been rolled out to about one thousand corporate staff team members.
The chief counsel also anticipates growing more into his role of leading the company's litigation and trying to create synergies throughout the legal department, specifically creating efficiencies geographically in the law firms Related Companies is hiring.
"Career development-wise, I'm just looking to continue building relationships among leadership across all of our wide array of platforms," he shares. "I like to think of myself as a trusted adviser and there are some geographies and segments of the business that I want to build on more and create greater impact, so that will be an area of emphasis."
---
Expertise Spotlight:
Greenberg Traurig's Global Labor and Employment Practice serves clients, including Related Companies, from offices throughout the United States, Latin America, Europe, and Asia. Practice members have had numerous trial wins and are frequently called upon to handle complex, bet-the-company, and large high-stake cases, including nationwide class and collective actions. On the labor side, a leading group of lawyers regularly represents management with labor-relations matters. Labor and Employment team members assist clients with complex employment issues, and design practical, proactive strategies that can be readily implemented by today's human resources professionals. In addition, the practice is recognized by The Legal 500 United States in the areas of Labor and Employment Litigation, Labor-Management Relations, ERISA Litigation, Workplace and Employment Counseling, and Trade Secrets Litigation.