Dan McDonald was deep into a game of Tomb Raider. It was his first year in law school and he had recently reconnected with his first love: gaming. To be honest, he wasn't even sure why he was in law school, but hoped he might find a way to marry his budding interest in the law with his lifelong love of gaming: the Atari 2600, Commodore 64, ColecoVision, Adam computer to the Sega Master System, Genesis, PC, and, later on, PlayStation.
"One of my roommates basically told me that I needed to figure out what I wanted to do in life," McDonald says, laughing. "I just went back to playing the game, but later noticed the little copyright symbol in the bottom of the intro screen. I figured someone had to be involved in that and why not me."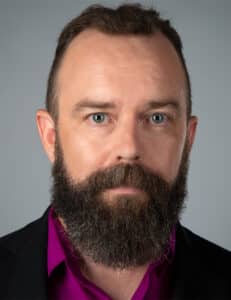 The now senior managing counsel and head of IP at Unity Technologies, whose game engine is used to create video games and real-time 3D experiences for a variety of industries all over the world, managed to line his career and passion up in a way that many lawyers may find enviable, but it certainly wasn't easy.
How does a Canadian national wind up in a rundown Japanese sharehouse with twenty other foreigners trying to piece together professional careers? Games. How does a Saskatchewan-native end up earning his LLM in England and passing both the New York and California bars before credentials in his own country? Games. How does a native-English speaker wind up passing what is widely considered to be one of the most challenging language proficiency exams (Japan) in the world? Well, studying, and games.
"My parents let me play a lot of games growing up, but I don't think they ever really understood it," McDonald explains. "Whenever I could find a way to make money, it would be put towards a new game, a new console, a game guide, whatever."
Despite his interest, McDonald wasn't into the hard science of the creation, at least initially. He didn't pursue computer science or engineering in college, even though he considered it. Bitten by the philosophy bug (at least the Friday beer and pizzas), he found himself with a bachelor of arts degree and work experience largely confined to student jobs at the university and a photo lab.
His father worked as a lawyer, but McDonald didn't initially see himself going in the same direction. He applied to law school anyway and was accepted. He needed a way to raise money for tuition, so he answered an ad in the newspaper and wound-up teaching English in South Korea for over a year and a half, saving money by living on the super cheap—at one time in an actual pantry for six months.
During McDonald's first summer of law school, he went teaching again, this time in Taiwan, but also found a side gig at an IP firm in Taipei. He worked for free, but he got to do a lot of things not possible in a traditional summer law job setting. "I figured I was going to be stuck in a law firm full time for the next thirty, forty years, so I might as well do something different while I can," McDonald says.
Following that he got a summer job in Singapore. These early experiences provided a glimpse into the lawyer's future career, which included almost a decade working in Japan in some game-related capacity.
McDonald spent the bulk of his career tied into working with engineers, developers, and game companies to grow their brands and protect their products. In a previous role at DeNA, the lawyer helped pioneer the age of freemium gaming of the early 2010s, games—including Rage of Bahamut and Marvel War of Heroes—free to play but allow in-app purchases. And after being lured to Unity in 2016, he helped the company build its IP portfolio, protect its global customers, and continue Unity's organic and significant growth.
The culture at Unity, McDonald says, is first and foremost about the user. It's an approach that may seem vastly different from some US-based startups, where growth is prized over anything. "It reminds me very much of the Japanese companies that I worked for," he explains. "Whatever the issue, the first concern is the user, and how we can make our company work for them. It felt very right coming here."
McDonald hasn't found himself chained to much of anything during his legal tenure, though he worried about it earlier in his career. A personal success, he feels, results from taking advice with a grain of salt.
"I think you'll find a lot of people in your life who think they know what you can't or shouldn't do," he says. "In most cases, I found that people who tell you those kinds of things are coming at this from a point of view heavily influenced by their own careers and lives. And I think it's really important to ask yourself, 'Is that really true?' If it makes sense for you and is something you really want to do, you just have to pursue it."
It's a choice that has taken him across multiple continents, thousands of virtual galaxies, and one very successful career. There should be more journeys like McDonald's, no chains in sight.