Football has played a major role in Cyrus Ghavi's life for as long as he can remember. The Atlanta native grew up a Falcons fan and remained true to his hometown roots even after becoming a New York transplant. In fact, he spent numerous football seasons with family and friends flying to games and cheering on the team in person.
Roughly a decade ago, while at Cleary Gottlieb Steen & Hamilton LLP, the practicing attorney learned of an opportunity to turn one of his favorite pastimes into a career. "People realized I was a huge football fan," he recalls. "A mentor who was working with me at the firm said, 'Hey, I came across this job posting, and I thought you'd be interested. I know you love football.'"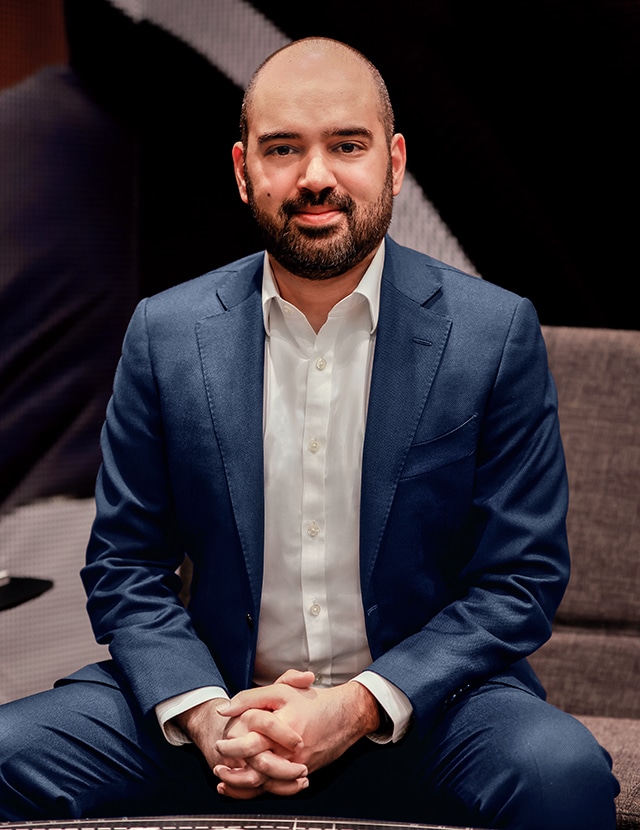 The job happened to be at the National Football League (NFL). "It turned out they were looking for someone with my kind of legal experience," Ghavi says. "Although I wasn't actively looking for a new opportunity, I was very fortunate that [my colleague] was aware of my interest and pointed it out to me."
Ghavi joined the NFL as an assistant counsel in 2013 and has since risen through the ranks of the legal department to become associate counsel, counsel, and, most recently, senior counsel. In his current role, he advises and supports stakeholders of the league's thirty-two teams on a wide range of matters, including finance and governance, stadium projects and leases, and team ownership policy, and transactions. He also supports the NFL owners' Finance and Stadium Committees. He credits his previous law firm experience with setting the foundation for much of his in-house work today.
"Like a lot of young associates early in their careers, I was involved in several different corporate matters," the senior counsel explains. "I did capital markets work, some corporate governance, and a little bit of M&A. All of this training proved extremely beneficial and provided me invaluable insight for when I joined the NFL."
In addition to serving as a leader on the legal team, Ghavi's work requires him to collaborate with other departments within the organization. "We do a lot of both policy-related and transaction work and help support the Finance and Stadium Committees," he says. "Every day, I'm working with colleagues across the organization, from our club or labor finance teams to the club business development group, which focuses on supporting local team business. We also work directly with NFL teams on their respective ownership and stadium matters."
Working across departments proved particularly important when COVID-19 hit. The NFL, as well as the entire sports and live entertainment industry, had no choice but to pivot. It also would prove to be one of the most interesting times of Ghavi's tenure. In fact, the experience of revising policies and contingency planning during the height of the pandemic remains relevant today.
"COVID-19 came out of nowhere, and a lot of people never expected anything like that to ever happen," he reflects. "In a way, it helped strengthen the communication between the legal and business sides. We always had the common goal of being prepared for anything and managing risk in the event of unforeseen circumstances, but the pandemic helped put that into sharper focus for legal and non-legal personnel, alike. Now everyone has a lived, first-hand understanding that unimaginable things happen, which is why we negotiate and implement safeguards to protect the business."
Other highlights of Ghavi's career include serving on the NFL's diversity counsel for the legal department, as well as the New York City Urban Debate League's Lawyers' Advisory Council. His passion for diversity, equity, and inclusion stems back to his childhood. Growing up as the son of two Iranian immigrants, Ghavi realized at an early age that he was different than a lot of people around him and that that reality came with both challenges and advantages. Today, admiration for his parents' sacrifices, strength, and commitment to building a better future for their family inspires the attorney to remain true to himself in both his personal and professional life.
"There's a fine line between adapting to your environment and holding on to your individuality. As a son of immigrants, I never had to be taught this lesson; I kind of just lived it," he says. "I understood from an early age that my perspective was unique to me because my experience was different than a lot of people around me. In turn, that helped me recognize that other people may have different perspectives and their own set of challenges."
He continues, "It's important to help open doors and facilitate growth, because opportunities don't always reach everyone who is deserving or could benefit from them. I'm trying to make sure that I help where I can."
Ghavi advises the young attorneys he mentors to always keep their eyes open for opportunities, as you never know when that dream job will present itself. "It's all about being open-minded, being cognizant of the opportunities that are available, and jumping on those whenever they are open," he says.
---
"Cyrus combines deep substantive knowledge and creative thinking with an ability to look for and find practical solutions. He is an incredible asset for the League and a joy to work with as outside counsel."
–Peter Zern, Partner
---
"Congratulations to Cyrus for this well-deserved recognition. He is an exceptional transactional lawyer and we are proud to collaborate with him to achieve creative and strategic solutions for the league, its owners, and its partners."
–Matt Eisler, Global Head of Sports