"The pandemic has elevated employment law protections to the forefront of not only Lockheed Martin's attention, but the national landscape," says Crystal Barnes. Barnes is associate general counsel of Lockheed Martin, a security and aerospace company based in Bethesda, Maryland, which is at the forefront of researching, developing, and manufacturing sustainable technology.
Across her eight-year tenure at Lockheed Martin, Barnes has driven domestic employment law compliance across the company. Since the COVID-19 pandemic disrupted life as we once knew it, Barnes has been supporting her company's response and ever-adapting COVID-19 policy by advising on the myriad of employment law considerations raised by the pandemic.
Public Policy Principles
Barnes earned her undergraduate degree at Princeton University, where she did not originally plan on becoming an attorney. "I knew that I wanted to be in a profession where I could help others," explains Barnes. "I come from a family of teachers and educators, and I graduated high school with a belief that I would become a child psychiatrist or pediatrician. However, I quickly learned that organic chemistry and I were not well suited, and I ultimately majored in public policy."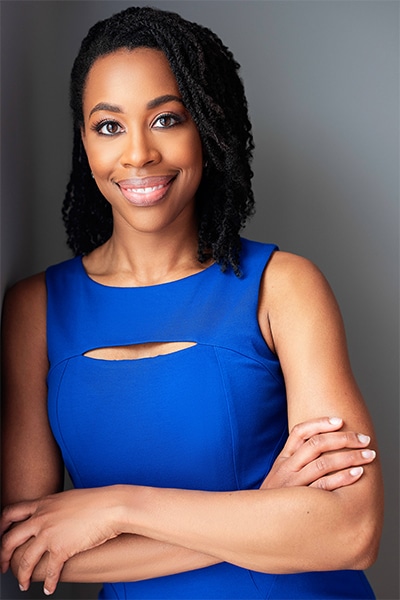 Barnes was drawn to the interdisciplinary nature of the field. She loved how public policy combined history, economics, politics, and sociology—but was rooted in a genuine understanding of advocacy. "The coursework allowed me to understand that advocacy is critical to societal change," explains Barnes. "Whether it's in health care access, educational outcomes, or wealth building, I was particularly interested in policies that focused on improving the quality of life and the outcomes for poor and minority children."
After graduating from Princeton, Barnes went on to Georgetown Law School. She found her calling in employment law, focusing on antidiscrimination and equal employment opportunity. For the first seven years of her career, Barnes built her résumé at law firms such as Mintz Levin and Ogletree Deakins before going in-house at Lockheed Martin in 2013.
In her daily work at Lockheed Martin, Barnes' work includes risk mitigation and litigation management; dispute resolution related to internal complaints; and counseling on workplace accommodation, diversity and inclusion initiatives, conflicts of interest, wage and hour compliance, and antidiscrimination and anti-harassment requirements.
Protecting the Workforce
Barnes decided to go in-house so that she could shape the policies that protect the workforce, rather than looking at conflicts in hindsight. "I think in-house lawyers become adept at communicating with a variety of business partners," explains Barnes. "As an in-house lawyer, you're interacting with so many different people and establishing yourself, and you learn how to persuade and influence and communicate in a very different way."
Since March 2020, like many experts in employment law, Barnes's professional life has shifted its focus. She is advising on policies that address the constantly changing concerns surrounding the pandemic. She and her colleagues within the legal team have led the risk mitigation strategy present in the company's response.
"My role has been to spotlight the employment law considerations that result from legal changes on the local, state and federal levels, such as paid time off, sick leave benefits, and the implications of employer-required vaccination," explains Barnes. "Other considerations have included confidentiality obligations related to medical information and accommodating high-risk individuals who have medical conditions that make them more susceptible."
Barnes emphasizes two key laws that have been thrown into the spotlight—not just at Lockheed Martin, but on a national level. One is the Americans with Disabilities Act of 1990, which requires employers to provide individuals with disabilities a reasonable accommodation that will enable that employee to perform essential job duties. The other is the Civil Rights Act of 1964, which, in part, prohibits discrimination against an individual based on religious beliefs and requires employers reasonably accommodate employees when certain job duties conflict with religious beliefs.
Like many companies, Lockheed Martin has had to draft its pandemic policies with these laws in mind. "There are distinct legal requirements involving these two categories of accommodations," Barnes says. "The major challenge, but also the most meaningful part of this endeavor, was constructing our policy within a robust system that supports compliance and is also prepared to pivot."
In addition to working for Lockheed Martin, Barnes fulfills her original mission of advocacy through pro bono work and nonprofit board service in Washington, DC. During her law firm tenure, Barnes performed a variety of work including child custody matters and partnering with nonprofits on political asylum cases. Barnes has more recently participated in legal advice clinics organized by the Association of Corporate Counsel. "This kind of work reminds me that even in an individual capacity, we can make a difference toward justice, fairness, and equal opportunity," Barnes says.