Corey Whiting had no idea the change that one expat assignment would bring. It was 2011, and his New York law firm needed someone to help start a dispute resolution practice in its Hong Kong office. Whiting loved New York City, but the offer was too good to pass up. He accepted the position and packed his bags for Hong Kong.
Whiting was a qualified candidate for the job. He had been passionate about international travel since he first visited Europe on a high school class trip. That trip sparked a lifelong passion for learning about people, places, and cultures. "I knew early on that I wanted to do something with an international aspect, and that guided my academic and later my career path," he explains.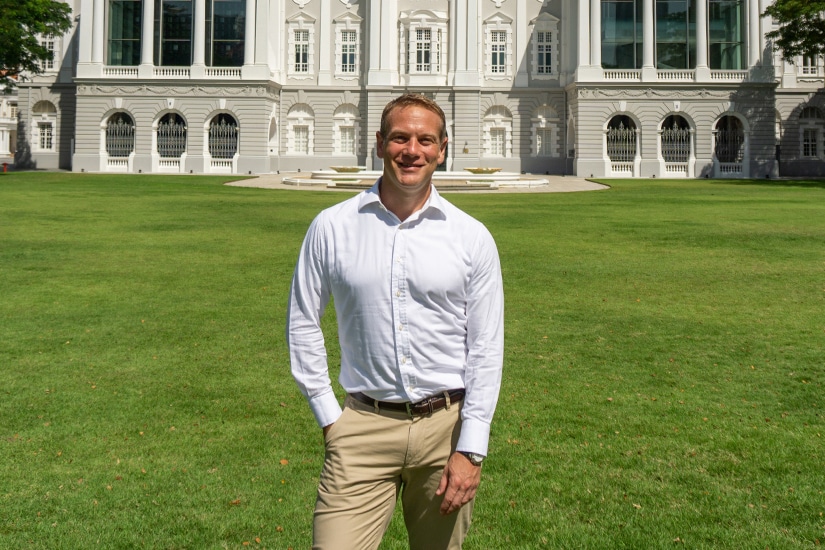 He also had experience in Asia. Whiting's interest in global matters compelled him to study political science and economics at Emory University. Upon graduation, he moved to the nation's capital and took a job as an international trade specialist at the International Trade Administration. In that role, Whiting worked in the department's China office and helped monitor the country's compliance with its obligations as a new member of the World Trade Organization.
He left after two years to pursue a master's degree in public administration from Harvard University and a JD from Columbia Law School. After law school, he joined Debevoise & Plimpton and worked in their international dispute resolution practice group, where he established a strong track record working on Asia-based disputes.
Upon moving to Hong Kong, Whiting proceeded to spend approximately five years helping to lead international commercial and treaty arbitrations in the region, and he quickly grew to love the city. Whiting took advantage of his new home not only to enjoy the city's hiking trails, beaches, and islands but also to travel.
After leaving the firm in 2016, Whiting wasn't quite ready to return to the United States. Instead, he sought out an in-house role where he could leverage his cross-cultural experience and expertise. He found the perfect match at Kuok Singapore Limited Group, where he is now executive counsel and head of litigation.
Moving to Southeast Asia and stepping into the in-house role continued Whiting's legacy of lifelong learning. "While I knew how to counsel clients in private practice, now I had both internal clients to service and outside counsel to manage," he explains. "The role reversal of managing outside counsel was a fun change and I no longer had to spend late nights drafting briefs. The real challenge came in learning how to navigate the ins and outs of a new company, particularly one that is a multinational, Asia-based conglomerate with a range of different businesses.
"The most important lesson I learned when I first moved to Asia is to appreciate the differences in whatever new experience you find yourself in," he continues. "Try to minimize your preconceptions as much as possible and come in expecting to learn a lot. Learning the nuances of how different companies, different people do business better enables you to then bring your own experiences and expertise to bear."
That approach proved to be important for Whiting. In 2018, shortly after joining Kuok Singapore, Whiting had to advise subsidiary Pacc Offshore Services Holdings Limited (POSH) on the commencement of an investment treaty arbitration against Mexico. The marine company delivers offshore solutions to support energy operations, and POSH alleged that Mexican authorities had taken actions to prevent it from chartering its vessels to Mexico's national oil and gas company.
The International Centre for Settlement of Investment Disputes administered the dispute heard by a United Nations Commission on International Trade Law tribunal. Whiting, who previously worked on similar cases in private practice, coordinated all aspects of the case and worked closely with external counsel to guide the matter to completion. In 2022, POSH obtained an award ordering Mexico to pay damages.
Being flexible and maintaining an openness to learning new ways of doing things also proved invaluable when the COVID-19 pandemic hit in 2020. Court and arbitral hearings went virtual worldwide and, in many cases, were delayed, sometimes for years. Working to resolve these matters as well as craft Kuok Singapore's overall dispute resolution strategy required even greater flexibility as Whiting united teams and personnel working in offices and law firms around the world.
For instance, in the treaty arbitration against Mexico, Singapore was twelve hours ahead of New York and thirteen hours ahead of Mexico City at the time of the hearing, and witness and the tribunal were also based in Washington, DC, and Europe. Having to coordinate around such significant time differences required Whiting to adjust his schedule to start in the early afternoon and work well past midnight when his counterparts in other time zones are on the clock.
Whiting's approach to lifelong learning has proven valuable as Kuok Singapore also adapts to a changing business environment. The growing company is intensely focused on the challenge that climate change presents. This includes instituting new business practices, exploring new opportunities, and adopting formal policies in the environment, social, and governance (ESG) space—an area in which Whiting has been heavily involved as a member of the Group's ESG Project Management Office. The company is seizing these challenges an opportunity to adapt and grow, and Whiting is seizing an opportunity to contribute on business strategies that fall outside of a purely legal role.
When Whiting isn't consumed by his growing in-house role, he enjoys being a resident of Singapore. One of his favorite past times is sampling the city's popular street food. Whiting's favorite? "That has to be char kway teow, a stir-fried noodle dish," he says.
---
G. Elias & Co.:
"Working with Corey is a pleasure. He is wise and insightful, practical and efficient, always courteous. He focusses early on the key issues and is quick to grasp important points."
–Prof. Gbolahan Elias, Partner