Aleksandra King's bathtub was leaking into her downstairs neighbor's apartment, while her landlord covered peeling walls with spray paint. When she dared to complain, he threatened to evict her for owning a cat. He knew she had a four-legged companion even though the lease forbade them. King, who came to the US from Moldova at age ten, had no choice but to learn how to use our legal system to stand up for herself. She researched New York City landlord-tenant law, fought back, and won.
King says the victory was "empowering." But, although she discovered an aptitude for understanding legalese and navigating the court system, she wasn't immediately convinced that she should pursue a career as an attorney. After all, she had always been more interested in technology, engineering, and science. King dismantled gadgets as a child and had already double majored in astronomy and computer science at Boston University. The young professional even had a promising career launched with software engineering positions at Yale University and Albert Einstein College of Medicine.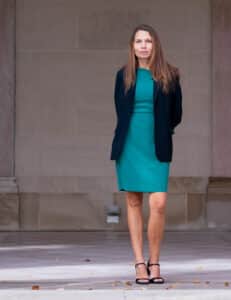 However, a conversation with a friend who was about to start law school put King on a new path. As that friend explained the world of intellectual property, something clicked. "I saw IP as the perfect union of my interests," she reflects. "It applies the law to technology and innovation while letting one be at the forefront of advancements and make the world a little more fair."
King was convinced. She took the LSAT, enrolled at Rutgers Law School, and got involved with groups like the school's Intellectual Property Society and Women's Rights Law Journal. When she graduated in 2008, she started the second chapter of her career at Fitzpatrick, Cella, Harper & Scinto.
That's where the attorney learned the power of mentorship. A mentor who was just a few years more senior than King pulled her into a high-stakes billion-dollar drug case that was about to go to trial. As she worked with her colleagues around the clock, she got a front-row seat to all parts of the process.
After three years at this large IP boutique law firm, King had grown her practice in pharmaceutical arts, and then moved to a small IP group within Hogan Lovells. At Hogan Lovells, she expanded her skill set, working on complex software engineering cases. She worked closely with a senior partner who assigned her significant responsibilities involving direct access to clients and participation in depositions and hearings. This senior partner quickly became one of her most instrumental mentors.
"I had wonderful mentors; the biggest thing I learned was how much it matters to enjoy your job and the people you work with," King says. "That has become the most important thing I look for—the people are more important than the prestigious firm or the big paycheck."
That approach guided King as she looked for her first in-house role. She accepted a role as patent counsel in 2018 with the cutting-edge data protection and information management solutions company Commvault. For King, her current role is ideal as it unites her passions in tech, science, and law. She works with the company's engineers, whom she touts as being "talented" and "a pleasure to work with," drafting patent applications to protect their innovations.
King also manages patent litigation matters involving Commvault as a party. As these and other matters unfold, King has found she's able to leverage her big-firm experience and the training and expertise that she developed alongside mentors. Now, she looks to provide the same experience to others. She sits on the board of New Jersey Intellectual Property Law Association, where she participates in a mentorship program with other like-minded lawyers.
She encourages anyone hesitant to find a mentor to take the plunge. "Mentorship can seem intimidating or scary at first, but it doesn't always have to be formal or even limited to one person. Mentors are everywhere, and everyone I've ever asked for advice has been honored to be asked. Have the courage to approach those who might seem unapproachable," she says.
Data protection and security is a fast-moving and competitive space. To date, Commvault has invested over $1 billion into research and development, yielding more than a thousand patents worldwide. As the organization pushes for growth while remaining at the forefront of innovation, King will continue her mission to diligently protect the company and its intellectual property.
---
Knobbe Martens congratulates Aleksandra King on this well-deserved honor! Knobbe Martens is a leading Intellectual Property Law Firm that specializes in patent, trademark and copyright matters.