After finishing his university studies, Adrian Strang and his best friend paddled kayaks all over Australia. While passing Perth, Strang's current residence on the west side of the continent, he noticed a massive superyacht under construction. He was looking at an Austal creation, a yacht built specifically for PGA legend Greg Norman.
"I just remember thinking at the time how cool it was that there are companies in Australia that build things like this," Strang remembers. "That was 2001, and when the opportunity came to join Austal in 2011, I absolutely jumped at it."
The current general counsel for shipbuilder Austal, Australia's largest defense contractor and maritime technology company, says his path could have gone a completely different direction. Had he not met his now wife, Strang's year-long sabbatical he took in 2005 to work as a deckhand in the Caribbean Sea (it's important to point out that he was already a practicing lawyer at this point) might have been permanent.
Fortunately for Austal, Strang eventually returned to his homeland. His passion for boats remains but building them himself wasn't in the cards.
"I thought I wanted to be a shipbuilder, but after spending summers sandpapering and antifouling the bottom of boats while standing on a ladder, it turned me off to the idea," the GC says, laughing. "Frankly, I'm rubbish at building much of anything."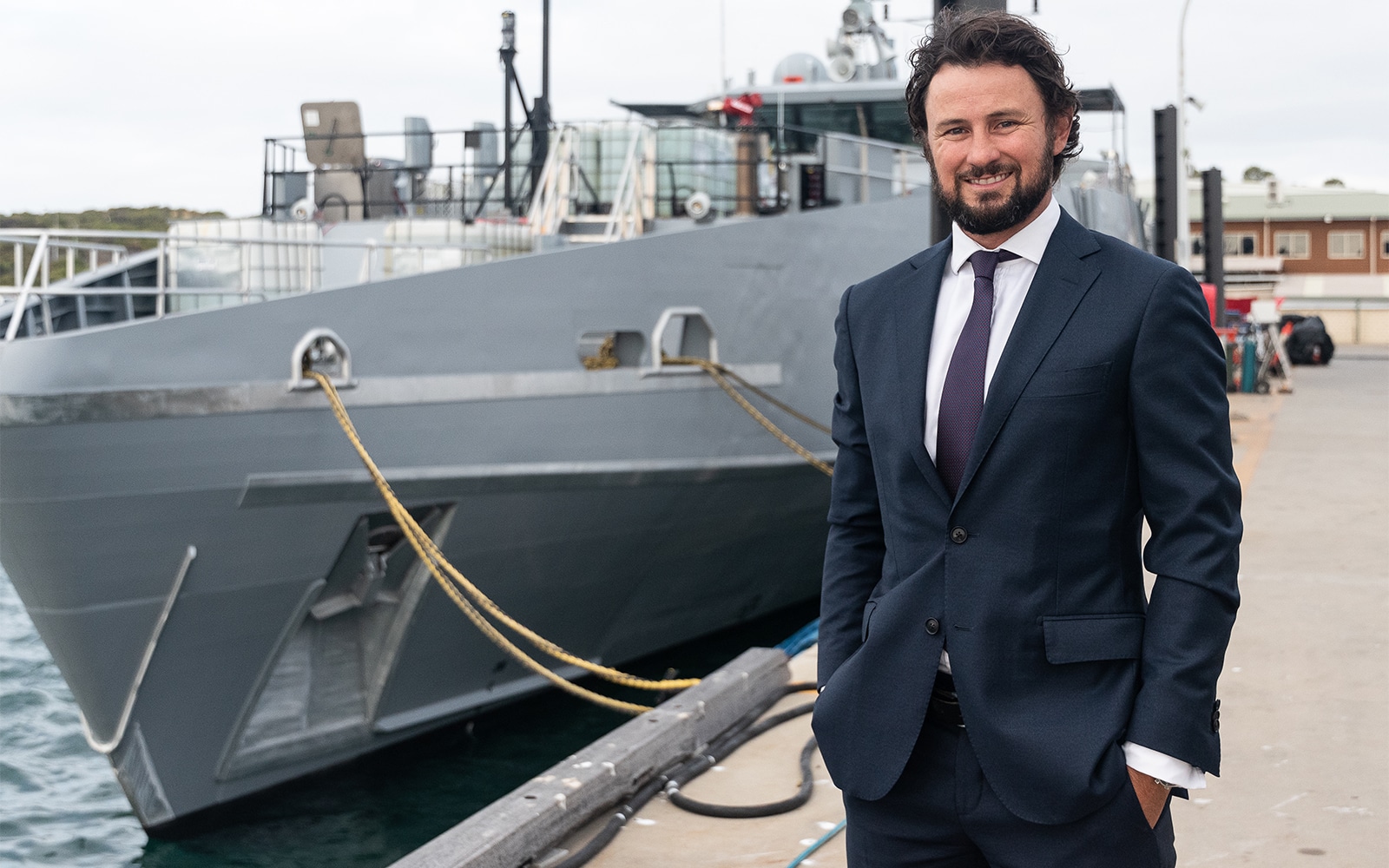 However, Strang has been instrumental in navigating Austal through the difficult waters of transition during the pandemic. A huge part of Austal's business outside the US prior to the devastating effects of the COVID-19 pandemic was in the production of commercial ferries. The GC estimates it was at least half of Austal's revenue outside of the US. "But when people stopped traveling, people also stopped buying ferries," Strang says. "In many ways, the commercial market for ferries dried up."
Austal changed course and grow its defense and government contract work significantly. While Austal had produced patrol boats for the Royal Australian Navy (among others) over the last fifteen years, the pandemic pivot was a significant one.
The nature of that work has fundamentally altered Strang's purview. The flow of a commercial negotiation, one whose pace could sometimes be measured in days and weeks, is different from a larger governmental negotiation in virtually every way.
"Commercial operators can be very emotional, and the deals can move very fast," Strang explains. "It's very dynamic and can move from zero to everything changing over the course of a phone call. When you're talking about government customers, it's a much slower burn."
The massive size of the projects also leaves very little room for flexibility, he says. It's the nature of the beast. The larger project window realigns risk assessment, budget requirements, and scheduling.
"When you're talking about modifying or adjusting an arrangement, there's much less flexibility in a government negotiation," he says. "Ultimately, you're modifying the internal risk assessment and risk allocation internally, getting comfortable with accepting risk that you might not otherwise have accepted, but pricing that risk into the project."
It may not seem like a big distinction, but it fundamentally alters a project framework when one eliminates any negotiation space offered by a commercial contract, Strang explains. Austal must create a new framework that eliminates risk to the builder, or at least brings it down to an acceptable level that also supports competitive pricing and delivery options.
Strang's broader approach in leadership is best defined with one word: excellence. The GC isn't one to raise his voice, and he hopes that his "intellect without appetite" approach is what guides him in his leadership role.
"The legal function at a shipbuilding company is absolutely a supportive function, and I'm conscious of that," Strang says. "But there is a special sauce to this company that can be applied in every department. There is an ethos of continuous improvement here that I feel is well-represented by our legal team."
Whether it's serving internal clients or engaging in external negotiations, Strang is adamant that his team has already put in the hard work to be prepared.
"I never, ever want to be in a position where we get the business caught up for not having done our homework," Strang says. "Being prepared means you can approach things with a more calm and logical approach. It also earns you respect with whomever you're working with or supporting."
And while he may be a stickler for details on the job, Strang's demeanor is much more in line with a man who lives five hundred meters from the ocean. While he may not be on sandpaper duty anymore, the year-round surfer has still managed to stay connected to the big blue by supporting one of Australia's premier shipbuilders from the head legal chair. And after a difficult stretch, surf's still up at Austal.