"The better I understand someone's daily work activities and what makes them easier or harder, the better I know how I might help accelerate them," says Zack Stewart, vice president and associate general counsel at Serco. This frame of mind has allowed him to not only navigate a successful law career in government contracting but also transform processes to be more efficient along the way.
To Stewart, government contracting has always been compelling in its complexity. It's even motivated him to pursue positions that would diversify his knowledge base beyond just what's included in the job descriptions. He got his start in public service, working for the US Marine Corps. A few years later, he had the opportunity to go in-house.
"Once I went in-house, I knew it was for me," he explains. "You get to combine all the stimulating challenges related to understanding laws and regulations and then add the overlay of risk mitigation and profitability. Those additional layers of depth and complication make my work interesting and solving each day's puzzles that much more rewarding."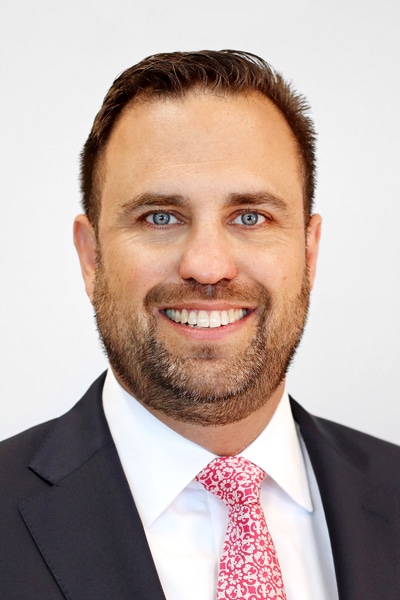 Before joining Serco, Stewart also spent time as an associate at the national law firm of Arent Fox as well in-house again at Broadcom, where he flexed and grew his expertise on a wide variety of topics.
Now, with twenty years of experience under his belt, Stewart assists one of the largest providers of public services to governments with counseling and transaction support, department management and litigation, strategic decision-making, and process improvement. He compares his position to a "walking hat rack"—that is, full of different, competing responsibilities that all need to be balanced.
One initiative Stewart is currently working on is bringing Serco's compliance to the next level. He selects "hot spots" or areas of laws and regulations that he thinks are rapidly changing or present the greatest risk to the business if not handled effectively. Then he searches for where those hot spots pop up in the company's top contracts, connecting with various subject-matter experts along the way, to maximize the company's chances of identifying potential problems before they gather momentum.
He blends his technical insight with an eye toward process improvement, which is exactly what Stewart says he's built for. "I've always had an innate radar for identifying where processes get bogged down and where I can add value to make them quicker and simpler," he says. For example, by creating a new intake form, he cut email exchanges with contracts and procurement by 50 percent per matter. Additionally, he reduced review time on employment candidates by 75 percent by adjusting and implementing a new workflow and training program.
Besides his purely legal responsibilities, Stewart is a teacher at heart. At every company he's worked for, he's taught both introductory and refresher courses regarding ethics and compliance and how they relate to the company's way of doing business. "Teaching these courses is a great way to show colleague throughout the company that the legal department is approachable, human, and on their side," he says.
Another asset that Stewart brings to the table as an attorney is something he calls the "zoom lens," or the ability to smoothly transition from detailed tactical work to high-level strategic work. The zoom lens allows him to see issues in tremendous detail, pivot quickly to see the bigger picture, and then make a strategic decision based on both views. The need to see challenges at both ends of the detail spectrum is an integral part of the way he builds up junior attorneys as well.
Stewart says he enjoys teaching these courses because it enables him to create learning opportunities for junior attorneys. "The faster I can help a junior attorney build their own inherent, gut-level understanding of how our company balances risks against rewards, the faster they're able to take on increasing amounts of responsibility and make decisions for themselves," he explains.
Outside the legal function, Stewart's leveraged additional learning opportunities. For instance, he obtained a strategic management program certificate from the University of Oxford. He also participated in a design-thinking course where the goal was to come up with a new, innovative, and functional office space for the entire Serco company.
Over the course of his career, Stewart says he's learned a lot. But perhaps most importantly, he's learned the value of time. "My career path has taught me how crucial efficiency is," he says. "The skills I've picked up along the way help me to apply a laser focus to the heart of a problem or a process, so that I, my team members, and ultimately my company can move forward in the most efficient possible manner."
***
McCarter & English, LLP:
"In addition to being an excellent attorney, Zack is an outstanding and pragmatic business strategist. We have had the pleasure of working with Zack and his team on a number of complex matters and are privileged to be among his trusted counsel."
–Franklin Turner, Cochair, Government Contracts