While Seth Skiles has built out an extensive litigation record both in firms (Quinn Emanuel, Kaye Scholer) and in-house (Blue Apron, Compass), he has a distinctly personal connection to his latest role as deputy general counsel at HEINEKEN USA that predates law school.
"Heineken was the first six-pack I ever purchased after turning twenty-one," Skiles remembers. "As a younger person on a budget, it was the beer that you aspired to, the one you'd want to get on your birthday. Just from a brand perspective, it's been an amazing opportunity to come here and support the team."
Skills Years in the Making
Skiles's skill set runs deep, as evidenced not only in his résumé but also in the evolution he's undergone as both a leader and business partner. It's an evolution the DGC says takes years to adapt to after coming from multiple firm stints, but it's entirely necessary for anyone who truly wants to add value to their organization.
"There is this whole different set of skills that's required: learning how to work with diverse interest groups and stakeholders, achieving success through communication and planning, updating your preconceptions as you learn and meet with people," Skiles says. "These things take time."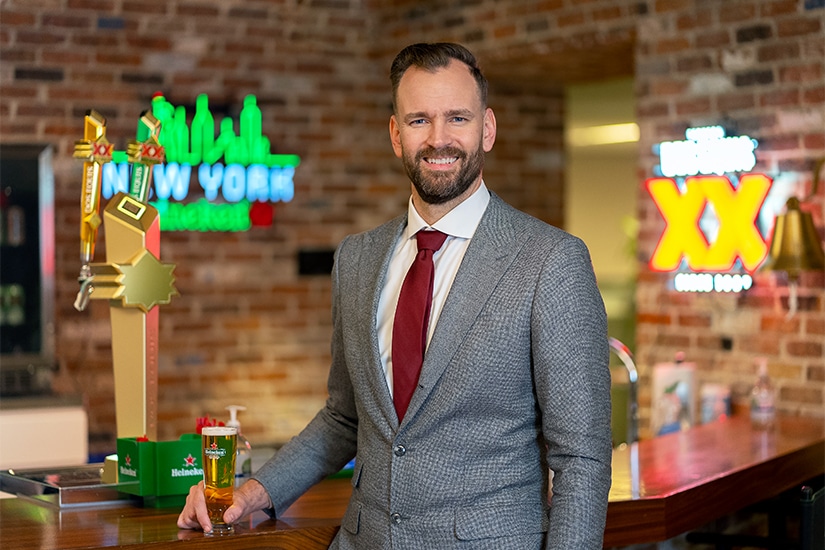 Skiles's command of the softer skills of leadership in no way belies his grounding in the scientific tradition of fact-based, rational decision-making. His engineering background has allowed him to engage in diverse and complex conversations that other attorneys may have shied away from, like software development, technical inquiries, and manufacturing issues.
"Throughout my career, I've found I was able to talk through things on a deeper level and get into terminology that these experts in their areas were more familiar with," Skiles explains. "It helped put people at ease and maybe make them think of me as more of a partner than a lawyer coming down the hallway to make your life more difficult."
But that's only one avenue of conversation. Skiles's continued success can be attributed to his ability to take those sometimes deeply analytical and technically complex conversations and translate them to those who can benefit from the information, but don't necessarily need to get down in the dirt to do so.
"There is always this process of filtering from the deepest, most granular data to abstracting to what is important for the audience, which could be your CFO, your CEO, a regulator, or a judge," Skiles explains. "You have to figure out what is the important message for them and deliver it in a clear, concise, and rational manner. That's what lawyers do."
The Nuts and Bolts of Legal
The DGC's analytical mind has also been beneficial to organizing HEINEKEN USA's legal department and using technology to help the lawyers do the work that matters most. Skiles says it's a continuous process that includes investigating new software, data storage, and invoice review.
"These are nuts-and-bolts issues, but you want to ensure that you have the machinery of your department running as smoothly as possible and that lawyers are doing more lawyering and less work that doesn't add the same type of value," Skiles explains.
Skiles says he continues to investigate new technologies that will contribute to data-driven decision-making. While judgment based on past experience can be useful in many cases to provide context, it can also create assumptions that are simply not backed by data or reason.
That's not to take anything away from experience, but merely to underline the ever-changing legal landscape and the increasingly complex nature of deriving truth in today's modern world.
The DGC emphasizes what he considers an even more important component of getting a legal team on the same page: the people.
Whether it's professional development of skills, team building, or mentoring, Skiles says that you can throw together a bunch of lawyers in a room and they'll eventually develop a working process, but that doesn't make it a high-performing legal department.
"You have to answer the question of whether you're just an ad hoc group of lawyers who have just been hired to do things or whether you're a team with a unified vision that has clear responsibilities and depends on each other for success," Skiles asks. "Just because a group of people happen to be sitting in the same room doesn't make them a team."
The focus on team building exemplifies Skiles's passion for mentorship and developing the talent of others. The DGC says he loves working with interns and junior attorneys, spending time with young talent and helping them figure out just what direction they want their career to go. "I love mentoring and motivating my team members," Skiles says. "I want them to love their job and to become even better lawyers. I just love to see people around me succeed. It's what I find most rewarding right now."
---
Greenberg Traurig:
"Seth Skiles has a gift for strategic vision guided by pragmatic business judgment, which makes for an effective working relationship with outside litigation counsel."
–David Coulson, Shareholder