During the hiring process for a newly created position in Laureate Education's legal department, Rick Sinkfield talked to eight people, each of whom described the job differently. Sinkfield viewed the ambiguity as a good thing. "I walked away knowing they wanted me to use my law degree to make quality education more affordable, and I liked the sound of that," he recalls. Sinkfield took the job.
Laureate is a public benefit corporation that operates higher education institutions in Mexico and Peru that offer undergraduate, graduate, and specialized degree programs. The organization's vision is "to transform the lives of students and communities by providing access to quality education." Sinkfield was drawn to Laureate, in part, for the chance to make an impact. Today, the organization has more than 350,000 students, and those students go on to effect positive change.
There was a time when Sinkfield didn't want to become a lawyer. In fact, he wrote his Georgetown admissions essay about it. The paper, entitled "Why Law Doesn't Suit Me," earned him a spot in the prestigious Walsh School of Foreign Service.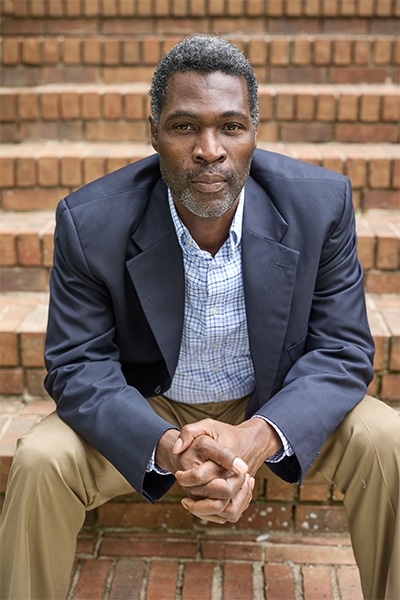 So why was Sinkfield so opposed to becoming a lawyer? His parents both spent their careers in law—his mother as a lawmaker and his father as a litigator. His mother, Georganna Sinkfield, retired from the Georgia House of Representatives in 2011 after twenty-eight years of service. "I just thought it was boring when I was a kid," the younger Sinkfield recalls, adding that he once fell asleep watching his father argue a case in front of the state supreme court.
Sinkfield studied international relations and completed a high school summer semester abroad. When he stepped outside his culture and experienced the world, something changed. As he grew more interested in advocating for civil rights issues, he saw the power of policy making. By the time Sinkfield completed his undergraduate degree, he had changed his mind about lawyers and applied to Harvard Law School.
Before Sinkfield applied at Laureate, he had gained experience in securities and international law through work in the federal government and at two large DC-area firms. He spoke three languages, including Spanish, so working for an organization which at the time had operations in Mexico, Panama, Costa Rica, Peru, Ecuador, and Chile was a good fit. He learned Portuguese after becoming regional general counsel for Laureate's then Brazil region, and later served as general counsel for thirty university operations across Latin America. In 2020, he was promoted to chief legal, ethics, and compliance officer.
Laureate focuses on providing quality education at affordable prices, and Sinkfield supports that work by leading a small, sharp, and diverse team of lawyers that solve local and cross-national problems daily. That team works to keep its students at the heart of every decision it makes.
"People want advanced degrees to improve themselves and the lives of their families," he says. "We try to fashion rules that make sense for us as a business and allow these people to flourish so they can change society."
Sinkfield cochairs Laureate's diversity and inclusion committee and looks to instill these values in all he does. "I really believe we are better off when we come from different perspectives," he says, adding that he promotes diversity of gender, race, age, professional background, and ethnicity. Women comprise more than 70 percent of Sinkfield's team.
Several influential mentors, including his father and the late Vernon E. Jordan Jr., were instrumental in helping Sinkfield define his path and develop his skills. Now that he's reached the CLO seat, he's looking to provide similar mentoring and development opportunities to everyone on his team.
When it comes to management style, Sinkfield leads by example and tries to find a way for each person to learn. "If someone should leave this organization, we want them to have gained a lot from their time with us and then move onto something new. I want my legal department to be a springboard," he explains.
Both that team and the organization are changing in the wake of the COVID-19 pandemic, which Sinkfield believes has opened up new opportunities to increase access to quality and affordable education. In 2018 and 2019, Laureate was already investing in its online catalogue and pivoted to remote learning within forty hours of shelter-in-place orders. While students have returned to the classroom, Laureate is looking to do whatever it can to make sure learners can connect to content in person or at home.
Recently, a group of Laureate students in Peru designed a portable shower that improves the quality of life for people living in low-income areas. Others developed functional, low-cost ventilators for COVID-19 patients. Those students and others inspire Sinkfield to continue the work that he does each day. For nearly twenty years, his work has made an impact on Laureate students, and those students have made an impact on their families, their communities, and the world.