As protagonist Miles Morales swings through the New York skyline in Marvel's Spider-Man: Miles Morales, a video game released by Sony Interactive Entertainment, he uses a bio-electric venom blast to battle a criminal army that threatens the city. The player controlling Morales must be quick, agile, and reactive; they never know exactly what's coming next. Those exact same skills help Vice President of Intellectual Property and Litigation Michael Edelman thrive at Sony Interactive Entertainment.
Sony Interactive Entertainment (SIE) is based in San Mateo, California. There, and at SIE studio locations around the world, teams of artists, engineers, animators, programmers, and others work together to research, develop, market, and sell PlayStation games, products, content, and services.
Edelman's role has three main components. First, he provides oversight for all of SIE's litigation in the United States, Canada, and Latin America. Additionally, he is responsible for all matters related to patent licensing and strategic opportunities connected to licensing of SIE's patented innovations. Lastly, he manages intellectual property enforcement and combats both piracy and the sale of counterfeit goods.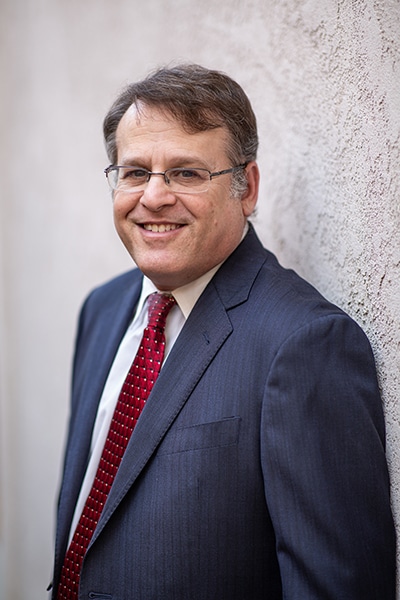 SIE covers the entire PlayStation ecosystem, so Edelman deals with issues related to everything from gaming consoles like the new PlayStation 5 to peripherals such as the DualShock 4 wireless controller to subscription and on-demand services, including PS Now and PS Plus. On any given day, he might encounter issues relating to semiconductor chips and firmware or interact with third-party publishers and retailers. He may have a detailed conversation about the technology developed for a VR headset or discuss the internal components of a charging station.
Like the fans who buy and play the games his colleagues create, Edelman never knows exactly what he'll encounter next. "I love being in-house at a company like Sony Interactive because I have to be prepared to handle anything I encounter, and no two days are the same," he says.
"After working with Mike for many years, I've been repeatedly struck by his calm demeanor and strategic thinking," says Erise IP partner Eric Buresh. "IP litigation is like playing three-dimensional chess, and Mike sees all the angles quite intuitively."
Like all attorneys, Edelman has routine calls and scheduled meetings, but he purposely builds flexibility into each day so he can prioritize the new and unexpected matters that inevitably arise based on their level of urgency.
While some professionals sit down on each Friday to plan the next week, Edelman says that for him, the exercise would be a futile one. "There's at least one surprise a week, and sometimes there are many," he explains. "My job has a certain level of uncertainty baked into it, and anyone working in this industry has to learn to navigate this type of environment."
Organization is key. Edelman relies on the teams he's helped lead over his eleven years. Each discipline he manages has its own team. "You can succeed even when things are unpredictable if you have the right people in the right place to handle the right thing at the right time," he says. In addition to his internal teams, Edelman engages a small network of carefully selected outside firms he trusts to guide SIE through complex and specialized legal matters.
While PlayStation is massively popular and SIE is multifaceted, Edelman's teams are relatively small. With three attorneys and four paralegals, litigation is his largest group. Together, they are responsible for the day-to-day management of claims against SIE.
The large volume of litigation and related tasks at SIE, including docketing and document collection, make litigation a very busy affair at SIE, so Edelman maintains regular one-on-one check-ins with every single person on the team to gauge performance, assist with issues, and ask about job satisfaction. The meetings help him review ongoing activity and stay informed and involved so that he's not simply waiting for someone to call him late in the game when problems arise.
More than a decade spent in California Bay Area firms helped prepare Edelman to thrive in an in-house role. After graduating from Santa Clara University School of Law, he started his career as an associate at a small firm in San Francisco, then worked at multiple firms in the Bay Area before making partner at Dechert and moving to Paul Hastings. This era helps him at SIE because it enables him to assess matters from both the outside counsel and in-house perspectives. "If I had only been in-house for my entire career, I think I would suffer from a lack of perspective," he says.
SIE's PlayStation 5 (PS5) launched in the United States on November 11, 2020. The leading console features an Ultra HD Blu-ray drive and custom processors that enable 4K graphics and ultra-high-speed loading. By the summer of the following year, despite supply chain issues related to a semiconductor shortage, the company had sold more than ten million consoles, making the PS5 the fastest-selling console in SIE's twenty-eight-year history.
Those accomplishments keep Edelman and his colleagues motivated and engaged. While SIE's legal department has had some big accomplishments and milestones, he says the greatest fulfillment comes when they work together to defend the company consistently and successfully against invalid claims. SIE's litigation track record is exemplary. "Sony Interactive is an ethical company, and our results demonstrate that," Edelman says.
Subscribe Now
Receive stories like this one in your inbox every two weeks!
Subscribe to the free Modern Counsel newsletter.
Keeping pace in a fast-moving industry presents an additional challenge. Edelman and the entire department must understand new issues, innovations, regulations, and technologies. To do so, they need to stay in constant communication with engineers, vendors, experts, and others. Edelman encourages his teams to attend internal presentations and any other source of ongoing education.
 When it comes to US litigation, Edelman wants to shield his colleagues on the business side from the process as much as possible.
"The nitty gritty of the litigation process should be as invisible as possible to the business," he says. "The less they are thinking about it, the better I'm doing my job. They have a business to run, and the best thing I can do is to bring them in only when necessary and otherwise stay the heck out of their way."
On the IP side, he looks to maximize opportunities. A company like SIE can often get new inventions and technologies from engineers. Edelman's team can then pursue strategic licensing deals that help the company and its customers at the same time as SIE offers new or improved games, products, and services.
When Edelman leaves the San Mateo office and returns home, he often finds his kids playing video games. They prefer online multiplayer games like Overwatch or Apex Legends, but Edelman himself is a big fan of SIE's open-world games like Horizon Zero Dawn and Ghost of Tsushima. He is proud to have had a part in helping SIE bring these experiences to gamers around the world.
***
Kirkland & Ellis:
"Mike is a pleasure to work with and always keeps the team focused on the whole picture—litigating to win in a way that is efficient and supports business goals."
–David Rokach, Partner
***
Rimon, P.C.:
"Mike is one of the best lawyers I know. His passion for what he does has a direct impact on his team's success in addressing litigation and IP disputes. And he is genuinely a good guy."
–Karineh Khachatourian, Office Managing Partner