For Lauren Hoffer, work is often the most relaxing time of her day—and as senior litigation counsel for Dell, she doesn't have an easy job. "It's a place where if I have a question, I can find someone with a definitive answer," she says. "Work has actually kept me sane."
Hoffer and her husband Greg, also a Dell employee, don't have the luxury of certainty or definitive answers at the end of their workdays. When he was just ten months old, their son Ben was diagnosed with Angelman syndrome, a rare genetic disorder that affects nearly every aspect of his life. Symptoms include severe cognitive impairment, developmental delays, and seizures. People with Angelman are nonverbal, as they are unable to manipulate the necessary face muscles to make words.
When Ben was ten months, an age when milestones would usually include sitting up, crawling, and standing, Hoffer learned that she would never speak with her son verbally and that he would need supervision for the rest of his life. He took his first steps on his second birthday, which for most kids would be late but for Ben was amazing; some kids with Angelman are never able to walk.
Hoffer and her husband, along with the community of those who care for people with Angelman, believe that diagnosis is just a place to begin. She points to matching contributions from Dell, the generosity and kindness of her colleagues and other law family, and her own work on the board of the Foundation for Angelman Syndrome Therapeutics (FAST) as reasons she's confident that therapeutic breakthroughs will not just alleviate the symptoms of Angelman, but eventually reverse them.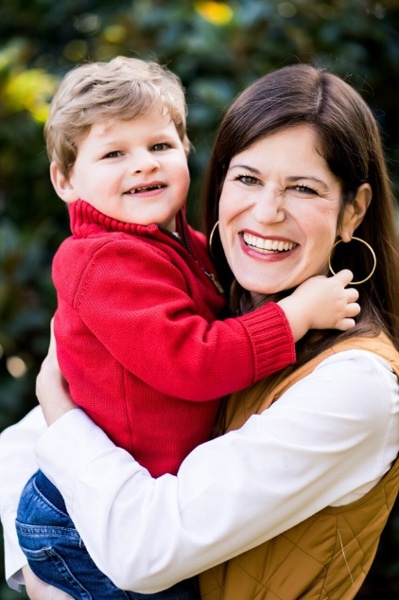 Dell has been an important community for Hoffer during Ben's journey. "When colleagues were asking how they could help, I asked someone to set up the matching contributions for the foundation," she remembers. "Five minutes later, he came back and said it had already been set up. Someone else at Dell had a child with Angelman."
It turned out the employee lived in Oklahoma, a state away from Dell's Round Rock, Texas, headquarters and wasn't regularly onsite. But serendipitously, the day he received Hoffer's email, he was there. Hoffer and her husband met him in the lobby. Ben has a rare mutation in an already rare condition; the other Dell employee's child had the same mutation. The odds are exceedingly low, but they were both under the same roof.
"I can't tell you how lucky I feel to work at Dell and to have the kinds of friends and colleagues that I do both within the corporation and within the legal world as a whole," Hoffer says.
FAST is the largest nongovernmental funder of Angelman syndrome research. Hoffer estimates that Dell alone has given more than $50,000 to FAST through its matching program. "That is money to pay for a study," Hoffer says. "I'm incredibly grateful to Dell for that matching benefit and, obviously, to all of our colleagues who have been so generous donating their own money."
The all-volunteer board at FAST is made up of Angelman syndrome parents and professionals and has helped fund research for multiple clinical trials that seek to replace an active copy of the gene that those with Angelman are missing. "The foundation is doing incredible work, and I'm hopeful that this is going to be able to happen for my son," Hoffer says.
Hoffer says her law career has been invaluable in providing her with a helpful skill—contracting with researchers receiving FAST grants to further Angelman translational science. And when she doesn't have the answer, Hoffer has help. "Lawyers are amazing," Hoffer says. "There are many friends and colleagues who have gotten me answers or resources when I need them."
"Any lawyer reading this would do the same. We're lawyers. We fight."
Hoffer says that Ben, now four, lights up any room that he enters. Between his speech, physical and occupational therapy, applied behavior analysis, and work at the Rise School of Austin (of which Hoffer speaks glowingly and gratefully), Ben spends forty hours a week working to overcome his diagnosis. "Anyone that meets him just says he is the hardest-working kid," Hoffer notes.
Ben is also a big brother. Hoffer was already pregnant with Ben's brother, Charlie, when Ben was diagnosed with Angelman. Seeing Charlie hit neurotypical milestones can sometimes be bittersweet as Ben works to hit "inchstones"—those smaller, though equally hard-fought, victories for people with special needs. Though he's just two and a half years old, Charlie somehow knows that his brother can't speak, and will request a drink not only for himself, but for his brother, too.
Hoffer says she once wanted her son to go to Harvard, but now she'd be content if he could communicate his thoughts, participate in the world, and be happy. It's a challenge every day, but Hoffer doesn't believe she's special. "I'm just doing what I truly believe any parent would do," she says. "Any lawyer reading this would do the same. We're lawyers. We fight."