Approximately twenty years ago, Kelley Barnett parked her car, rushed through security, and made her way into the crowded elevator at the Cuyahoga County Justice Center. She clutched her coffee and dozens of case files as she rode up to her assigned courtrooms. About ten of her cases were set for trial, and she wasn't sure which one would start that day. While the unpredictable and fast-paced environment would intimidate some lawyers, Barnett was energized. She had the chance to build relationships, perfect her legal skills, and pursue justice for some of Ohio's most vulnerable victims.
It was the exact job the recent graduate of Case Western Reserve University Law School had wanted. In fact, she had waited for it. As a student, Barnett had clerked for the Cuyahoga County Prosecutor's Office. "As soon as I set foot in the courtroom, I knew I wanted to become a prosecutor," she recalls. But there were no openings. She passed the bar—and waited. Finally, in October 2000, she became an assistant prosecuting attorney in the Cuyahoga County Prosecutor's office.
The first part of Barnett's working life set the foundation for her entire career. Early experience building rapport with victims, engaging their families, interacting with judges, preparing cases, presenting evidence, and persuading juries sharpened her legal analysis and crisis and risk management skills. She wanted to learn as much as possible, and made those desires known. "I believe in asking for what you want," she says. "If you have a growth mindset and tell people you want to do more, they usually give you the chance to succeed."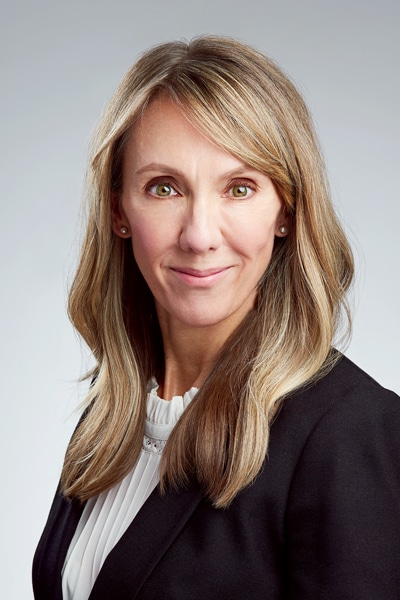 Barnett's mother, who started her own business in the early '80s after facing the threat of losing her job as well as going through a divorce, raised her to believe that anything is possible. "People told my mom she couldn't or shouldn't do certain things, and she made it her mission in life to prove them wrong," Barnett says. Although her mother passed away when she was in high school, Barnett is carrying on her legacy by pushing herself to excel in every role and by embracing a growth mindset.
After gaining prosecutorial experience and trying more serious cases, Barnett was promoted to the Child Victims Section of the Major Trial Unit, where she prosecuted the community's most serious and violent offenders. During her six years as a prosecutor, she conducted several grand jury investigations and tried more than one hundred cases to verdict.
Although Barnett found the work fulfilling, confronting the issues of prosecuting rapists and murderers—particularly when the victims were young children—took its toll. When a former colleague from the prosecutor's office asked for a meeting, she accepted. Frantz Ward, a full-service firm with a national client base, wanted to hire someone with trial experience. Barnett took the job.
She stepped into the firm's litigation practice group and found her time as a prosecutor to be a major asset in the new role. "Prosecutors know how to navigate the unexpected and work in any situation," she says. "Every case is different, and prosecutors just know how to figure it out and pivot under pressure when things change along the way." At the firm, Barnett continued her growth mindset and developed pragmatic skills by asking for a variety of work, including employment law, product liability, and commercial litigation matters.
Today, Barnett serves as vice president and corporate counsel for labor and employment at AmTrust Financial Services, a global property and casualty commercial insurer and carrier headquartered in New York City. The second major pivot in her career has again required her to learn new skills (though she notes that her new colleagues made the transition relatively easy). "I had done labor and employment before, but I didn't devote my practice to it. Now, I'm the only labor and employment lawyer at AmTrust," she says.
Barnett is once again in a new environment: no longer surrounded by prosecutors, judges, and attorneys, she works instead with business partners and executives in the US and internationally. Fortunately, her experience at Frantz Ward trained her to think practically and help drive the business rather than relying solely on technical legal expertise. She's imported that approach to AmTrust, where she manages litigation and advises on all key global employment issues.
It's a big job with a wide range of responsibilities, but Barnett carves out several hours each week to keep up with changing labor and employment regulations. She's currently focused on helping AmTrust safely reopen offices and bring its employees back to the physical workplace as COVID-19 restrictions are relaxed.
Barnett has excelled in the first two decades of her career and is now helping other female lawyers navigate the male-dominated legal industry. In 2018, she encountered a development and mentoring program known as Ladder Down, which focuses on coaching female lawyers on leadership, rainmaking, and mentoring skills. With the permission and support of the program founders, Barnett launched the program in Cleveland and also participates in other professional groups designed to help women advance their legal careers.
These activities give Barnett the chance to help others as she continues to push herself. "In my opinion, there are two types of lawyers: those who are content in their roles and those who are always looking for more," she says. Barnett herself is firmly in the second category, of course.
***
Frantz Ward LLP:
"I've always been in awe of Kelley's ability to tackle every new challenge with a passion to learn and to grow as both an advocate and a person."
–Christopher Keim, Managing Partner