When he first moved from London to New York City in July 2000, Julian Weldon planned to remain in the US for only a few years. Close to twenty-one years later, he's still here.
"New York turned out to be an even more fun and interesting big, dirty, noisy city than London," Weldon says. "And, unusually for a Brit, I happen to like American sport."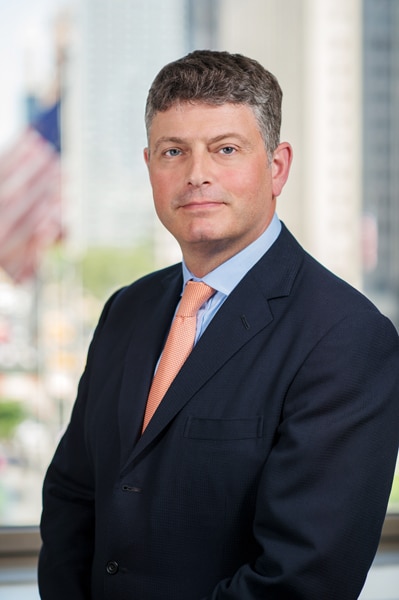 Aside from the draw of New York itself, Weldon has stayed in the city all this time in great part because of his career. Today, he is general counsel and chief compliance officer at investment management firm CIFC Asset Management. Since joining in March 2015, he has helped the firm navigate major developments internally and externally by focusing on solutions and emphasizing efficiency.
Before his fateful journey across the pond, Weldon studied law at the University of East Anglia and gained solicitor experience at leading UK law firm Allen & Overy. He specialized in leveraged finance, which he explored from a legal perspective within the firm and from a banking perspective while seconded to the London office of American financial services titan Goldman Sachs.
When offered a transfer to Allen & Overy's New York office, Weldon jumped at the chance. Knowing that the firm exerted less influence outside the UK, he considered the move both a challenge and an opportunity. "From a professional point of view, it felt more entrepreneurial. I wanted to see if I could build a practice despite the firm's relative lack of profile in the US," he explains.
That goal–not to mention meeting his now-wife in 2002–sustained Weldon far beyond his initial two- to three-year US obligation to Allen & Overy. He eventually left the firm in September 2008 to go in-house at middle-market investor Garrison Investment Group, where he served as general counsel for more than six years until accepting his current role at CIFC.
CIFC has undergone a number of changes over the past several years, including going private and expanding the scope and geography of its services. Throughout those changes, Weldon has overseen the firm's legal and compliance matters, first in the US and now in the UK as well.
Given the dual nature of his role, Weldon has had a front-row seat as the firm's assets under management have scaled. "CIFC had a very nascent structured credit business in 2015 that has grown enormously since then," he says. "We've launched a number of closed-end funds and separately managed accounts to provide exposure in that space for investors."
The structured credit business added complexity to Weldon's work, as did the introduction of an opportunistic and distressed credit team in October 2018. "That team's investments tend to be much higher touch than the typical broadly syndicated loans held by our collateralized loan obligations and loan funds," he clarifies. The team's hands-on investment strategies require greater involvement by CIFC's legal department. Likewise, the firm's creation of a high-yield business the same year meant growing legal and compliance oversight in parallel.
Still, no transformation that Weldon has witnessed at CIFC compares to branching out into Europe. From an initial marketer presence to a full London office of investment professionals, the firm's team in Europe has experienced tremendous growth. Weldon facilitated the expansion by collaborating internally and externally to set up the necessary infrastructure and to obtain the required licenses to get operations off the ground.
Key to Weldon's success in these and other matters is his ability to maintain efficiency and to stay up-to-date on legal and compliance issues developing outside CIFC. Fortunately, the firm's external advisors and collaborators assist in keeping him on top of the latest news, which he disseminates across the internal team so that they can stay ahead of developments.
"I start off by thinking about which parts of the business are impacted, and then I work backward from there to design a process geared toward achieving the correct output in a timely, efficient, and scalable fashion," Weldon says. Following these steps allows him to get new initiatives up and running in a manner that burdens the business as little as possible while also ensuring an effective final result.
Efficiency will remain a focus for Weldon moving forward, especially as CIFC continues to diversify its service offerings to optimize the management of clients' money in real time. "The legal team needs to be able to understand and support those investment strategies as each one comes online," he says. "The same holds true when it comes to compliance."
As the demand for real-time investment adjustments rises, Weldon believes that CIFC will answer the call. "We very much view our role today as being a solutions provider," he says. "We want to offer to our clients as many solutions as possible to meet their needs."